A Swim with Miller
CHS senior, Elizabeth Miller, uses her leadership and wisdom to guide the swim team to victory
Determined. Courageous. Committed. Leader. These are the qualities of an outstanding swimmer, and these are the qualities that Elizabeth Miller, a senior at CHS, possesses.
Miller has been swimming competitively since she was six, and started to swim year-round after joining her first swim team, Clayton Shaw Park's team (CSP), when she was only seven. It was because of her intensive experience and passion for the sport that Miller decided to join the CHS swim team when she was a freshman.
Miller has tried other sports too such as lacrosse and even water polo. "I just preferred swimming over all of them," she said. Swimming helps Miller to relieve stress and helps her to feel more relaxed. "It requires a lot of commitment, but it is very rewarding, " she says.
Swimming is a very taxing sport. The most difficult and demanding part about it, though, is being able to push through the pain and exhaustion. This is something that Miller excels at.
Katelyn Long, a coach of the girls' swim team at CHS, said, "She never complains. She never tries to take the easy way out. She does whatever is asked of her and she leads by example. You rarely see her skipping sets, and she works really hard."
Being able to push yourself is certainly not an easy task, but being able to motivate your teammates is even more challenging. As a senior and captain of the swim team this year, Miller not only has to be a great swimmer but also must to be able to motivate the other girls who look up to her. "I am there to help and be a role model. I think just helping the other girls learn how to swim and or learn little tricks is important," Miller said.
Long said that in previous seasons, "[Miller] is more of a leader and she helps people be in the right spots and makes sure everything goes to plan." This additional assistance is crucial because it helps to relieve the stress of swimmers who may just be starting. Miller says that the sport can be very stressful, especially at meets, but it is very beneficial if you are prepared. In the past, she has helped other swimmers to feel more mentally prepared by making sure that everything goes smoothly.
One of the most major parts of swimming is reaching your goals and setting new records for yourself. In order to do this, you must be very driven and focused on improving your skills. Along with the more general goal of developing the swimmers' abilities in the water, Miller and the CHS coaches have some more specific targets for the season.
While it is difficult to make predictions with the season only having begun, David Kohmetscher, head coach of the CHS girls' swim team, feels very optimistic. He hopes that the team will get more individuals and relays to qualify for state. "[The team is] working hard. They're doing a great job. I'm excited based on where we are this early in the season." Kohmetscher said.
Like Kohmetscher, Miller also has goals for the season. She is working hard to meet her individual target of dropping time and hopes that in addition to doing well at conference, the team has fun. "Hard work. Dedication. Team spirit." These are the things that Miller believes will help everyone to be successful. She said, "I think if you are there to have fun and actually swim, and you don't want to complain about it all the time, it makes it better. It makes it more tolerable."
As a captain on the team, Miller plays a notable role in helping everyone to reach their goals. One of the most effective ways that she does this is by pushing the other girls at practices.
"
Other people seeing her do a good job inspires them to work hard too.
— Kaitlyn Long, Girls' Swim & Dive Coach
"[Elizabeth] is a very hard worker. If you ever swim next to her or swim in a lane with her, she pushes you. She doesn't slack off, so I think that that is probably the biggest thing. Other people seeing her do a good job inspires them to work hard too." Long said.
In addition to Miller being an outstanding swimmer, she also brings her passion and hard work to the CHS team. Her dedication motivates other girls on the team, and she finds a way to create personal bonds with everyone, encouraging them even more.
Miller is a very reliable swimmer and leader on the team and will likely guide the girls' swim team to success this season. "We can count on [Miller] to step up, and we know she's going to race no matter how she's feeling, even if she's tired she's going to try her hardest," Coach Long said. "She is a calm and confident presence."
View Comments(1)
Your donation will support the student journalists of Clayton High School. Your contribution will allow us to purchase equipment and cover our annual website hosting costs.
About the Contributors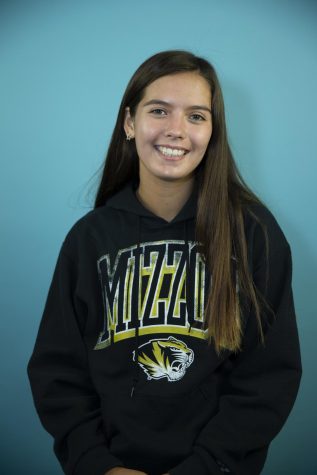 Kaia Mills-Lee, Senior Managing Editor
Kaia Mills-Lee is a senior at CHS and this is her fourth year on the Globe. This year she is one of the Senior Managing Editors. Kaia joined the Globe staff because she hopes to...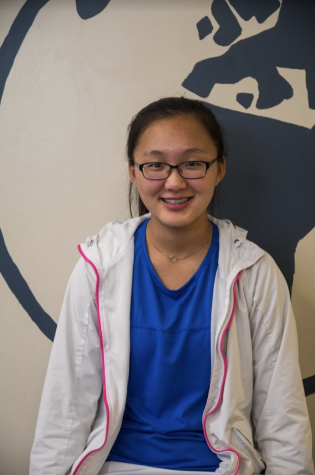 Katie He, Page Editor
Katie He is a junior and has been on Globe staff for two years. She is excited to explore the world of journalism and to learn more about her community through writing. Being part...
Mallory Palmer, Photographer
Mallory is super pumped to be a photographer for Globe this year! Her favorite things to photograph are portraits and concerts. She looks forward to an awesome year on Globe staff!