Super Sara
Junior Sara Litteken stars on the CHS Girls' varsity basketball team.
Intense. Motivated. Competitive. These words can only begin to describe Clayton High School junior, Sara Litteken. Litteken is the girls' varsity basketball captain and is also a starter on the varsity soccer team. Her unwavering dedication to the basketball team has made a tremendous
impact on the team and led them to qualify for the district championship game two years in a row.
Litteken's passion and focus cause her to stand out as a leader on the team. Girls' varsity head coach Michael Knight emphasizes her contributions to the team. "She leads by example. She hustles all the time."
Litteken leads the team through practices and games. Another varsity player, Regan Wade describes Litteken's leadership as, "She makes everyone a better player because she always tries her hardest in practice, which motivates us to try our hardest. She's really tough competition to practice against, so she's made me a lot better as a player."
Litteken pushes the team to practice harder, which prepares them for tough opponents. She illustrates the intensity of the team "We take practice more seriously, we practice on the weekends, and you have to show up to practice. I think we have higher expectations, and then we hold ourselves to them."
Part of the reason Litteken is so successful in leading the team is because of this intensity.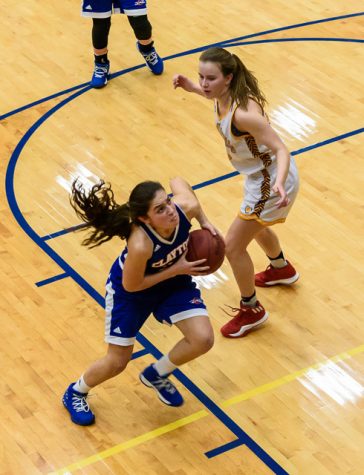 "My favorite part about playing basketball is the intensity. There's not really a break in the game very often. So, it's just very fast paced and exciting to play," she says.
Despite being extremely involved in athletics, Litteken is able to balance school with her sports. "She's able to lead by example both on and off the court. She's a very good student," Coach Knight describes. The balance she strikes between achievements in athletics and academics encourages younger players to strive for the same success.
This season, Litteken is hoping to lead her team to a district win. "I hope we can have an above .500 record, and I think that we can make a good run at districts. So, I think a good goal is for us to win districts."
Coach Knight agrees with this goal. "We're more experienced and grown up, and the players understand the system we are trying to run better."
"
"She has an intensity and aura to her that keeps her focused.
— Coach Knight
Besides loving the sport, Litteken enjoys the comradery associated with being part of the team. "Last year on our team, I feel like we had really good chemistry, on and off the court. Everybody on the team was friends. So, we played it felt really natural to play with that group of girls. Everybody had the motivation to win. It was just a really good, competitive group."
Litteken will continue to guide the team this year, and in years to come. Her impact on the team's chemistry is enormous. Coach Knight says "She also has her silly times, like everyone else. She can laugh and joke, but she's a good person and a good leader for us to have."
Leave a Comment
Your donation will support the student journalists of Clayton High School. Your contribution will allow us to purchase equipment and cover our annual website hosting costs.