Too Big to Fail
In 1890 the United States passed the Sherman Antitrust Act. This law prohibited the formation of monopolies in the states. Over 120 years later, a marketing goliath has emerged. Its name is Amazon.
Once an unknown marketing company owner, Jeff Bezos, the CEO of Amazon, currently has a net worth of 137.6 billion dollars. Along with the rapid expansion, Bezos has moved far beyond the realm of marketing. He bought Alexa, Twitch, Whole Foods, and even the Washington Post. Bezos has heavily invested in other big companies such as Google, Airbnb, and Uber. Since the purchase of Whole Foods, Amazon stock has increased by over 50% and Bezos has become 1.88 billion dollars richer.
"
"In the old world, you devoted 30% of your time to building a great service and 70% of your time to shouting about it. In the new world, that inverts.""
— Jeff Bezos
With no signs of stopping, how will retailers such as Target and Walmart compete with Amazon? Although Amazon stock has thrived, Walmart and Target stock have both struggled to produce the same numbers as Amazon. Both companies have attempted to slow Amazons rapid ascent to the top, but they have ultimately fallen short. Other retailers are struggling mightily. Kmart, Sears, and Macy's have all closed stores during the past year and there appears to be no light at the end of the tunnel for these billion dollar retailers.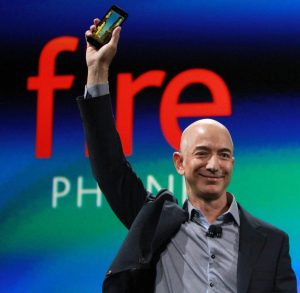 What may be the most baffling thing is that Amazon's sales are only 136 billion dollars, but 131.8 billion dollars was spent on operating expenses. This leaves Amazon with an operating income of 4.2 billion dollars. Unlike Walmart or other retailers, Amazon has largely focused on the growth of the company over time rather than current income. This strategy has proven extremely beneficial for Bezos and the rest of Amazon. Although Amazon is one of the largest companies in the world, they would not be such a dominant force without the help of third-party companies. Not only did third-party sales account for 40% of Amazons total product sales on Amazon Marketplace, but they also generated 23 billion dollars in revenue for the company. Without the help of third-party companies, Amazon's operating income would be -18.8 billion dollars. All of this success allowed Bezos to become the richest man in the world, and Amazon appears is expected to dominate 50% of the e-commerce market by the year 2021.
Although they have not yet surpassed either Facebook or Google in the size of their advertising business, Amazon's recent success strongly suggests that they could soon become the most powerful advertising business as well. As long as Amazon continues to grow, retailers and small business' will continue to suffer. It may be only a matter of time before the government halts the growth of one of the largest empires in business. The only question left is when?
Your donation will support the student journalists of Clayton High School. Your contribution will allow us to purchase equipment and cover our annual website hosting costs.