My Experience with "Men on Boats"
This year's fall play, "Men on Boats," followed Major John Wesley Powell's crew, and their voyage down the Colorado River, one of the last American Frontiers.
Major Powell (Sydney Tennill) takes a crew of misfits onto four boats, consisting of Seneca and OG Howland (Erin Koc and Malaika Makene), and Frank Goodman (Gen Hoelscher), aboard the No-Name. William Dunn (Julia Harris) John C. Sumner (Wynne Havranek), and Powell aboard the Emma Dean. Andrew Hall (Diya Chatterjee) and William R. Hawkins (Sarah Franzel) aboard the Maid of the Canyon. Old Shady (Katie Aiello), and George Y. Bradley (me) aboard the Kitty Clyde's Sister. This show contained energetic and intense moments on both land and water.
Men on Boats is largely based off of Major Powell's journals of the expedition. Over the course of the show, you get to see the characters grow within themselves, and as brothers. This show was written by Jaclyn Backhaus. It was written for a cast of women, cisgender, and transgender actors, adding a modern twist on a not well known, but true American story.
However, this wasn't the theatre departments original idea.
At first, the theatre department held auditions for "The Curious Incident of the Dog in the Nighttime", but the auditions were overwhelmed by girls, almost no males auditioned, so students knew there was going to be a change of plans. Two days later, callbacks were called, and it was announced that the show was changed to "Men on Boats."
No one was surprised; however, this wasn't the kind of show we all expected. After the cast list came out, rehearsals began, and the script was unlike any plays we've seen before. But rehearsals went smoothly and we all had a great time.
Being part of an all-female cast was so much fun. We all grew a strong bond, none of us have ever had that experience before.
Sydney Tennill recalls the experience, "Having an all-female cast was just so incredible. We were all able to share this story and relationships. We were so close. It was easy for us to become brothers because we were like sisters. We were all so lucky to tell this story that women aren't usually able to tell, and we were able to also tell our story and it's a really beautiful thing." Thursday night was opening night of the play.
"I was so excited, this was my first high school play." says freshman Julia Harris. "This was such a cool experience. All of the upperclassmen we worked with were so nice and cool to [Sarah Vallo] and I. It was so amazing to see all of our hard work pay off. Opening night is always the scariest, but I went much better than I thought it would. I was proud of myself and the rest of the cast, I think we did a great job!"
As opening night came to a close, we all felt a sense of relief and pride, we have been preparing for this night for months, and now it was over.
Friday and Saturday evening, the house was full, bustling with life.
"Having a full house was incredibly nerve-wracking but also so exhilarating. Knowing that you had people up there with you gave me this confidence so if I screwed up they could play it off as nothing happened, I was so glad I got to do this and I had the best time" says Diya Chatterjee.
The show went as planned, with all of our occasional mistakes and humorous ad-libs to make the show even more enjoyable for us and the audience.
The audience loved the show. For weeks, all of the cast members get compliments about their work at school. One of the first shows with an all-female cast sent a really positive message to the students and attendees of the fall play, showing the strength that anyone can hold within, and showing a bond between true friends.
Leave a Comment
Your donation will support the student journalists of Clayton High School. Your contribution will allow us to purchase equipment and cover our annual website hosting costs.
About the Contributor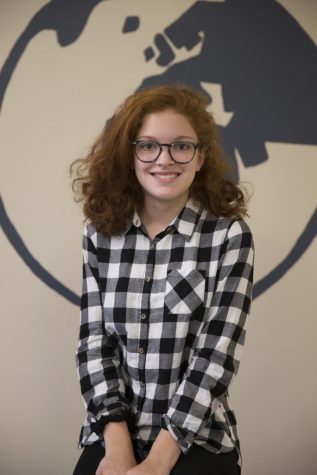 Sarah Vallo, Reporter
Sarah Vallo is a freshman at CHS, and has been interested in journalism since she was little. She loves exploring topics and sharing her opinions, plus writing for others to read....