The Independence Incident
At 12:30 A.M on Nov. 30, a Clayton High School student meant to knock on the door of his roommates' hotel room, as he had forgotten his key. He mistakenly knocked on the adjacent door. The guest staying in the neighboring room opened his door indignantly and confronted the student in a verbally threatening manner.
The guest was holding a gun.
The CHS speech and debate team was on an overnight trip at Independence, Missouri, four hours away from St. Louis, for a debate competition hosted by two high schools. The team stayed at a local hotel under the supervision of head coach, Justin Seiwell and assistant coach, Deana Tennill.
Most students had headed to bed and only a handful were left in the lobby, finishing dinner, joking around and enjoying each others' company. It was then that the incident occurred.
"It was this middle-aged man that comes out and he yells at me– I wouldn't say yelled, but he says definitely not in a conversational tone, 'Yes, what do you need,' in a very menacing, loud way. Then, I looked down at his hand and saw he had a gun in his right hand. It was definitely not concealed, but it definitely wasn't pointed at me either. He just had it at his side. So yeah, I was spooked," CHS junior Krish Sardesai, the student involved in the incident, said as he recounted his frightening experience with the guest.
Right afterward, Sardesai quickly replied 'nothing' to the guest and went to inform Seiwell, who was in the middle of a conversation with another student. The minute Seiwell knew what occurred, he dived headfirst into action.
"My job is to make sure that my students are safe on these trips. That's my primary job– I don't worry about anything else other than are they safe and are they reasonably well-fed and well-rested, but the big thing is, are they safe," Seiwell said.
Immediately after Seiwell became aware of the incident, he ran to the front desk and informed the night manager of what occurred. The night manager responded that they had a method of dealing with similar situations that arose, and they followed hotel policy. Seiwell then had to make an immediate judgment call, as his primary job was to ensure students were in a safe place. He decided based on the information given to him, which he had to assume was accurate, whether the gesture was a direct threat to Sardesai's safety or simply a gesture indicating the patron owned a gun.
"In my experience, I call it the Missouri posturing, which is like, I just need you to know that I'm holding this, I need you to know that I have this but I don't really intend to use it. Which I experienced a lot– I went to college in Kirkfield, Missouri, this kind of stuff happened all the time. That was very common, just walking down the street, people would have their weapons, and just make sure that you knew they had one," Seiwell said.
Realizing that exiting the hotel would be difficult, as most students were already in their rooms or asleep, they would cause more disruption by trying to leave, and they had nowhere to go, he decided to remain in the hotel. He sent the remaining students in the lobby back to their rooms and sent out a message through the group messenger, GroupMe to all students telling them to go straight to bed, turn the lights out, and stay very quiet. Seiwell, who was aware of which room the patron was allegedly staying in, stood outside the room and waited in case something else happened.
"He actually stayed up the entire night outside the door to make sure [the man] did not come out again, which was probably one of the greatest things I've seen from someone, from a selflessness aspect, because we had competition the next morning. [Seiwell] was still very willing to do that for the sake of our safety. So, I'd say he definitely handled it very well," Sardesai said in regards to Seiwell's actions after the incident.
A private security service sent over a few security guards and a police officer came as well. The police officer also declined to pursue an investigation and said that he believed that what occurred was a posturing method rather than an ongoing threat.
CHS junior and debate team member, Diya Chatterjee also believed the incident was an example of a posturing method and felt safe knowing she wasn't in direct harm.
"I think [Seiwell] knew there would be no problem. Nothing probably would have happened, I think it was just a show of, 'oh, I carry a gun'," she said.
Students on the trip believe that despite being a frightening situation, it was resolved in the best manner possible and many felt safe despite the circumstances.
"None of us really knew exactly what was going on until the morning following the incident, but Seiwell handled it in the best way possible. He sat outside the kids' room all night and everyone felt really safe, and it was a tricky situation but Seiwell and the police department handled it really well," CHS sophomore and debate team member Ella Ferguson said.
The morning after the incident was somber, but by the rest of the day, everyone seemed to be emotionally past it. The students competed well at the tournament, and thankfully, everyone returned home safely.
Afterward, a lot of follow-up has ensued. There has been significant review and reflection as to what happened. They have considered whether the actions followed were appropriate or whether any further follow-up is needed, and come to the conclusion that the situation was handled in the best manner possible.
"Our administration, myself, my assistant coaches, we all kind of say that this was the most appropriate, safest and best course of action that we could have taken.  I feel good about that now, but obviously, for the first couple of days, I was kind of emotionally all over the place. Not quite sure what I could have done differently, but also, how many ways that could have gone very differently. At this point now, I'm done with it, I've processed it, I'm moving on," Seiwell said.
In Missouri, no permit is required to openly or conceal carry a firearm. The Advanced Guide to Missouri Gun Laws states that there is no requirement to register firearms or obtain a purchase permit. Missouri, as well as other states in the country, has several laws in support of the second amendment. However, this gives rise to situations similar to the one that occurred at Independence.
Sardesai hopes incidents like this won't occur again in the future, but he remains unsure after this experience. "From what Seiwell told me, what he did was completely legal since he was able to have a concealed weapon. We as a team definitely don't go to bad hotels. It was a pretty good hotel that we went to and given that it was able to happen there, I wouldn't necessarily rule it out, because [the man] didn't do anything unlawful. I mean, there's not really anything we could do to stop him. So, I hope it doesn't happen again, but unfortunately, I don't think it's ruled out of the picture," Sardesai said.
While the vast majority of gun owners in the country are reasonable and do not pose any threat as to harming others around them, due to the support and laws in place, Seiwell believes that these frightening, yet completely legal incidents will continue to occur in the future as well.
"
The reality is, as we have embraced the second amendment so much in the last ten years and we've embraced this concept of conceal and carry, incidents like this are going to go way up. We're going to see more and more of that because it's very easy to buy a firearm, it's perfectly legal to carry it in a concealed manner, and there's not much that a business, that law enforcement, that private individuals can do to stop that without substantive change to our laws"
— Justin Seiwell, Speech & Debate Sponsor
While a similar incident most probably will not specifically happen again at another debate competition, there's a high probability it may occur in others' lives as they venture into the world. Seiwell warned students of these incidents occurring in the future.
"I think that as you guys go on throughout your lives, really anywhere in the country, you're going to experience this. It's the first time I've experienced this with my students, but it's not the first time I've experienced this myself, and it definitely won't be the last time you experience it."
Your donation will support the student journalists of Clayton High School. Your contribution will allow us to purchase equipment and cover our annual website hosting costs.
About the Contributors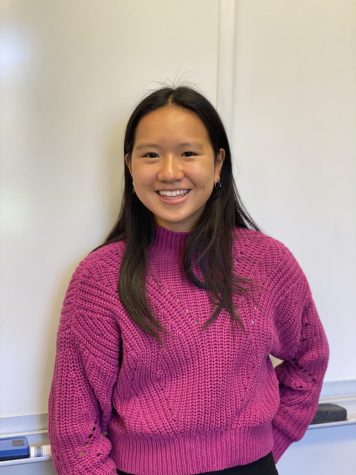 Angela Xiao, Chief Managing Editor
Angela is a senior this year, and this is her third year on Globe! She serves as the Chief Managing Editor this year. Her favorite part of Globe is talking to people from all different...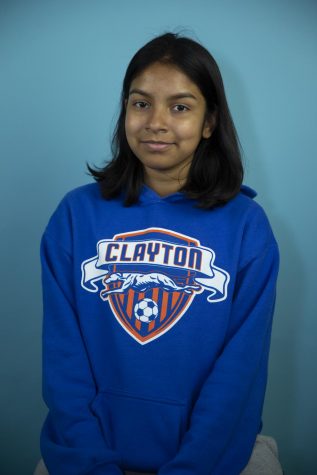 Disha Chatterjee, Feature Section Editor
Disha is a junior and this is her second year on Globe. Disha joined Globe because she loves writing and wanted to get involved in a new experience. She is looking forward to trying...