Robert Cohen, '64
In 1975, CHS Alumni Robert Cohen was a young lawyer living in St. Louis.
After graduating from Washington University in St. Louis and St. Louis University Law School, Cohen wasn't exactly sure of his future, but he wasn't afraid to take risks. So when his best friend from law school told him his plans to run for county judge, Cohen saw an opportunity and was up for the challenge.
At just 28 years old, Cohen was only three years past the constitutional minimum age in Missouri. Despite his young age, Cohen says people responded well to his candidacy. One of the most critical factors that lead him to his successful career as a judge, according to Cohen, was his time at Clayton.
"I enjoyed my time here at Clayton High School. I was very well aware that I was fortunate and had every advantage provided to me to go to such a great school and school district."
One of Cohen's favorite memories at Clayton was the annual talent show which was a musical written by the students and performed by the students.
"I had this dramatic part that involved singing a couple of songs. I had no experience with that before. No formal training. But it was very much of a fun thing to do."
Inside the classroom, Cohen says he was no outstanding student.
"I was absolutely not among the best students here," he says. But Clayton's strong academic environment pushed Cohen to do better.
"I was surrounded by very highly motivated students," says Cohen. "I mean people who had great goals and college plans and career plans, and you just couldn't help but absorb some of that.
With more than 41 years of service, Robert Cohen was the longest-serving judge in Missouri when he retired in 2016. However, he says he never once lost interest in his job as every case was genuinely unique. As for Clayton students today, Cohen says always to remember to enjoy life and be happy.
"Enjoy your lives, enjoy this time in your life. Don't worry so much about the future. I think it's important to be motivated and to do a good job in the school but not to the point that it's so all-consuming that it's upsetting to you. After all you, young people, you have your whole lives ahead of you: have fun, enjoy your friends, enjoy school, and take it down a few notches. Be happy. If you're happy, you'll do well regardless."
Leave a Comment
About the Contributor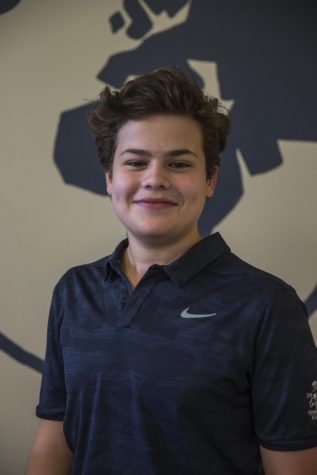 Michael Melinger, Chief Multimedia Editor
Michael Melinger is a Senior at Clayton High School.  This is his fourth year on the Globe.  He currently serves as the Chief Multimedia Editor for the Globe.  This is his third...