Amy Feder, '97
Hang on for a minute...we're trying to find some more stories you might like.
Amy Feder, CHS graduate of 1997, is a successful and well-known Rabbi at her local synagogue. She attributes her intellectual advantages to CHS for preparing her properly for the college years to come. Although she was not very interested in mathematics or science during high school, Feder enjoyed the arts and theater.
"I had an amazing experience at Clayton. I loved my teachers, and there were a number of things that I learned how to do at Clayton that I realized the people I went to school with had no idea how to do," Feder said
Feder's knack for communication arts differentiated her from her classmates. Writing proper papers and having the social skills that many young adults struggle with positively assisted her through her high school career.
"I really learned how to write at Clayton," Feder said. "[I went to Michigan for college] and I would sit with other kids and think to myself how insanely difficult it was for them to write a paper."
Being involved with musical theater and the performing arts crew, Feder realized she had gained a sense of confidence along with her already existing talent. The feeling that she could be who she wanted to be and do what she wanted to do in life all came from her experience at CHS.
"I was really involved with musical theater in high school. Learning how to sing and learning how to have stage presence and then just how to have confidence in myself- being able to do whatever I wanted to do [in life] all came from Clayton," Feder said.
Feder also frequently experienced the joys of being with friends during her free time. According to Feder, school wasn't as stressful for her generation, and therefore her life and the lives of her peers were made somewhat easier. She has kept in close contact with her peers since graduation day, some of whom were at her wedding. Keeping up with old friends and even teachers have had a positive impact on her life.
"Another thing that I love about Clayton is that in this town I see people everywhere and I still remember them. At Wydown, my 8th grade teacher was the coolest guy. His name was Mr. Wright — he was so nice and I just loved him. A few years ago my birthday marked the twenty year anniversary of when I was in his class. He sent me a letter that I had written him at the end of 8th grade that basically told him how awesome of a teacher he was. He sent the letter back to me and just to think how cool it was for someone to care so much — a teacher that had kept this letter all these years and knew enough to send it back twenty years later." Feder said.
Clayton impacted Feder's personal career as a Rabbi heavily. She writes quite often for her job and speaks and sings publicly for her synagogue on the weekends as well. Her participation in choir gave her the assurance necessary to stand in front of massive crowds and do what she loves most. She teaches sermons and classes for her young followers, and often thinks fondly of CHS for all of the ways that it has benefited her adult life and career.

About the Contributors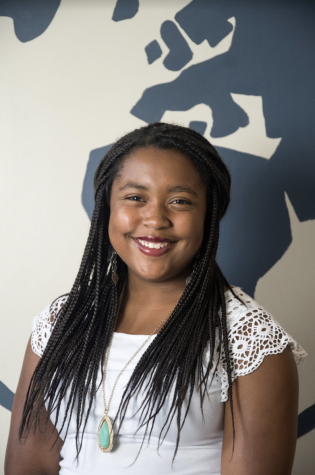 Camille Curtis, Reporter
Camille is a junior and this is her second year on Globe as a reporter. She joined Globe because she was interested in learning how to write outside of English class and exploring...