Jake Zimmerman, '92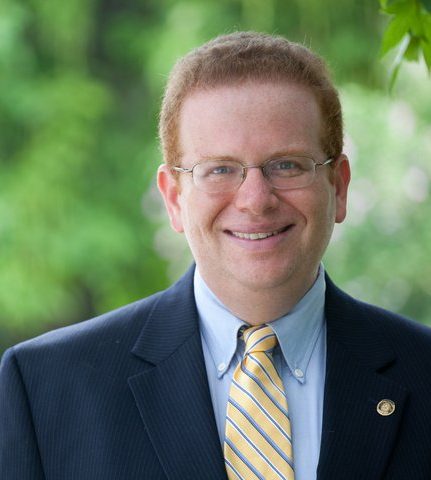 A self-described nerd in high school, CHS graduate Jake Zimmerman says as an underclassman you would most likely find him in a corner reading a book.
Zimmerman, now the St. Louis County Assessor, still greatly enjoyed his time at Clayton.
"I was a theater kid. I loved being on stage even in circumstances where I wasn't very good at it. And I loved speech and debate again with not much success at least from my first couple of years at school though I got I got better at it during my junior and senior year."
Zimmerman says he was able to come into his own during his junior year as he developed some close friendships and received some critical mentoring from teachers.
"Somewhere along the line it all kind of clicked. So by the time I was a senior I was having the time of my life," says Zimmerman.
After graduating from Clayton, Zimmerman went on to Claremont McKenna College in California and then to Harvard Law School. Despite living on both sides of the country, home to Zimmerman was still back in St. Louis.
Returning in 2000, Zimmerman worked as a lawyer in private practice before becoming Missouri assistant attorney general, deputy legal counsel to the governor, spending five years in the Missouri House of Representatives and finally being elected St. Louis County Assessor in 2011.
"So the punchline is I can't seem to hold a job here," jokes Zimmerman.
What has remained constant through all of his jobs, Zimmerman says, is his driving motivation to keep working.
"I've always wanted my life to make a difference in the community and specifically in this community," says Zimmerman. "that's always been more important to me than the title that I would hold or the number of zeroes that might be in my paycheck one day."
Although becoming County Assessor of all things was never something he imagined, Zimmerman says he feels it's been his most fulfilling and rewarding job.
As Assessor, he is responsible for finding the value of all real and personal property in St. Louis County.
"[It's] important that you pay your fair share relative to everybody else," says Zimmerman. "If somebody gets a sweet deal and gets a hundred thousand dollars knocked off the value of their home because their uncle knows somebody or because the computer made a mistake, then everybody else pays more to help fund the school district and the fire department. So my job is to make sure that that doesn't happen."
Zimmerman hopes that future Clayton graduates who go off to colleges in different cities won't choose to find the highest paycheck in L.A or New York.
"Instead they'll come back to the place where they are from and try to make a difference here because this is a place that's worth it," says Zimmerman.
Your donation will support the student journalists of Clayton High School. Your contribution will allow us to purchase equipment and cover our annual website hosting costs.