Maria Hyrc, '17
Environmental Science Student
"There is a place for everyone. As long as you follow whatever path you go on, you will find a place there," said Maria Hyrc*, a 2017 Clayton graduate. Now pursuing a major in Environmental Science at Washington University in St. Louis, Hyrc presented herself as a competitive student when she was still in CHS. She used to be the president of the CHS Speech and Debate team and was one of the most competitive Lincoln-Douglas debaters.
 "In high school, I definitely pushed myself a lot academically and just see what I could do," said Hyrc. She was very committed to her classes and grades as an upperclassman and built strong bonds with her teachers. "I know that they know that I can work hard. Usually, when I'm interested in a subject, the difficult things become challenging but not hard," Hyrc said.
Hyrc had many opportunities to connect with nature throughout her teenage years, and from that, she developed a close connection with her environment. "Ms. Sermos took me to a lot of field trips, [like] Grand Teton National Park and the Great Smoky Mountains," Hyrc said. She spent her first summer as a high schooler on a conservation trip conducting field research with Mr. Collis, where she fell in love with the outdoors and being able to study and learn more about them. She added, "Just being outside with nature and getting to learn in the outdoors was really influential for me… It is so crucial today, the relationship between human the environment is going to shape the future no matter what we do."
Besides her love for nature, Hyrc was very interested in mathematics as well. "I just really like math. I'm excited about it and I want to get other people excited about it," said Hyrc. "Mr. Kleinburg really inspired me to love math, and his love for math really channeled me into that direction. I still see him tutoring students at the same Starbucks that I tutor students at. It is really good to see someone that excited about what they teach and that made me love math."
Hyrc recognized that Clayton is a very competitive district, and the strive for perfection in her junior and senior years greatly impacted her mental health.
"[Clayton] is a very loving community that just tends to push itself a little too far," said Hyrc. "If you are in Clayton and you are doing fine, you will be fine in life. Pursue your interests, realize that you have a lot of power in the life you live, you can take it any direction you want. Don't hold yourself back."
*Note: While attending CHS, Hyrc was known as Marysia, not Maria.
About the Contributor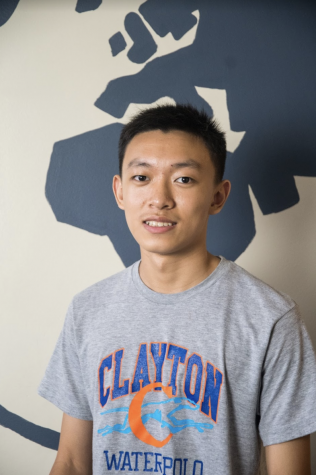 Hongkai Jiang, Review Section Editor
Hongkai Jiang is a senior at Clayton High school. He joined Globe sophomore year. He is the review section editor for Globe. The reason he joined Globe is because most of his friends...