Athlete Profile: Caroline Marsden
Lacrosse was never on Marsden's mind when she was younger, and now she leads the team
"I was convinced I would make the Olympics as a runner in fifth grade," senior, Caroline Marsden said. Marsden, the captain of the girls' varsity lacrosse team, has not always played lacrosse. Marsden grew up running.
"I love running. I grew up loving to run," Marsden said. "I also really liked soccer. Lacrosse was a good way to combine those things."
However, Marsden did not plan on playing lacrosse. She instead found lacrosse through her brother.
"My brother used to play lacrosse. I would pass with him to help him," Marsden said. "I ended up getting into it too. We ended up reversing roles. He doesn't even play anymore. I loved it so I would play with people in my neighborhood. Ever since then I have stayed with it."
"
Now it's like my favorite thing ever"
— Caroline Marsden
Soon after, Marsden began playing lacrosse in seventh grade for the Wydown Middle School lacrosse team under the direction of Bob Panke. Panke helped Marsden learn about the sport.
"Coach Panke really got me started and taught me literally everything I know about lacrosse. He was my coach for my first year at Clayton. He was also my coach in seventh and eighth grade. He is still there for me if I ever need him. He really liked the sport. I really respected him and I still do. He made it seem so much more than just a game on the field," Marsden said.
In her freshman year at CHS, Marsden was one of the only two freshmen to make the girls varsity lacrosse team. Now, in her fourth year of playing lacrosse at CHS, Marsden hopes to bring a different type of leadership to the lacrosse team.
"This year, I am really working on the positivity and team bonding aspects. We are going to be putting a lot more focus on that. We will also be working a lot on the field too," Marsden said.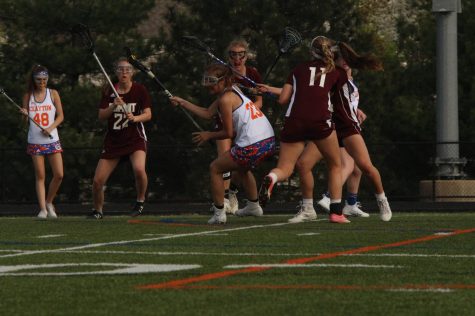 Marsden also hopes to lead by example. She hopes that the girls can watch her and then echo what she does.
"I try to lead by example," Marsden said. "So, by coming to every practice and trying my hardest at every practice, people follow that and it becomes a norm. That will set up our team better in the long run as well."
The girls on the lacrosse team have noticed.
"Caroline is always in a good mood and always tries her hardest. This really gets the rest of the team in a good mindset to play and try their hardest," sophomore Charlie McDonough said.
Marsden does not plan to play lacrosse at the collegiate level. However, she plans to play club lacrosse in college next year. She plans on keeping lacrosse in her life, even if she only plays once a week.
Marsden has learned a lot from lacrosse in her past six years of playing the sport.
"I think lacrosse correlates a lot to teamwork and being able to trust each other," Marsden said. "If you don't show that you trust your teammates, they are not going to trust you either. It has also taught me about positivity and commitment."
Be sure to keep up with Caroline & the team's progress this season by checking their game scores at the top of our homepage!
Leave a Comment
About the Contributor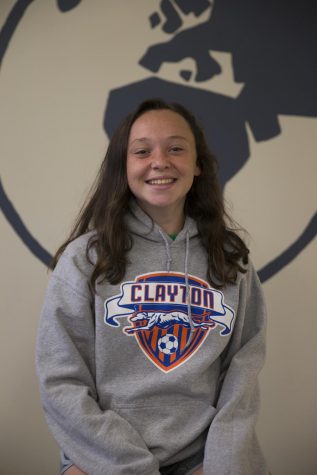 Cece Cohen, Reporter
Cece is a sophomore and this is her first year on Globe. Cece joined Globe because she loves writing and wanted to get more involved at Clayton. She looks forward to growing her...