Mayor Harris
Michelle Harris steps up to the plate as the new Mayor of Clayton
If it feels as though Michelle Harris has guided Clayton for a lifetime, she has. On April 23, Harris was sworn in as the new mayor of Clayton. A resident of Clayton for 29 years, Harris has served as alderman for 11. On November 28, 2018 Harris launched her campaign, and on December 11, 2018, she officially filed as a candidate for the position in the upcoming election.
Harris says her passion for the city motivated her to run. Aside from her 11 years as an alderman, she helped found various organizations including the Clayton Century Foundation. She also serves as a board member for the ZMD, or Metropolitan Zoological Park and Museum District. "All of these things have been very rewarding," she says. They drove home the idea of how much can be accomplished through local government and working with community members, driving her to keep going in community leadership: "I love getting people together to do great things."
Harris' campaign centered on three priorities, revolving around a single concept. "My priorities are zeroing in on sustainability," said Harris. "I mean economic, environmental, and social.
"Economically we're in great shape," Harris says, adding that she wishes to direct attention to more quality-of-life measures. Some include making Clayton more walkable and protecting Clayton's quaint shopping districts, preventing them from overdevelopment.
Her immediate plans involve getting to know those who work around and with her. "It's really important, in that early stage, for me to meet with each individual alderman and discuss their vision for our community's future."
Harris' own values include those of honesty, transparency and inclusion: "Cities are about people!" She feels strongly about creating a diverse atmosphere in Clayton, strengthening social sustainability:
"
One of the early things I'd like to look at is exploring policies that will ensure that Clayton is welcoming to all."
— Harris
Moving forward, Harris plans on continuing an ongoing dialogue with the Clayton school district during her time as mayor. "Working with the whole school district is a key part of being mayor."
"Something that I've been doing for a few years now is leading a strategic relationship team," Harris says. The group includes many major stakeholders which directly affect the Clayton community. Information is shared between the superintendent of the Clayton school district, Sean Doherty, as well as representatives from nearby universities and organizations. "I plan to continue leading that, as well as specifically supporting the district's activities through communication and collaboration."
Harris plans on keeping in touch with youth in the Clayton school district, such as through MYAC, the Mayor's Youth Advisory Council – a group of high school students who meet and discuss topics with the mayor. "It's another way I'll have a chance to work with the high school."
Michelle Harris is prepared to work with those around her to enhance the overall sustainability of Clayton, and protect and improve the inclusive atmosphere. The new mayoral term comes with a new mayor for Clayton, and a new Clayton for Harris to guide.
Harris is the proud parent of two Clayton High School graduates, Clayton & Carson, who are working on undergraduate and graduate degrees, respectively. She lives in Claverach Park, with her husband, Scott, retriever Sugar and an elderly cat named Kit.
About the Contributor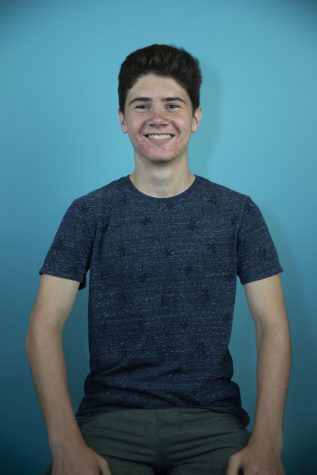 Shane LaGesse, News Section Editor
Shane LaGesse is a sophomore and this is his second year in globe. He is working as a News Section Editor. He joined the Globe because he found an interest in journalism and had...