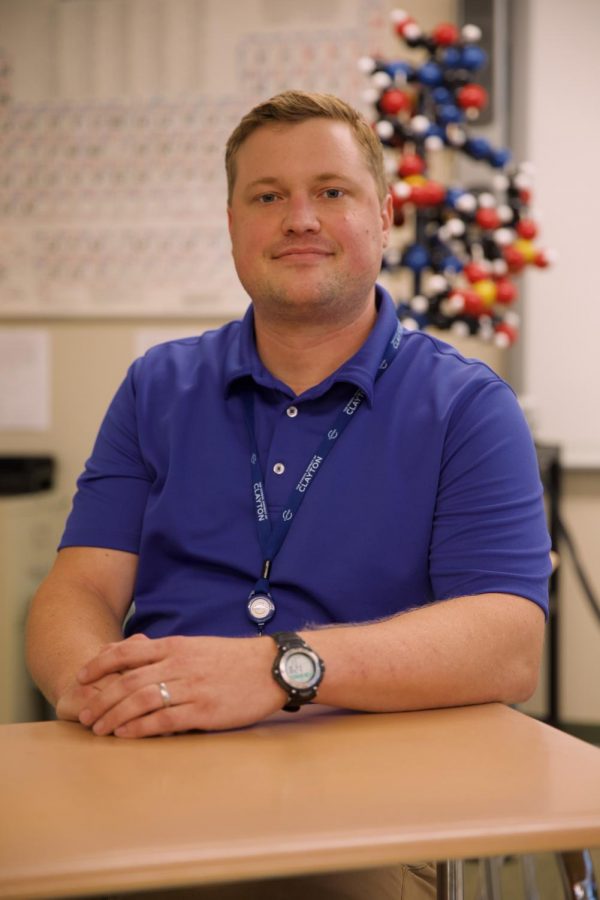 Bradford Buck
"I love learning myself. And I thought there was no better way than to do something that literally causes you to learn something new every day," said Bradford Buck, new CHS science teacher.
"I was in a career working for a technology company," Buck said. "And I worked in undergraduate or graduate research. In a cancer biology lab, a lot of [my work] was repetitive. With teaching, you might be teaching some of the same content, but you never teach it the same way. Your classroom is never the same. I love that variability. I love that change. I love the relationships."
While the changes that come with teaching drew Buck in, some of his own high school teachers inspired him to fall in love with science.
"My high school science teacher was one of them," Buck said. "I already liked science, but they made me love science. I think when people come to moments of realization and they make connections, it's really cool to see that process happen. I find it very exciting as well, when I make new connections and I learn something or change my perspective on something. It's always a cool moment. So with teaching, you see that all the time."
Buck's passion for science transfers into other subjects as well. If he wasn't able to teach science, his second choice would be art.
"I was almost an art major in college," Buck said. "I still like to incorporate a lot of art into science because I find nature to be incredibly beautiful. And I love microscopy, mainly because you could know what something looks like for your entire life, but when you put it under a microscope, it almost seems alien at first. Up close, things look completely different than you would expect."
And if Buck wasn't able to teach at all, his unexpected alternative would be flying: helicopters, for that matter.
"I've always wanted to fly helicopters," Buck said. "I'm very fascinated by the aerodynamics of helicopters and how they exist as a machine. It's a really incredible kind of invention and use of physics. And technically, it shouldn't even work the way that it does. There's so many aspects of it. So mixing that and the freedom of flying, as well as the uses of helicopters for ambulances, I would probably be a life flight pilot. And it's still my goal to to learn to fly a helicopter."
Before becoming a teacher, as well as a helicopter fanatic, Buck attended University of Mary Washington for his undergrad.
"It's a small liberal arts school in Fredericksburg, Virginia, which I loved," Buck said. "I was able to play division three lacrosse for a couple years, and then dropped that because it was tanking my grades. College athletics is a huge time commitment, and I was definitely not going to be a professional lacrosse player."
After leaving college, Buck worked in biotech for three years, growing viruses and making media for bacteria. After a while, he decided to go back to school.
"I got into a PhD program in University of Alabama at Birmingham. I was in that for about four years before I realized it was going to be another four years, and then potentially another two after that," Buck said. "And at that point, I realized my love for teaching. I dropped out of that PhD program and got a masters in biomedical sciences. Making the decision to teach at the high school level, or secondary in general, was terrifying. But it was the best decision I've ever made."