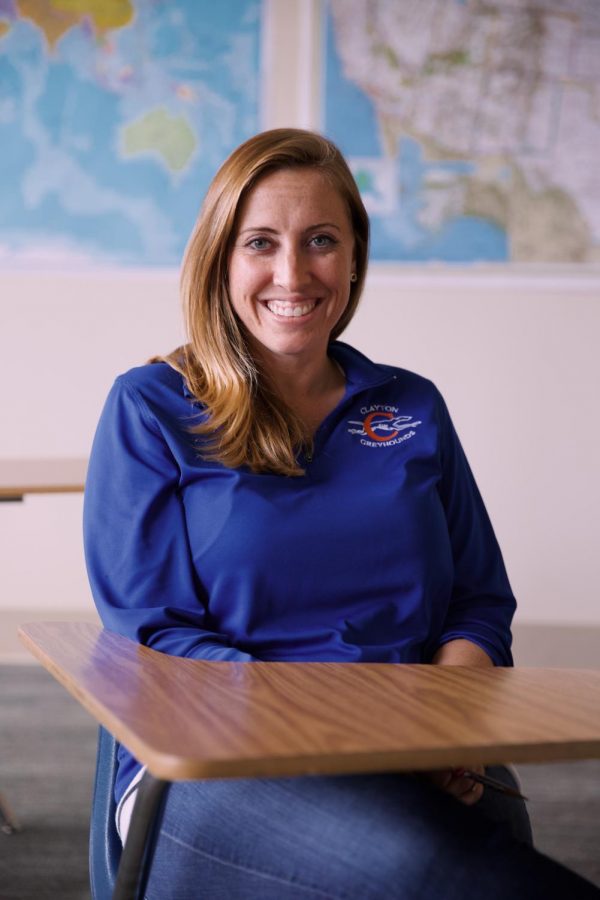 Danielle Duhadway
In middle school, incoming CHS history teacher Danielle DuHadway wasn't a great student. She disliked reading and felt like her writing didn't measure up to that of her peers. Classes seemed difficult, English was uninteresting and school just hadn't clicked for her. That is, until she took World History in her freshman year of high school.
"It wasn't until [that time in my life] that I felt like I was capable and that I could do things, and that was probably because of my history teacher," DuHadway said. "He really believed in me. Ever since then, I totally changed my outlook on school and fully embraced learning. It really changed the course of my life. Which is crazy, to think that one person can have such a large influence on someone else. That was a big reason that I became a teacher, the idea that I could help others."
Before taking this class, DuHadway didn't have much interest in history. Afterwards, she wanted to learn as much about social studies as possible before senior year. Her love for the subject continued into her time at Truman State University, despite the fact that she was majoring in science. By junior year, however, she realized that she was following in the academic footsteps of her family members instead of pursuing her true passion: teaching.
After finishing four years at Truman, DuHadway enrolled in classes at UMSL to receive her masters in education. Simultaneously to taking classes there, she acted as a teaching assistant for one of her professors, which allowed her to gain some experience with teaching first-hand (though much of her time was spent grading).
From there, DuHadway became a student teacher at Lindbergh High School, where she was subsequently employed for eight years. Her job proved to be even more rewarding than she had initially expected.
"Teaching exceeded my expectations," DuHadway said. "I didn't think that I would learn as much as my students. I had this preconceived idea of teaching as like, 'I know a lot of things, and I'm going to teach it all to the students,' and that was going to be the dynamic of the relationship. But I ended up learning way more from my students."
According to DuHadway, this ability to gain knowledge and perspective from her students is what motivates her to grow as an educator.
"I've been teaching for almost a decade now, and I'm not done learning. I learn something every year, and that's what makes teaching so fun. You don't have to do the same thing year after year, day after day. That's why I think teaching is the best job in the world," DuHadway said.
Her classroom experience has also shaped and changed DuHadway's philosophy of teaching. Today, her main focus is on her students' individual needs and wants. She hopes to instill in each child a sense of their own capability and independence in pursuing the topics that interest them. One of the main reasons that DuHadway decided to teach at CHS was the knowledge that its students are confident in themselves as learners.
"[I wanted to come to Clayton] because I know that the students are really empowered and have so much opportunity," DuHadway said. "I think that students here are willing to take risks in order to embrace those opportunities. I really wanted to be a part of that. Clayton is a really special place because you have a lot of resources that other schools don't have. Knowing that there's this atmosphere of academic excellence, but at the same time having a student body that's engaged in so many different things, it sounded like something that I would really like. I think it's going to be an awesome year."