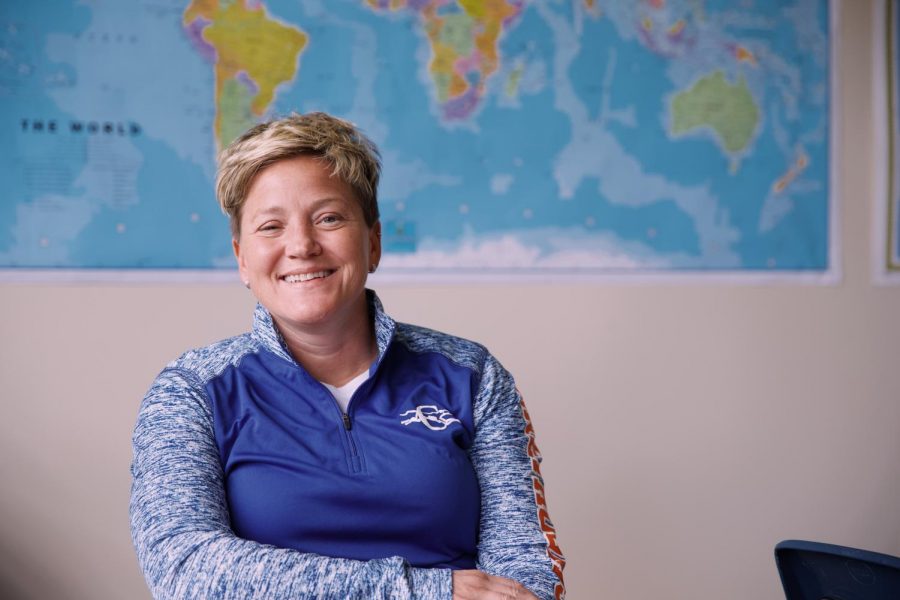 Amy Doyle
Passionate. Caring. Fun-loving.
These are three words incoming history teacher Amy Doyle would use to describe herself. After spending 19 years in the Rockwood School District, 17 of which were spent at Marquette High School, Doyle is set to teach US and World History to rising ninth and tenth graders.
While reputation contributed to her interest in CHS, size and involvement in social justice, a passion she shares with students, were also instrumental in her decision, and these two go hand-in-hand.
"There is a deep sense of 'other' in Clayton that certainly existed at Rockwood, but it's such a big district that it's harder to have that feeling that you're a part of something bigger than yourself," Doyle said. "At a smaller school, it's easier to get that feeling of 'we're all in this together'."
Apart from this involvement in social justice, Doyle's first impressions include CHS students who are "well-rounded, very driven to do well, but also like to have fun and be the young adults that they are."
Doyle also appreciates the recent amplification of the district's commitment to equity. This effort, combined with the small school setting, are indicators of the bonds she hopes to make.
"I'm coming from a very large district. In my own educational background, I came from a very small high school, so I'm excited to get back into a smaller school where you get to form relationships with almost everyone, and meet a lot of people. It's going to be fun for me," Doyle said.
If she herself was a CHS student, Doyle said one could find her playing sports such as softball, soccer and basketball as she did in high school, but also in activities such as Model UN and Speech and Debate.
"That's really where my passion lies now: making a difference with my word," Doyle said.
Doyle hopes to do just this within her role as a teacher, a determination she made as a mere junior in high school.
"I had a history teacher my junior year of high school that was amazing. She was one of those teachers that cared about me first and then cared about the content," Doyle said. "I'll never forget; It was an American History class, and there was a test I didn't do really well on. I was stressed — I played three sports in high school — there was just a ton of stuff going on, and she wrote on my test 'Hey, is everything okay? This isn't like you.' That kind of care and concern for me as a person drew me into wanting to become a teacher."
In terms of history, specifically, Doyle truly enjoys discussing the nature of humans.
"I talk about history as the human experience — what it means to be human. It's something that we can all relate to because we're all trying to trudge through this life and make the best of it. That is where my passion lies," Doyle said.
While Doyle spent her summer traveling far and wide to places like Budapest, Krakow, Prague and Vienna, she also looks forward to relaxed afternoons complete with an ice cream cone along Clayton's strip of Demun.
While moving districts is undoubtedly accompanied by vast changes, Doyle is welcoming the months ahead.
"I loved my students at Marquette. I didn't leave because I was unhappy, so I'm excited about the prospect of meeting more people. And change. Change is good."