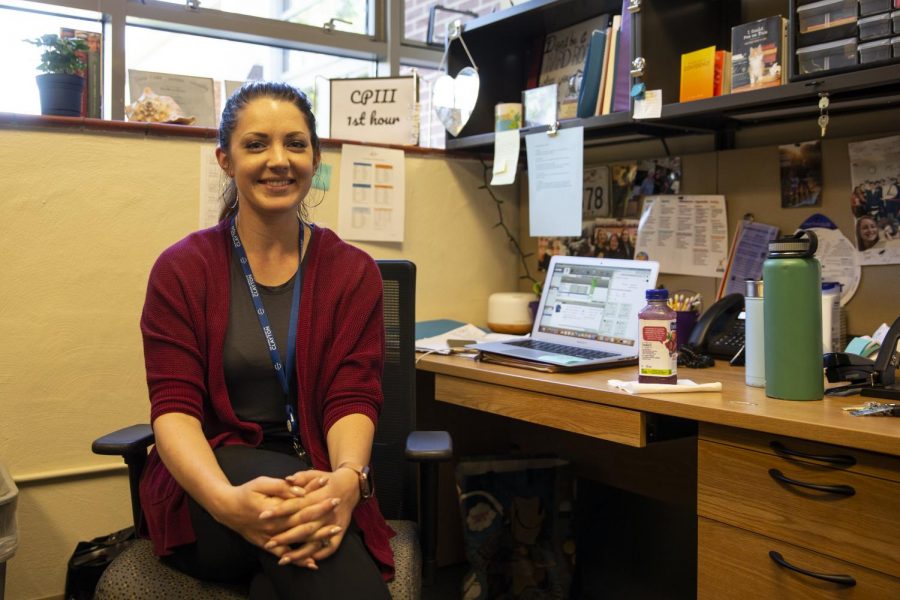 Dana Augustine
"Part of the interview process was coming in and teaching, and I remember coming to this school and walking through the halls. The vibe of the school was a lot different. I felt like this place was a place of learning, and that people here for the most part are here to learn," new CHS English teacher Dana Augustine said.
Augustine had been teaching for six years in San Diego and Florissant, Missouri before deciding to come to Clayton. According to Augustine, teaching English interests her for a number of reasons.
"Especially with English, I think that there are a lot of important and interesting things you can talk about with high schoolers," Augustine said. "High school is such an important part of your education. It is right before you are on your own. So I just think that it is a super important time to have someone who cares about you first of all, but also second of all, have a space to explore your values and what is important to you."
At CHS, she will be teaching College Prep English 3 and 4 to juniors and seniors. She looks forward to exploring different literary perspectives with her junior classes, as well as navigating the wide range of choice afforded to seniors in English.
Outside of school, Augustine enjoys several hobbies.
"I like learning about yoga and like practicing yoga, but I don't work at a studio," Augustine said. "I started reading a book called 'The Body Keeps The Score' and it is about things that happen in your life that your body physically stores, especially when it is something traumatic, and how that affects how your brain communicates with your body. The way all of it works together is super interesting and important for us to know as individuals and me as a teacher, and it's a good reminder that everybody is going through stuff that affects you in ways that you can't always control."
Overall, Augustine hopes to promote a healthy and supportive environment in her classroom.
"I am excited to see all my students and just become apart of the community," Augustine said.