Robotics Chili Cook-Off
During the evening of Friday, November 1st, the CHS robotics team (or "Robohounds"), held its Chili Cook-Off fundraiser for the fourth time running. An annual tradition, the robotics team has held a chili cook-off fundraiser every year since the initial Cook-Off in 2015, which was organized in collaboration with the Drama Club.
The premise of the fundraiser is simple. Five tickets are sold by each club member for $15 a piece ($10 for students), and a chili competition is held in the CHS Commons. Clayton parents prepare the entries, and attendees vote on their favorites with one- and five-dollar bills (with a few 20s thrown in to swing the vote). A variety of other fundraising opportunities, like a "Robotics Wish Board" are also available throughout the evening.
This year's competition saw a wide variety of entries, from vegetarian chilis to meat-filled extravaganzas. "I thought it was good," said junior Sammy Fehr, "It wasn't as good as last year. But I thought the ['The Bomb'] chili was probably the best. Not gonna lie … It was fun to try all the different flavors." Regardless of Fehr's opinions, the "The Bomb" chili missed out on the first prize, which went to Brian Yaffee's vegetarian chili.
Over $700  in chili competition votes contributed to a grand fundraising total of over $10,000, making the 2019 event the second most profitable Cook-Off in Robohound history (last year's fundraiser generated only around $8,000). The funds generated here are of great value to the team, which spends thousands of dollars each year on robot parts — not to mention the entry fees for some of the season's larger tournaments.
After the competition, the team held a dessert auction, with entries provided by parents and local businesses. With everyone looking to sample some of the "Nothing Bundt Cake," the selling prices of some items reached well over one hundred dollars. Fehr described an attempt by several of the high schoolers to combine their resources and purchase the bundt cake for $150: "I got a bunch of people to pool money, and then bet on out cake, and we way overpaid," said Fehr. After several upsets (the high school group somehow managed to outbid itself, raising the price from $115 to $150) the effort was ultimately successful. "It was worth it," Fehr said, "To support the team."
Your donation will support the student journalists of Clayton High School. Your contribution will allow us to purchase equipment and cover our annual website hosting costs.
About the Contributor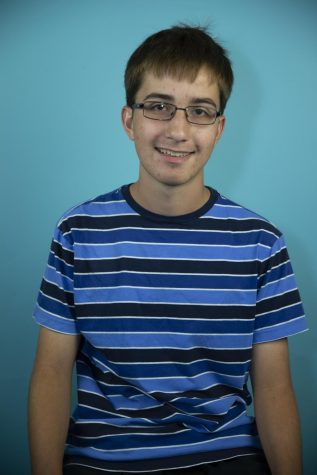 Luka Bassnett, Reporter
Luka Bassnett is a junior at CHS and is starting his second year as a reporter for the Globe. Luka joined the Globe in his sophomore year as a way to improve his writing skills...