Corona Columns: Issue #5
Page Editor Emma Raine shares the importance of staying connected, even when you cannot do so physically.
As I strode through the aisles of Office Depot with my mom searching for clear plastic dividers to fashion into face shields for herself and her fellow ICU doctors, I felt sadness that my mother had been put in this position. Doctors everywhere are being forced to work without the proper protective equipment that hospitals normally provide, and many are fashioning their own protective gear. I believe it is unethical that hospitals are allowed to endanger their workers, and it's even worse that these conditions stem from a lack of action from the federal government. We are in the midst of a widespread humanitarian crisis, and it is not being addressed properly because of political gridlock. However, even though the government and hospitals are not supporting their workers, many community members are.
For example, a friend who owns a 3D printer has designed plastic headbands to secure the clear dividers for a reusable face shield. With his help, my mom was able to construct face shields for 50 other doctors and nurses, and more are on the way. Other family members have donated over forty N95 respirator masks, and my mom also acquired a brand new full face gas respirator. It reassures me that people are willing to donate some of their own valuable protective equipment to those who need it the most.
Through shared sacrifice to slow the spread of the disease, we remain connected. Many people under quarantine are dreaming about what they will do as soon as this is over, but this has also given us a once in a lifetime (hopefully) opportunity to reflect on the gift of newfound time and how to most productively spend it. I have finally been able to learn a couple of new scripts in calligraphy, and I've been able to paint and mail pictures to some of my elderly relatives who could use a distraction from their anxiety about their health. Coronavirus has really given me a new appreciation for being young and healthy, but I am also aware that it can still be deadly to teenagers.
"
"Through shared sacrifice to slow the spread of the disease, we remain connected."
— Emma Raine
Despite everything, my neighbors have been a welcome source of entertainment, like when I marveled at a 100 square hopscotch board that was drawn up in colorful chalk by the children who live there. My favorite neighborhood entertainment is a bagpipe player who lives one street east of me, who normally only performs outside on Halloween night for the kids. The other day, I was playing with my dog in my backyard, and I heard music I quickly recognized as "The Bagpipe Man" as I call him. I smiled, recalling the excitement I felt as a child on Halloween. Although I was physically separated from "The Bagpipe Man", the connection between bagpipes and the best of times can never be severed in my mind. Memory and emotion have the power to transcend physical distance, so lean into it.
Leave a Comment
Your donation will support the student journalists of Clayton High School. Your contribution will allow us to purchase equipment and cover our annual website hosting costs.
About the Contributors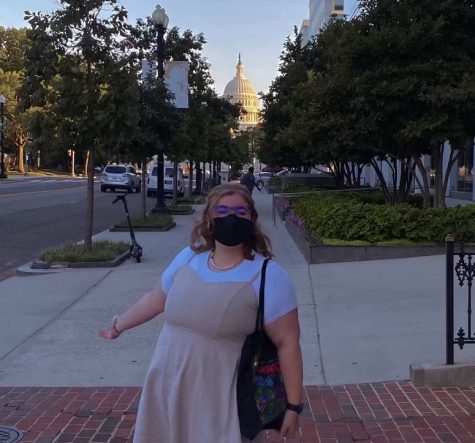 Ella Cuneo, Editor-in-Chief
Ella Cuneo is a senior at CHS and this is her fourth year on the Globe! She is one of the editors-in-chief.