A New Approach to Clayton Education
As the presence of coronavirus increases in St Louis, several schools, including Clayton, are forced to make changes to their educational plans
On the first day of each school year, hundreds of students rush into Clayton High School. Freshmen approach the front entrance timidly, desperately trying to remember the path to their first period class. More seasoned students park at Stuber or in the CTE parking lot and walk through the familiar halls of CHS. By this point in their high school careers, they have developed their favorite routes, with some students choosing to cut through the quad, while others stride across the Foreign Language hallway. By 8:15, the halls are bare, with students in the first first period class of their school year.
But, this year will be different. On August 24th, at 8:15 AM, the halls of Clayton High School will be empty. But, so will every first period classroom. Instead of rushing to get to their classes, students will be rushing to login to their early-morning Google Meets or Zoom calls.
The 2020-2021 school year will be unprecedented for students around the nation. With COVID-19 still running rampant across the U.S., schools have been forced to adapt. The Clayton School District has announced a "Return to Learn Plan". The plan was developed with three major areas in mind: risk mitigation, health promotion, and educational adaptation, while keeping a high-quality education for students a priority.
The Return to Learn Plan details two options for students and their families: Responsive Learning and Learning at Home.
Responsive Learning is a flexible plan that changes on a day by day basis. It is "designed with the goal of safely learning at school but being agile enough to respond to changing public health conditions. It has three phases, In-Person, Hybrid and Remote, for learning based on the health and safety needs of our community," said Clayton School District Superintendent Sean Doherty.
Responsive learning is dependent on the status of COVID-19 in St. Louis County. If cases continue to increase within the county, remote learning will likely be implemented. If cases begin to fall and County Officials suggest it is safe to return to school, the hybrid learning model could be put into use. Lastly, if there is a steady decrease in cases and COVID-19 seems to be under control within St. Louis county, students could be able to use the In-Person learning model. Under the responsive learning model, the first quarter of the school year in Clayton will be virtual, and what school looks like after that will vary on a day by day basis.
The second option for students is the Learning at Home Plan. Doherty said, "Our Learning At Home option provides a fully virtual approach to school with access to a wide variety of courses taught by a Clayton teacher, a teacher from a neighboring district or a state-approved virtual provider. This option will include synchronous and asynchronous instruction, a daily schedule and consistent grading expectations. Students who select this option will be asked to commit to it for the entire semester in order to ensure continuity of education."
Virtual learning is new to all of us. Students get easily distracted, parents now have to be teachers, while teachers have to try new online tools and re-evaluate the possibilities of performing activities at home. Efficiency, engagement, and productivity have declined for many students, for a lack of motivation and disconnection from things we are learning. When "the classroom" is seen strictly through a screen, it often discourages students from frequent and high-quality interactions with peers.
While using distance learning can result in hiatus in education for some students, it also provides students with choices they do not usually have. Students can complete tasks in the order that they prefer and at their own pace. With such a flexible schedule, it's easy for students to participate in extracurriculars that they didn't have time before.
According to Dr. Doherty, part of their strategic plan is to develop "more personalized approaches to teaching." With this new learning model, one commonly asked question for Clayton students and parents is, what about the content that's left out due inadequate time in class?
"
[We have to] re-evaluate the pace that we're pushing out content in, to make it feel manageable for students, and at the same time also be able to say that we're teaching them things that we've committed to within that course.
— Milena Garganigo
Assistant Superintendent of teaching and learning, Milena Garganigo said, "[We have to] re-evaluate the pace that we're pushing out content in, to make it feel manageable for students, and at the same time also be able to say that we're teaching them things that we've committed to within that course."
Teachers and coordinators in the district are now particularly looking at sequential courses, such as math classes that build upon previous knowledge. They are evaluating the possibility of rearranging some curriculums. Part of the difficulties Garganigo and others face is knowing what to change and what to keep the same.
Gargnigo said that this chance is "giving us a new way of thinking about how students learn."
Online learning had started far before the outbreak of COVID-19. The uses of Massive Online Open Courses (MOOCs), including Coursera, edX, and more, have grown dramatically in the past few years starting in 2012. Looking at studies and successful models could help us better understand and learn through the Internet. A Taiwan study suggested that synchronous online communication along with clear course objectives increase learning motivation and satisfaction for online learning.
In 1969, "Sesame Street" first came out with the intention of helping preschoolers to learn, and now educators are doing the same thing.
However, while school temporarily moves online, it's accompanied not only with dealing with learning challenges but also the necessity of taking care of one's emotional and social-emotional needs, avoiding the feeling of isolation or disconnection.
With long hours sitting in front of the screen, tech-issues come up intermittently throughout the day, everyone is yearning for physically meeting with their friends and physically sitting in a classroom. However, the Clayton School District has pledged to keep both the social and emotional well being of both students and staff a priority.
While several schools in St Louis County are maintaining at-home learning for now, schools in other nations are creating various different learning plans based on the localized severity of the pandemic.
In Freiburg, Germany where 32,868 positive COVID-19 cases were confirmed, as of May 8th, only a third of the seniors returned to school, according to Evelyn Pearce. However, all students are required to wear masks in the halls, classroom desks are far apart, and only one person is allowed in the restroom at a time.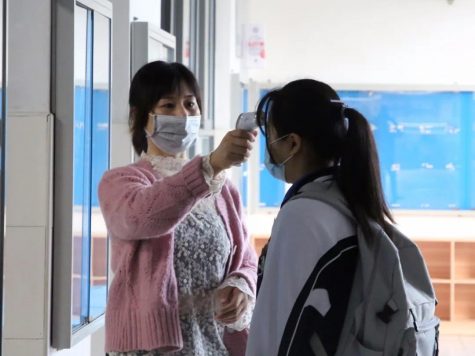 In Anhui, a Chinese province, which as of August 10, has 991 confirmed cases, students were able to return to school. Shaohan Wang, a ninth-grader at Number 50 Middle School in Anhui, said that ninth graders went to school first, then eighth graders, and by April 24th seventh graders were in school as well. Every student needed to record their temperature four times a day on temperature cards. On top of their classrooms being disinfected twice a day, masks are required in all classrooms, including P.E.
In Shenzhen, China, all students must take a COVID-19 test and receive a negative result prior to returning to school, according to Yuming Ji. Every classroom has hand sanitizer and students get their temperatures taken every time they enter a classroom. This, however, is not possible for many school districts within the US, as cases are steadily increasing, with few signs of slowing down. While for most students, school has been the primary aspect of their educational experience that has been affected, other aspects have also been altered.
During the pandemic, standardized tests like the SAT and ACT have canceled their testing dates in the near future. This led to nearly 100 universities temporarily changing their testing policies, sparking a larger discussion about the necessities of standardized testing in the college process. Researchers found that SAT scores correlate positively to higher parental income levels — training costs hundreds and even thousands of dollars. As one measure of college entrance, standardized tests may not possibly be abandoned by people, but there are still things we could change for the better — making the test less strategic, reversing the stereotypical views that those tests are a measure of success.
It is undeniable that the coronavirus has changed what education will look like, potentially long-term. Despite the hardships and issues that may result from online learning, this experience could change the way students across the world are taught. Students who live far away from home, or have hardships attending school may have an easier time receiving their education online, especially with new technologies and models being developed. The way traditional schooling is administered will be altered, especially with the unique insight this pandemic has given everyone.
The Globe intends for this area to be used to foster healthy, thought-provoking discussion. Comments are expected to adhere to our standards and to be respectful and constructive. As such, we do not permit the use of profanity, foul language, personal attacks, or the use of language that might be interpreted as libelous. Comments are reviewed and must be approved by a moderator to ensure that they meet these standards. The Globe does not allow anonymous comments, and The Globe requires a valid email address. The email address will not be displayed but will be used to confirm your comments.