Music Will Go On
During this difficult time, the St Louis Symphony Orchestra is doing its best to continue to provide music
Starting mid-March 2020, the COVID-19 global pandemic placed a pause in nearly everyone's life in the US. No school, no going to work, and all governments started issuing stay-home orders sooner or later. Now more than ever, people are looking for comfort and consolation, for connections from the pre-COVID lives. During this difficult time, our own St. Louis Symphony Orchestra is doing its best at continuing to provide music for the community.
"The most important rule that we have right now is to make sure that our musicians, staff, and patrons are safe and healthy," SLSO Public Relations Manager Eric Dundon said.
Listening to a concert at Powell Hall is a large group event that places thousands of people in one hall. To ensure that everybody can do so safely and healthily, the SLSO decided to cancel and reschedule all of their concerts and events since Mar. 13 until medical professionals determine it's safe to gather again.
"
During a time of uncertainty, music is a really great healer
— Eric Dundon
"Having said that, we also recognize that during a time of uncertaintly, music is a really great healer," Dundon said. "It's a way to build bridges that connect communities."
Stéphane Denève, music director of SLSO, also said that music is the fastest way from one heart to another. To maintain a connection with the community, the SLSO gathered musicians from all over the St. Louis region and presented a series of at-home music performances called SLSO at Home through their YouTube and other social media channels.
"There's been a lot of comments about how the music has been healing or uplifting, or meaningful to [the audiences]," Dundon said. "That's the type of thing that we love to see because that's really core and critical to the SLSO mission of enriching lives to the power of music."
In addition to SLSO at Home, it is reaching out to the community in several other ways as well to make sure that they stay connected to music. A new page launched on slso.org in March called the Instrument Playground Online provides a series of resources that people can access. It allows people to explore the instruments of the orchestra and the musicians who play them through some fun and short videos, where young musicians interview the professional musician about the basics of how they play their instrument, as well as downloadable at-home activities and videos of instrument demonstration. These activities were based on the original in-person instrument playgrounds, which usually take place before family concerts.
Additionally, the SLSO education team has put together a broad set of resources that can be downloaded at home, which include additional activities based on different pieces of music such as Olympic Fanfare and Vivaldi's The Four Seasons.
"[This is] a way that we thought we could introduce young people to orchestral music in a fun way at home, where they don't have to come to Powell Hall to experience it," Dundon said. "We can start planting the seeds towards a lifelong love of music through fun and engaging activities that can be done right at home."
A sister website to slso.org is called slsostories.org. This is a digital magazine where the SLSO puts together different videos of their program, unique stories, and interviews with the musicians. At this website, audiences can discover behind-the-scene stories that they don't get to see sitting in the audience seats.
On the bright side, this pandemic allowed people to realize the importance of supporting the arts and cultural institutions in the city. It's very clear that people have a strong appetite during uncertain times for experiences that heal them and provide a respite from daily challenges that they're facing, and arts really can create experiences that nourish the soul. Now more than ever, the type of work and music the SLSO provides is incredibly important for the community.
"Another thing that we take away [from the pandemic] is that we have an incredible community of supporters, specifically for the SLSO," Dundon said. "We've seen people really wanting to support us, even though they can't come and see us in person. These times have shown us that the type of work [we do] can't be undervalued, and we continue to look at ways on how to make the [musical] experience safe and healthy for everyone."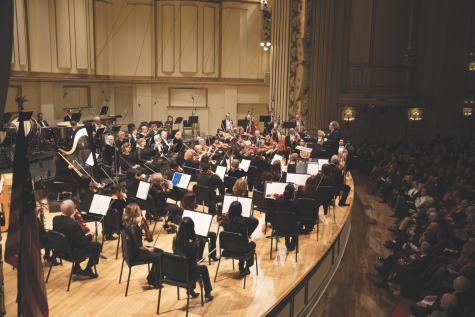 The SLSO has a task force that comes together regularly and discusses the way forward for the musicians as well as audiences. Their priority is making sure that anything they present at Powell Hall is done safely with everybody's health in mind while still maintaining the standard of excellence.
For current ticket holders who own tickets to the canceled spring concerts, they have three options: one is to receive a refund for the value of the unused tickets; one is to receive a voucher to be used for future concerts; and lastly, they can choose to donate the value of their tickets back to the SLSO, which is a 501(c) nonprofit organization.
Dundon expressed that as of the week of May 9, between up to 45% of people have donated the value back to the SLSO and they are incredibly grateful for everybody's support.
"Even though we don't have in-person events right now, we haven't lost our stride," Dundon said. "We just had to shift some of the things that we're doing and keep our eyes on what's critical for our organization. And that is creating thrilling musical experiences and enriching lives."
FROM SLSO: We just announced concerts in June rescheduled to August. We are working toward having in-person experiences beginning in August, working with the city and county to develop procedures and protocols to hold concerts safely and while observing social distancing.
The Globe intends for this area to be used to foster healthy, thought-provoking discussion. Comments are expected to adhere to our standards and to be respectful and constructive. As such, we do not permit the use of profanity, foul language, personal attacks, or the use of language that might be interpreted as libelous. Comments are reviewed and must be approved by a moderator to ensure that they meet these standards. The Globe does not allow anonymous comments, and The Globe requires a valid email address. The email address will not be displayed but will be used to confirm your comments.