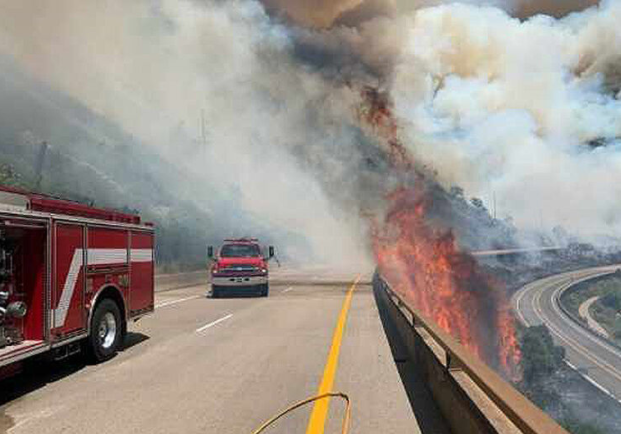 The Wildfires of Glenwood Canyon Raging Over The Amazing Scenery
October 8, 2020
Glenwood Canyon in Colorado is one of my favorite places in the United States, and even in the whole world.  I went there this summer for the very first time, and I was just so grateful to get to see the scenery in person. I rode on a bike trail that was entirely next to the highway, with the Colorado River on the other side. I brought some of my Tomica cars there, and took many great pictures of them in the Canyon. Spending a whole day there was just so thrilling and it was one of my favorite highlights of the year. Just one month after I visited, Glenwood Canyon underwent some serious wildfires that took place in it's western end.
These sudden wildfires, that occurred in Glenwood Canyon during the second week of August, were known as the "Grizzly Creek Wildfires." With the fires now over, over 32,000 acres were burned, and the fire was 82% contained at this point.
One month before these fires started, I had the chance to visit Glenwood Canyon. It quickly became one of my favorite places in the world. I've always been interested in highways, and also cars. Interstate 70, Colorado's main interstate, runs through Glenwood Canyon with the Colorado River running right along side, tunneling in and out of the most magnificent rock formations.
"
No matter the natural disaster I've covered, whether it's a wildfire or flood, I always come back with a much greater perspective. "
— Ginger Zee
While the fire raged, Governor Jared Polis visited the firefighters in Glenwood Canyon. He told them that "The Grizzly Creek fire is now the number one fire priority in the entire nation," and later he added, "The top priorities of this Grizzly Creek Wildfire include protecting and re-opening I-70 and protecting residents and homes in the area."
Interstate 70 is Colorado's number one major highway, and besides Glenwood Canyon, it also goes through the Rocky Mountains, but is also known for having many avalanche disasters in the Rockies and some rockfalls in Glenwood Canyon. However, the interstate is currently undergoing some major upgrades in certain areas of Colorado, including Floyd Hill and Denver.
As of the Grizzly Creek Wildfires, drivers were required by C-DOT and police to take an alternate or detour route that is not the closed portion of I-70. Public areas such as the Hanging Lake Recreation Area and the White River National Forest.
Some of these areas are very popular tourist attractions in Glenwood Canyon. A number of residents in homes that were around the setting of the wildfires needed to evacuate out of their homes into places such as Battle Mountain High School.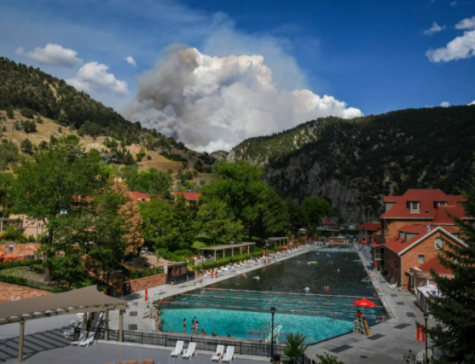 Fire crews have been doing what they could to protect homes and other key spots in some of these areas. Previously, there have also been a number of meetings about these wildfires, to give residents updates on them. Interstate 70 and the bike trail are now back open; the interstate was closed for 13 days. But these interstates are only open right now for traveling purposes, and people are unable to go to any of the tourist attractions in Glenwood Canyon at this time, excluding the Hot Springs Pool in Glenwood Springs.
One question that can be answered by many is, What could we do to prevent more wildfires from happening during hot temperatures? There are definitely some tips that should be obeyed and used to help prevent these wildfires, from destroying the beautifully scenic outdoors in Colorado.
Most of these tips are dealt with by having campfires; one tip is to keep campfires small sized, so that they won't burn any nearby trees, which would definitely cause the wildfire to increase in size. Another tip is to keep an eye on your campfire to never let it burn unattended.
It is important that you never let a fire burn unattended because one would never know if wind could pick up, or if the fire would expand in size. It is also important to not build your fire in dry or windy conditions; that could cause the fire to expand in a certain direction, and one would not know what direction it could potentially take.
Another important tip that is key for many, is to not build a fire at a campground that does not allow campfires. In order to make a small campfire if you want to have one, it would have to be at a place that does allow small campfires. A final important tip is to never use live trees or branches for fires. So, with many of these important tips, the Grizzly Creek Wildfires were not fully due to hot temperatures, but they were humanly caused. By not causing dangerous wildfires, people have to do what is right to not cause a horrific problem that damages many acres of land.
There is a lot that we can do to make Glenwood Canyon, for it to remain a very wonderful place where many travel through, bike through, and river raft in. Glenwood Canyon definitely has a lot of fun activities, where anyone can have a lot of fun. Today, Interstate 70 going through Glenwood Canyon is one of my favorite places of all time, and I want it all to forever look spectacular!