PODCAST: The Globe 10/5/2020
Senior Managing Editor Ella Cuneo gives us quick update on what's been going on in the past week.
Transcript:
Welcome back to The Globe Podcast. This week's update was recorded on October 5th, 2020 by Senior Managing Editor Ella Cuneo.
As you probably know, a lot has happened the past few days.
Starting off last Wednesday, September 29, we had the first presidential debate where Chris Wallace from Fox News was the moderator. President Donald Trump and former Vice President Joe Biden debated over six main issues; the coronavirus, economy, supreme court, race and violence, Trump and Biden's records and the integrity of the election.
This debate has been said to be one of the most chaotic and least presidential debates in history. With both candidates interrupting one another multiple times, the two minutes for each candidate to state his opinion rule was not observed.
During the debate, in an attempt to control the situation, Wallace said, "By the way, Mr. President, your campaign agreed that both sides would get two minute answers uninterrupted."
In addition to the interrupting, candidates criticized one another over personal matters and restored to name calling, including Biden referring to Trump as a "clown" and Trump criticizing Biden over his college education.
When considering their responses to the issues, two of the biggest takeaways come down to the candidates NOT saying something. Biden, when discussing the race and violence issues recently, would not say the phrase "Law and Order." In addition, Trump had a similar situation where he refused to state that he condemns white supremacy.
After the election, CNN's Jake Tapper said, "Well, that was a hot mess, inside a dumpster fire, inside a trainwreck."
Sophomore and Opinion Section Editor Ivy Reed, covers the debate in her article titled; "The First Debate: Truth, Lies and the State of Democracy." In her opinion piece she discusses the lack of factual evidence presented in the debate and ends the article by saying, "The only truth that was revealed by the first presidential debate was that truth no longer holds value in America." If you would like to read the rest of her story it is listed on www.chsglobe.com.
On Thursday, October 1st, Trump tweeted, "Hope Hicks, who has been working so hard without even taking a small break, has just tested positive for Covid 19. Terrible! The First Lady and I are waiting for our test results. In the meantime, we will begin our quarantine process."
By the next morning, Friday, October 2nd, word had spread that both the President and the First Lady had tested positive for the coronavirus.
That evening around 6:15pm, Trump boarded the helicopter to be Walter Reed Medical Center. During his stay, Trump had symptoms including a mild cough, nasal congestion and fatigue. He also received an experimental antibody treatment which is typically only recommended for the very sick.
President Trump briefly left the medical center in a motorcade on Sunday the fourth, to salute his supporters who had gathered around. Trump rode in an SUV with several other people who have now been exposed to the virus. This car ride has caused lots of controversy as to whether or not it was acceptable.
Dr. James Phillips, an attending physician at Walter Reed Medical Center said, "This is insanity. Every single person in the vehicle during that completely unnecessary presidential 'drive-by' just now has to be quarantined for 14 days. They might get sick. They may die."
On Monday, October 5th, Trump tweeted, "Don't be afraid of Covid. Don't let it dominate your life. We have developed, under the Trump Administration, some really great drugs & knowledge. I feel better than I did 20 years ago."
The President stayed at Walter Reed for three nights and returned to the White House on Monday night. White House physician, Dr. Sean Conley said Trump has been fever free for 72 hours and his breathing and oxygen levels "are all normal." Conley did confirm that Trump needed supplemental oxygen twice during his stay at Walter Reed Medical Center.
On Friday, October 1st, the St. Louis Cardinals lost 0-4 against the San Diego Padres, eliminating them in the first round of playoffs.
This year, due to the pandemic, the Cardinals only played 58 games, compared to their usual 162. Many argue that any team can be good or bad for 58 games, that is why they play 162. But, either way, the Cards will not continue on for the remainder of this year.
The Cards were also put under unusual circumstances when they had to take a 17 day break in the middle of their season due to an outbreak of coronavirus. 13 total members got the virus, 7 being players, including a fan favorite, Catcher Yadier Molina.
Molina was out for 21 days during the season due to coronavirus. He took to Instagram with a since deleted post saying, "f— covid." Later he explained his comment saying, "not because I don't care about the protocols, but because this won't beat us!"
Recently, the Cardinals lost a Cardinal favorite, Lou Brock due to . In addition, the Cardinals lost another legend this week, Bob Gibson.
Former Cardinal Pitcher Bob Gibson died on October 2nd due to pancreatic cancer. Gibson, born in Omaha, Nebraska, played all 17 of his major league baseball seasons with the Cards from 1959 through 1975.
A staunch supporter of civil rights, Gibson is remembered for his fierce competitiveness and numerous baseball records. He was a nine-time All-Star player and won two World Series. He won 251 games, struck out 3,117 players and had a 2.91 ERA. Gibson was the second pitcher to reach 3,000 strikeouts in history.
In regards to Gibson's death, Molina said, "It's kind of hard losing a legend. You can lose a game, but when you lose a guy like Bob Gibson, just hard."
Gibson also spent late 1957 playing basketball with the Harlem Globetrotters. The story says that the Cardinals executive Bing Devine offered Gibson an additional $4,000 to leave basketball behind and focus on baseball.
Gibson is commemorated in the MLB Hall of Fame and in a statue outside of Busch Stadium.
Leave a Comment
Your donation will support the student journalists of Clayton High School. Your contribution will allow us to purchase equipment and cover our annual website hosting costs.
About the Writer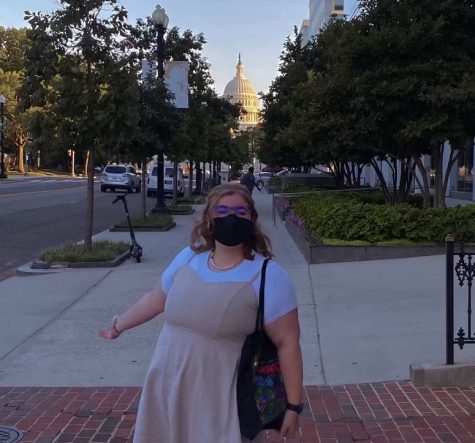 Ella Cuneo, Editor-in-Chief
Ella Cuneo is a senior at CHS and this is her fourth year on the Globe! She is one of the editors-in-chief.