What should Americans do in the winter through COVID-19?
How can we step up to defeat the outraging virus of COVID-19?
February 24, 2021
With the frosty winter chill in the air and the demand for COVID-19 vaccines, many Americans, and others around the world, have hopes of seeing a massive reduction in cases and fatalities from the COVID-19 pandemic. Vaccines like Pfizer's aren't only doing the work to stop this surging health crisis, but many residents should play a role on their part to help stop the pandemic. There are many who have strong hopes for our country to tackle the virus, amid the high quantity of violence to start the new year. This question can be answered in many ways: What can we do for us to look forward to the end of the COVID-19 pandemic?
Back in March 2020, numerous populations were forced to enter a situation of a worldwide lock down, affecting all those with jobs in restaurants and convenience stores. Two months later, a large majority of businesses and states reopened for everyone to reach their needs. However, the United States began experiencing its largest coronavirus surges at the start of November with far over 100,000 cases a day.
The United States has reached record numbers as high as 300,000 cases in a day and more than 4,000 deaths in a day. This caused overcapacity in hospitals because of how Americans aren't taking this virus seriously. If Americans work together to improve this winter, we'll reach our goal of returning to normal life much sooner than expected.
On September 29, 2020, President-elect Joseph R. Biden predicted that Americans would go through a season known as a "dark winter." Biden also suggested that there would be an additional 200,000 Americans dead before the pandemic ends, after over 220,000 reported deaths before the debate.
Before 2021 began, the U.S. death toll reached more than 340,000 deaths. There are simple things that Americans should follow to stop the high increases of cases and to avoid a "dark winter" as Biden predicted. Many Americans should be capable of being a good community as a whole, but the fact that a high quantity of them don't care about the pandemic makes them negligent.
"
We're entering what may be the toughest and deadliest period of the virus. We must set aside politics and finally face this pandemic as one nation."
— Joseph R. Biden - 46th US President
First, most Americans should take the responsibility of wearing masks. Masks are meant to protect your breath through the mouth and nose, from spreading those germs onto other people and into their lungs.
During the week after the 2020 election, american journalist Jake Tapper from CNN interviewed President-elect Joe Biden and vice president-elect Kamala Harris. During the interview, Biden talked about his plans to reduce the COVID-19 crisis in the United States and around the world.
Biden made a plan to ask the American public to wear masks for 100 days starting on inauguration day (January 20, 2021). "I think we'll see a significant reduction if we occur that," Biden claimed, "everything that occurs with vaccinations and masking to drive down the numbers considerably."
Biden's mask mandate plan matters to us because a majority of us often viewed our country as very weak in terms of following the guidelines of stopping the coronavirus from spreading. Hopefully, Americans can follow Biden's plan instead of being careless about the uprising cases here in the United States.
A second thing that Americans should do to reduce the spread of coronavirus is to clean their hands continuously. The Centers for Disease Control and Prevention (CDC) says to clean hands for 20 seconds using soap and water, or to use hand sanitizer with 60% alcohol. This process should be done after touching things like your mask, your face, and frequently touched objects.
In addition to cleaning wipes being sold in stores such as Walmart, it's more important to continuously wash your hands because you can save money and other people may be in a deeper need of wipes. Thus, buying wipes is more costly than washing your hands because washing your hands can be done anywhere. It is important to take advantage of using restrooms in many public places and your living space to frequently clean your hands.
At Clayton High School (CHS), it's right for students to keep using hand sanitizer when entering and exiting a classroom, and between classes as well. It's important to note that we should increase use of hand sanitizer because ever since our first day of hybrid learning on November 9, there have been at least five students who were tested positive.
A third thing that Americans should do to slow down the viral spread is to keep six feet of distance between two people. Many of us remember this was announced on the news when our nation and the whole world needed a requirement of maintaining distance from others. The purpose of this act was to ensure that germs wouldn't get spreaded easily between two human bodies. Thus, it only takes one human being to spread germs and cause such outrageous incidents with others.
Regarding that people should maintain six feet of distance, the CDC reports that COVID-19 can spread within 13 feet in air. The airborne distance is over two times more than the recommended distance of six feet. Therefore, there are needs for the public to extend social distancing recommendations. Besides, there were, and still are thousands of photos and videos on social media where not only are people not maintaining their distance, but they're doing so without wearing masks. This is clear evidence of how Americans aren't correctly following the CDC guidelines. Therefore it was what caused high rises of cases in the first place.
When Joe Biden's mask mandate takes action to begin his presidency, the American public must obey him because it will help a lot with others, especially health care workers. The fact that hospitals are overloaded with high numbers of patients diagnosed with COVID-19 is something that we must eliminate because nurses have been getting stressed while trying to treat their patients.
Maintaining distance from others is something that has commonly been disobeyed, especially at Clayton High School. In terms of obeying the CDC guidelines, this problem must be resolved for high reduction of the virus.
The last thing that is most important for Americans to do this winter is to always order take out instead of dining in. You might remember what it was like back in the days before this pandemic began, where you'd always have the chance to dine in and have a delicious lunch, dinner, or whatever it may be. But we have faced changes of new policies to not settle into eating a delicious meal at your favorite restaurant. Instead, it would have to be from it.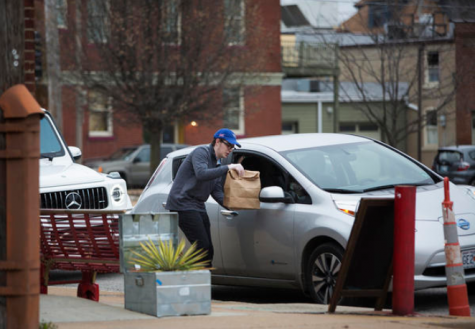 Based on the CDC's considerations for restaurants and bars, the risk of COVID-19 spreading increases the more an individual interacts with others that are outside of their household. They also say that you'd be at the lowest risk of contracting the virus if you order take out or get your food delivered. It is higher risk when seating capacity is reduced when on-site dining inside or outside, but without the tables placed six feet apart. The chances of contracting the virus is the highest when you're doing what a restaurant would normally do, which is having an non-reduced seating capacity and not sitting six feet apart.
If someone wanted to order food in a restaurant, it would best to always get it to-go because it really isn't safe to take your mask off in public, especially in restaurants.
Numerous Americans have done what they could to play life safe through the pandemic, but not all of them know to take precaution. There have been many Americans who haven't been eating inside restaurants to reduce the risk of contracting the virus. It's essential that workers and customers do what is right to play life safe, which is to always order meals to go.
The United States is the third most populated country with over 332 million people (Jan. 2021). Not only that, but it's a bigger concern that its number of COVID-19 cases in a day is outrageously putting our country at a huge risk of a physical breakdown. We've been in crisis going through the pandemic for the last several months, especially the long lines at food banks with customers having to wait for hours in their cars.
Because a pandemic is often associated with one's health, it is important that we play our part of wearing masks and actively following the policies of businesses and restaurants. If we don't do our part well, this winter will be tremendously painful for everyone, including those who have lost their jobs. What happens going forward should be the opposite of what Joe Biden predicted as a "dark winter", so that we can show ourselves that we can end a crisis that costs the lives of thousands. Let's all do what we could to come together and conclude this outbursting virus as a community.