Let's Stop Trashing in the Clayton District
September 21, 2021
Climate change is simply why numerous disasters have impacted our country in just a short time. Several countries, especially the United States, have experienced several natural disasters this past summer, including wildfires caused by heat waves.  Occurring in late August to early September, Hurricane Ida was one of the most devastating hurricanes that hit our country; it started in New Orleans and then moved its way up the Atlantic to New York.  Here in Clayton, the entire district can take several actions to improve the natural environment around us before our future generations come forward.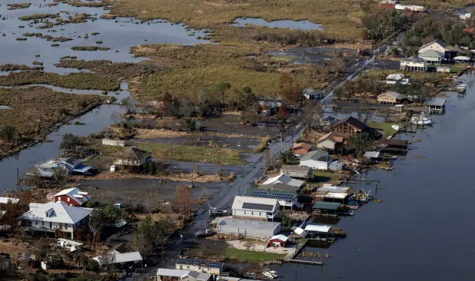 In a normal school year, most assignments and homework are given on paper. But for the last two years, students have been using chromebooks and laptops to complete assignments. This is something that we should keep doing because paper and pencils are actually being saved from becoming disposables. Students wouldn't have to keep cleaning out their binders after each semester, therefore, using a chromebook is much more efficient.
Google Drive is always used to store files on chromebooks, and because paper isn't being used, we are saving it. Abandoned electronics should be recycled and reused so that the district wouldn't be charged each year on new technology. However, what students have in front of them should help them learn in the best way possible.
Students who always buy lunch at school only use plastic containers and paper trays, which are being thrown away by multiple people every day. Once a student is done with their lunch, they put their trays and plastic utensils in the garbage, and this procedure is repeated too many times a day by different students. Instead, students should use plastic lunch containers that can be washed after both of the lunch periods. These containers can be reused so that staff don't keep paper trays which would get thrown away after a single lunch meal.
Instead of paper towels, using a jetted hand dryer after washing hands is preferred to improve the air quality. Although these dryers may blow bacteria from bathroom air onto your hands, the environment is actually being saved because the use of paper towels will decrease. Right now, the CHS bathrooms do not have any hand dryers, and it would be best to install them in each restroom. As long as they're clean, they'll be helpful for human use.
Because of COVID-19, students in band are using puppy pads to empty water out of their instrument. While teachers are always giving these pads to students every day, it's simply too much for the environment around us to handle. To change things, bringing in your own rag to empty your spit would be beneficial because they can be reused every day, with the exception of having to wash it every few weeks.
Outside of the school district, we can take care of the roadways and pick up trash that is left. "Maybe get a group of students to adopt a piece of highway and pick up debris," said facility services director Tim Wonish. "There's too much trash on our highways," he added. It's unnecessary to litter on the highway so it's important that we play our part to remove trash so that our roads will be highly respected. "We live in a throw away culture and the only way we are going to help our environment is to change our habits."

"
We live in a throw away culture and the only way we are going to help our environment is to change our habits."
— Tim Wonish
Recycling is essential to living in a better environment because it would reduce the negative impacts on nature and we can save production and energy costs. "Too many times, custodians find recycle cans full of regular trash," said Wonish. Recycling allows us to reuse materials such as aluminum, paper, and plastic. "If everyone does their part and makes an effort to recycle, we could make a real difference in our environment," Wonish said.
Several car companies like Volvo are currently using recycled materials to make their cars' interiors. Volvo's all new C40 Recharge uses naturally renewable wool fibres, and has a second option with a combination of suede textile and micro-tech material; this combination also includes recycled plastic. These companies are playing an independent role to stabilize our environment.
There's a variety of things that not only the Clayton district can do, but the whole world, too. By preventing more disasters from occurring in the future, we must begin taking action immediately. "We live in a throw away culture and the only way we are going to help our environment is to change our habits," said Wonish.