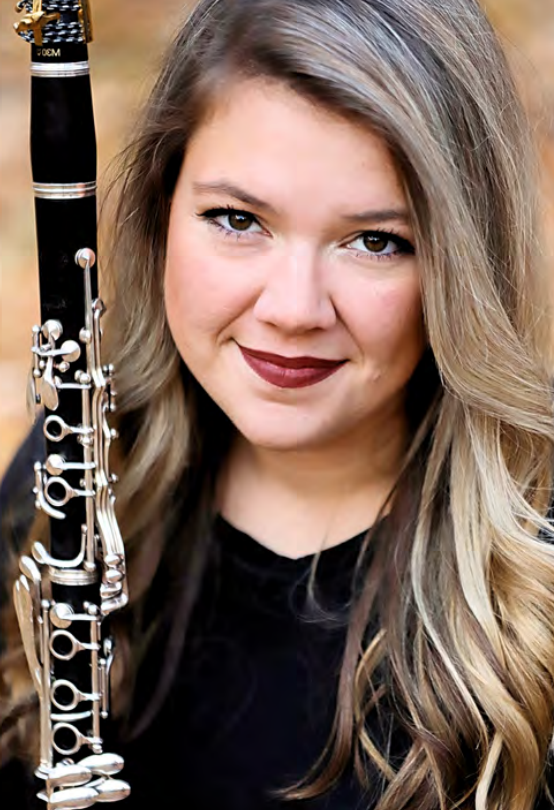 Sophie Browning
Music has always been a presence in Sophie Browning's life, but it wasn't until middle school that she discovered her love of the clarinet.
"With no great logic or reasoning, I was like, 'Clarinet, that looks like a fun word.' I'm going to play the clarinet.'" Over 10 years later, Browning's passion for music is still evident: she has recently joined the Clayton Band Program as the woodwind specialist.
Browning is returning to the St. Louis area after completing a master's program in clarinet performance at Bowling Green State University in Bowling Green, Ohio. She attended college across the river at Southern Illinois University of Edwardsville, earning bachelor's degrees in music education and clarinet performance. Growing up, Browning was a student at Ritenour School District, just five miles north of where she works now. The experiences she had in her high school band program still influence her teaching today.
"For me, the great things were the relationships that I could build within the band community. We also had a lot of different performance experiences, which I think is really cool," Browning said.
Browning's dedication to building a community within the band program is evident in the work she did for her students last year. While completing her masters degree in Ohio, Browning took part in an assistantship at All Saints Catholic School, where she taught band to students in fourth through eighth grade. Last spring, she wanted to put together a concert for her students, most of whom had not performed for anyone in a year and a half, and some of whom had never experienced performing for a group before.
"I asked the students, 'Okay, if we did a concert, how would you want to do it?'. And I helped them, but they basically planned the concert, so we did an outside movie music concert… And that day, it was freezing, and very windy, but the entire school showed up, and we played the whole concert."
Throughout the challenges of the last year and a half, Browning has emphasized the importance of providing both a good experience for her students musically and mentally. She is no stranger to the toll some of the more stressful parts of being a musician can take.
"As a musician, I've really struggled with performance anxiety…Now I have two degrees in performance, which people were telling me were never going to happen… This is something a lot of people deal with and don't know how to get over, and for me that was the biggest feat because that was what everyone was always telling me was keeping me from getting degrees," Browning said.
Now that Browning is returning to the band room as a teacher, she is excited to see what opportunities lie in the future for her musicians. One of four new band directors in the last year, Browning is part of a new era in the Clayton Band Program, and she is ready to lead the way to whatever is next for the ensembles.
"I always just want to keep building a program of, what's next? Like, we've achieved this goal, okay, what's next?" Browning said. Browning believes that these goals are only worth it, though, if her students take something out of the experience beyond the ability to play music.
"That's number one for me, providing all of the students with fruitful and differentiated experiences that will help them not only as musicians, but as people in general."
Browning may have just started her time at Clayton, but she is already in tune with how to help her students thrive.