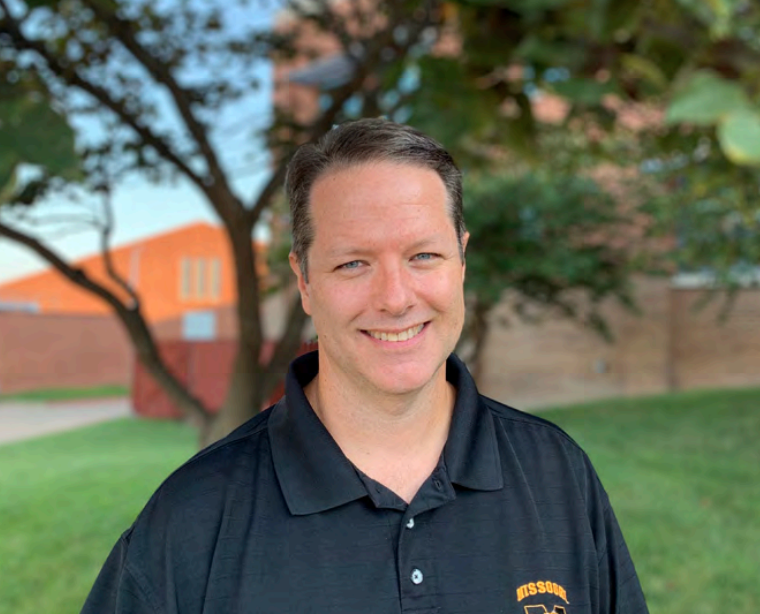 Curtis James
He returns! Curtis James, Clayton's newest math teacher, taught at CHS from 1998 to 2008 and is returning this year after teaching at Triad High School in Illinois. James, having two sons who would graduate from Triad in 2020, made the decision to turn his 60-mile daily commute to just a six-minute commute from his home when his sons entered grade school. However, with his sons having graduated last year, James no longer has any bounds to the district.
During his initial years at CHS in the early 2000s, James worked alongside many of Clayton's beloved math teachers: Mrs. Dobbert, Mr. Kohmetscher, Mrs. Long, Mr. Moody, and Mr. Kleinberg (who was actually James' student teacher back in the day).
"[Mr. Kohmetscher and Mr. Moody] told me they were retiring and asked if I would apply so I checked it out," James said when asked about returning to teach at Clayton. "I weighed the pros and cons of going back to driving again, and for retirement and everything, it made a lot of sense."
While returning to Clayton had its appeals because James was already familiar with a lot of the staff and because it benefitted his retirement plans, there had also always been something about the Clayton atmosphere that captivated James.
"I think the Clayton culture has a lot of critical thinking. It's not just, 'sit here and follow my directions and do this.' I saw a lot of, 'What do you think about this? Where are we going with this?' And so I already knew it was a great environment," James said.
Like many of CHS's other teachers, James strives to engage the students in his classes – Algebra I, College Prep Precalculus, and Honors Geometry – while also incorporating math concepts. Especially with the new block schedule, James has been brainstorming new ways to keep students interested, whether that be through websites like Desmos, or straying a bit from the typical lesson plan.
"If you tell me you're kind of interested in a topic, I'll try to see if I can come up with where the math fits in," James said. "A lot of people are interested in wanting to own their own business type of thing, so in my Algebra I class, I have a couple chapters planned where, as part of the math, we'll learn a little bit about some basic business principles and things like that."
James, having switched career focuses in college, understands the importance of introducing students to a variety of subjects so they can discover what they enjoy most. In college at Mizzou, James had initially focused on programming, staying away from education so he could "make tons of money." However, even in high school, James always found that other students would come to him for help with their math work, and helping his peers with their work always left James with a sense of satisfaction that he couldn't find anywhere else.
And so, when discussing his entrance to college, James said, "I was sitting there, learning how to program and not enjoying it. And then I realized I really, probably, should be a teacher, and all of a sudden, I was enjoying college a lot more. I think it was meant to be."
While teaching is truly James's passion, he has many other unique interests. James finds serious enjoyment in hiking and camping, appreciates the occasional Zelda video game, is surprisingly good at juggling, has the skills to potentially run his own dairy farm and maybe spends a little too much time on Reddit searching up (or submitting) some AP Calc info.
Nonetheless, James's most essential attribute is his value of family and community both in his own home and the classroom. At his old school, James had both of his twin sons in his calculus class their senior year along with many of their friends he'd watched grow up. However, at the end of their senior year when Covid hit, both he and the students felt as if they were missing out on so much.
"Both my sons had me as a teacher and we get along very well so it was a good experience. And their friends, a lot of them were kids I'd known since they were little. We'd either gone to church, maybe in scouts, or the baseball team. So that was just kind of amazing. There was just this connection, this relationship that teachers try to foster with the students. But then we went to Zoom," James said. "On my last day, I tried to give a spiel, and I just totally lost it. Tears just flowing, and I had to log off. It was very emotional."
James' value of his students over all else shines through in the relationships he builds with them, and is something he plans to bring to CHS. When sharing a story about a previous student and their opinion about his class, James said, "They just said something to the effect of, 'Oh, you know what I like about Mr. James' class is that you can just be yourself in there and you don't have to worry about anything. You know, just be yourself and he's all good with it.'"