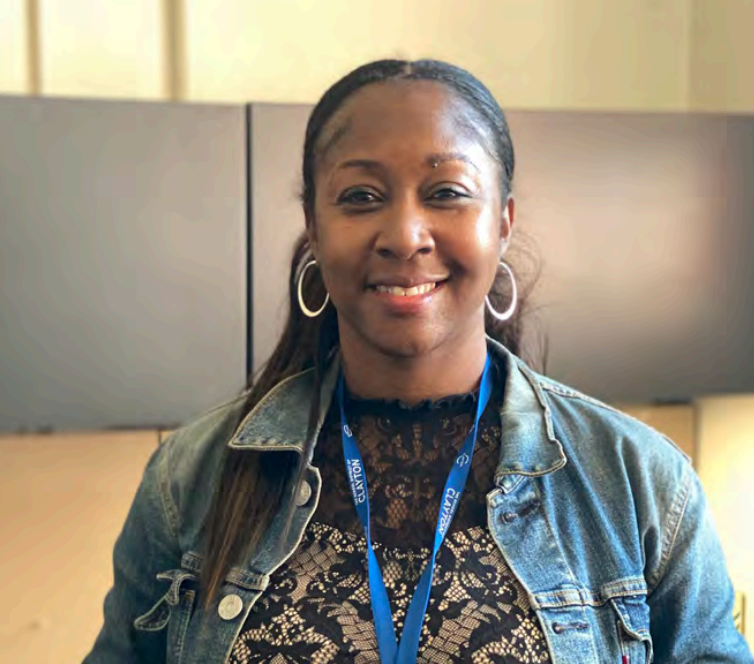 Melissa Goodlett
"I've always had an innate desire for learning," said new CHS English teacher Melissa Goodlett. "That's off the bat, even when I was dealing with dyslexia."
Despite her family's insistence and her passion for playing school with her siblings since the age of three, Goodlett didn't always know that teaching would be her future. Early in her education, she struggled with an undiagnosed reading disorder that was misrecognized by her parents and teachers as lack of effort.
"It took one teacher to finally get to the crux of the issue and test me and realize that, oh, it's not that she doesn't know how to read, it's just her way of understanding it," said Goodlett. "So they diagnosed me with dyslexia, and I was able to overcome it through the caring support of teachers. And so by the third grade, I was carrying around dictionaries, entering contests, essays."
Goodlett, who now favors John Donne poetry and authors like Toni Morrison, remembers becoming a voracious reader as a student.
"A book is the avenue to a new world," she said. "It really is. It really takes you somewhere else. My family would say, oh she's reading again, she's not here. Her body is physically here, but she's off. And I really was, I was off on another trip, another world, another place.
Goodlett's experience in elementary school equipped her with not only a love of reading, but also an acutely empathetic approach to students who are struggling in her classroom.
"Usually I can tell when a student is deflecting, and I know this because I was that kid," said Goodlett. "So it really makes me take the time out to get to understand what's driving the behavior."
Prior to arriving at Clayton, Goodlett's career has been shaped by experiences spanning multiple fields, school districts, countries and even Fortune 500 companies when she worked in business after returning from Germany. The youngest of five children, she was born and raised in Overland and graduated from the Normandy School District. Her education and family took her to Stillman College in Alabama for her undergraduate degree, Germany for five years after getting married, and Webster University and Fontbonne University for master's degrees back in St. Louis. She is currently working on her doctorate in educational leadership at Maryville University.
Not only has Goodlett collected multiple degrees from universities across St. Louis, but she has also experienced teaching in a diverse range of school districts in the city and county. Her view of education has been shaped by teaching in the Hazelwood and Mehlville school districts, as well as St. Louis Public Schools, before arriving at Clayton.
"I have noticed that certain school districts have less resources than others. I will say that in teaching a diverse group of students, I can honestly say that most students want to learn, even students that have traditionally been underserved, for example, no doubt about it, the St. Louis Public School District," she said.
Goodlett observed that students lose motivation when they don't have adequate support at home or in school.
"I wanted to be the teacher to change that," she said of her experience teaching in under-resourced schools, which also helped form her opinions on the importance of diverse authors in the classroom.
"Especially for students in marginalized communities, if you foster the love of books, early on, that could defeat some of what they're exposed to on an everyday basis. That could be their catalyst to dream and hope and grow so yeah, exposure to diverse perspectives is very important in a English class," she said.
Goodlett's career at Clayton began by chance three years ago, when she noticed a School District of Clayton booth at a national educator's conference in New Orleans. Now finally starting her first year in the district, she will be teaching College Prep English IV and American Literature.
Goodlett, who believes strongly in collaborative learning and an emphasis on facilitation rather than instruction, is looking forward to bringing her philosophy of teaching into new classrooms. In the years to come, she hopes to inspire students "to go out and go forth and just be the great people that I know they already are.