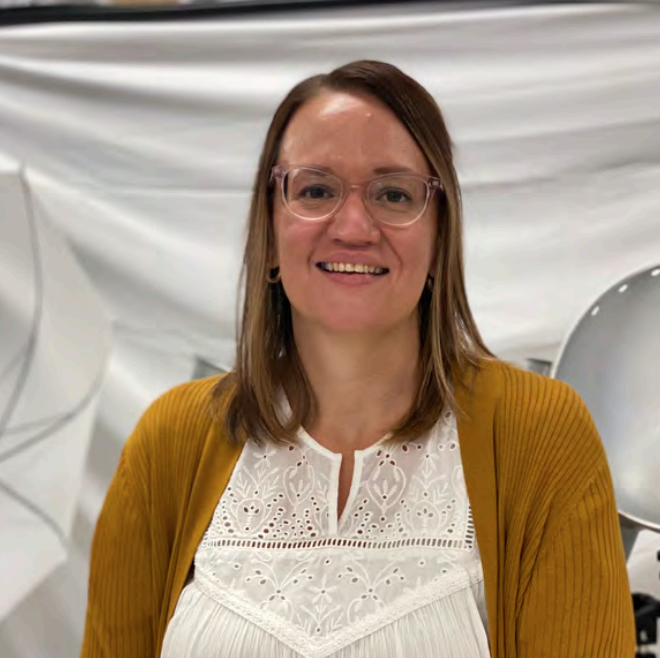 Kamille Chavarin
"I always loved art as a kid. I was always the kid drawing in my free time and I loved art class," said Kamille Chavarin, one of the new art teachers at CHS.
As a child, Chavarin was always very creative. Growing up in St. Louis, Chavarin spent countless days at the art museum and took art classes at COCA. She also grew up in a creative household. "My grandma was a seamstress, so she made me clothes," Chavarin said. "I could show her a picture and she could make a dress without needing a pattern or anything."
Chavarin's grandmother taught her a lot about expressing herself. "She taught me a lot about sewing and drawing, she would just sit and draw with me. And that was when I was around 3-years-old, she would sit with me all day and we would just draw together. I always loved it."
After working in the Hazelwood School District for 12 years, Chavarin is excited for the new opportunities that the Clayton district has to offer. "There are so many levels of art here, and then AP art," Chavarin said. "It made me really excited to teach somewhere where the students were able to have all of those different experiences as they go through the program, and where they are really prepared for an art school or a college-level art program by the time they graduate."
Chavarin didn't always see herself as an art teacher. She initially saw herself majoring in math or going to law school. However, after she started attending SLU, she realized just how passionate she was about art.
"I took an art class, and as soon as I started taking that class I was like, this is what I'm supposed to be doing. I should be doing art all the time. So I decided to major in art."
Along with majoring in art at SLU, Chavarin went on to get her master's degree in art history at Fort Hays State University in Kansas.
Chavarin made the transition to teaching after taking an education class. She was able to observe middle school students and start working with them. For Chavarin, this became confirmation of her passion for teaching as well as art.
"It was an after-school mentoring program where we were just working with kids. As soon as I started doing that, it really just felt like everything kind of fell into place. It was like, oh, I'm going to teach. That's what I'm supposed to be doing," Chavarin said.
In addition to teaching at Hazelwood, Chavarin has spent the last five summers working with St. Louis Artworks. This program is aimed at teens and teaches them life and communication skills using art. The students work with artists who help them go through the process of creating a commissioned piece of art.
This experience gave Chavarin a look into the business side of art.
"Working with that program specifically has really made me think about who your audience is," Chavarin said. "There are paintings and murals all over town that that program has done with kids. It's the idea of actually making public art, knowing who's seeing it and what that means to them."
Chavarin takes a lot of inspiration from American painter Kehinde Wiley, who is most well known for portraits featuring African Americans in the style of old European paintings.
"He is really changing the way that art is viewed in a museum, and how Black and brown people are shown in art. I got to meet him when he came to the St. Louis Art Museum, which was really exciting."
This year, Chavarin will be teaching Art 1, Art 2, Art 3, Digital Photography and Sculpture. Her experience with drawing, painting and printmaking will help provide CHS art students with new skills and help challenge them this year.