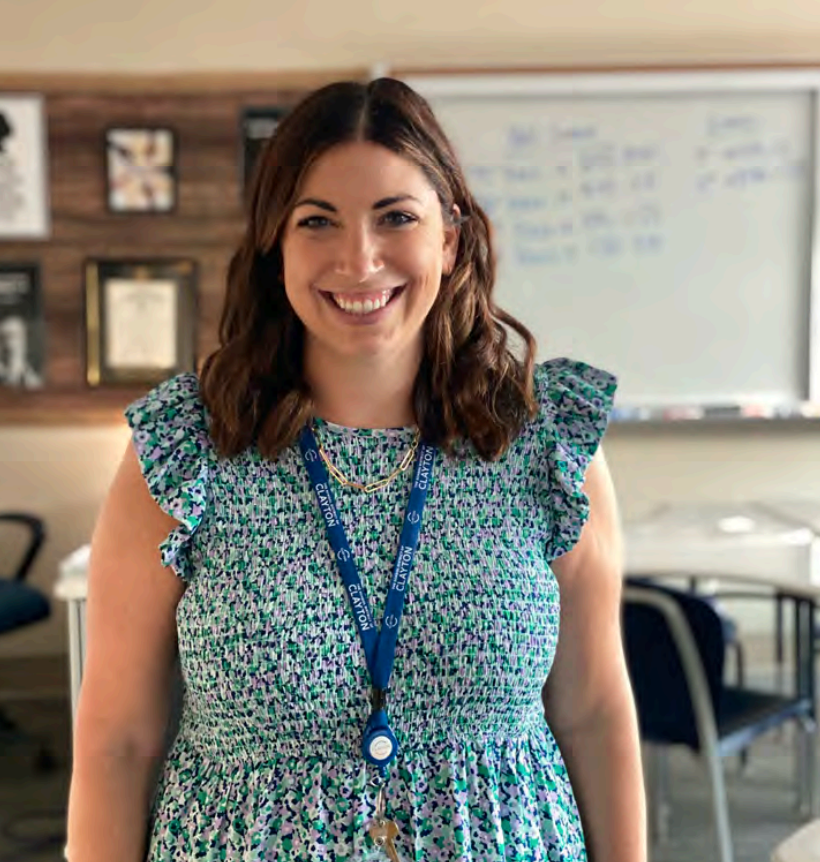 Anna Hormberg
Anna Hormberg's focus on the subject of history stirred well before she was a teenager.
"It started for me when I was honestly in the fifth grade," Hormberg said. "I was fascinated just of people's different experiences in the past. History helped me have a better understanding of myself and the time and place that I lived in." Hormberg also likes seeing the physical experience of the subject while in the classroom, even when she's not a student.
"I hope that history can do that for other students as well," Hormberg said. "I find it really fascinating to learn about people and experiences that are really different from my own…History is a place to gain better understanding and empathy for people," Hormberg said. "I'm really passionate about making sure that all students can feel that connection, or can 19 explore something completely different." Her decision to pursue her career in teaching was defined by her intense interest in the subject matter.
"My love of history was definitely a driving force," said Hormberg. "I had so many teachers along the way who really empowered me and made me reach further than I thought I could do, and I want it to do that for other kids and have an impact on people's lives."
Hormberg specifically enjoys working with young adults and teenagers. "I much prefer working with young adults and teenagers compared to working with adults," she said.
Hormberg has pursued her teaching career for seven years, attending two universities in Missouri to qualify.
"For undergrad I went to Mizzou, where I majored in education and minored in history," she explained. "Then, I also received my master's degree in secondary education from UMSL (University of Missouri-St. Louis)."
For the last six years, Hormberg taught at Mehlville High School in South County. "I really loved the kids and the students that I worked with there," said Hormberg Outside of teaching history, she was the JV girls basketball coach and sponsored the Social Justice Club.
Making a transition to switch schools and locations can be difficult for some teachers. "I really enjoyed connecting with students who had similar interests as my own," Hormberg said, "and I'm definitely going to miss some of my students."
Even though Hormberg still feels that way, she's grateful to be part of Clayton and feel more welcome inside the community.
"Clayton has a really wonderful school district. I feel like it's a part of my community," she said, "I live close to Clayton, and so I want to work in my own community, as well as a district that has high expectations and standards for all students and teachers, and I really like that environment."
Another reason Hormberg transitioned to the next part of her teaching career in Clayton is because she happens to be friends with Katelyn Long, a math teacher and assistant coach for CHS swimming and diving.
"She loves Clayton and is a really good seller on it," Hormberg said.
Outside of the classroom and the school day, she spends most of her free time going crazy about food.
"Cooking is a passion of mine," Hormberg said, "I love to cook, I love to try new recipes, buy cookbooks, try new foods from different places, and I love to go out to eat as well."
When the Covid-19 pandemic started spreading and compelled us to stay inside, Hormberg took the opportunity to be more active. Running, swimming, and reading were her three parts of being active in her free time.
"I would have never said that I was a runner before the pandemic," she explained, "but I started running in the pandemic, and I really enjoyed that as well."