Always a Greyhound: Erik Becker
CHS Alumni Erik Becker takes on the television world.
Erik Becker was driving around searching for office space when his phone rang. It was his agent calling to inform him that they loved a sizzle reel for what would become the Discovery documentary "Who Killed the Lyon Sisters?"
Becker, raised in St. Louis, attended Clayton High School from 1997-2001. He then attended Columbia College in Chicago for film and music production. After college, Becker worked at Apple for three years, gaining more experience in technology before moving to other production companies editing video.
"Clayton High School offered me freedoms and responsibilities that helped prepare me for college and then real life," said Becker. "The challenging curriculums and opportunities for advanced courses helped to put me in a confident position when I got to college."
Becker met his future business partner, Aaron Bowden in 2011 when Becker was hired as a freelance editor by Coolfire Studios (a locally owned production studio) to work on MFF: Mom Friends Forever, a reality tv show on Nickmom where Bowden worked as the Co-Executive Producer.
"Erik was by far the best editor that they brought in, that was immediately apparent by the first cut he ever showed me. And then we started working together really closely," Bowden said. "Every project that we got, after that, I just insisted that we have to have him because we're not going to be able to do it [without him]."
Needing to meet deadlines in his everyday work, Becker said the open campus policy at CHS encouraged his time management.
"The open campus helped teach personal responsibility and accountability which is invaluable once you get into the real world," said Becker.
In April 2018, Bowden and Becker formed their own fully operational television production company: Inkblot Narratives. They left their previous job together in order to create the type of media they wanted to produce and to further their careers.
"When you're working for another production company, or you're a freelancer, you are kind of just a hired gun on whatever you are put on," said Becker. "We wanted to be able to pitch our own projects. We're open to lots of different things, but I think we are mostly focused on telling true stories and documentaries."
So, that is exactly what they did.
On March 25, 1975, sisters Katherine and Sheila Lyon disappeared during a trip to their shopping mall in Wheaton, Maryland. For years there were no leads on the case until 2013 when the Montgomery County, Maryland police made a break in the case.
Becker and Bowden, taking the role as the executive producers, editor and director, began working on their documentary Who Killed the Lyon Sisters? in April of 2018. With the freedom of their own company, they hired many STL-based people including Clayton High School graduates Lauren Bernstein (the post-production supervisor) and Alicia Vega (a producer). Their director of photography, Ryan Dorris, was also St. Louis based as well as Scott Adderton, another editor. They also have a full-time assistant editor, Kara Paar who was raised and lives in STL. With most of their film provided through the information on the hard drive, they needed to recreate some of the other cinematography, most of which was shot in St. Louis during the pandemic.
You can now watch "Who Killed the Lyon Sisters?" on Investigation Discovery, Discovery+, iTunes and Amazon Prime Video. And keep an eye out for more stories from CHS Alumnus Erik Becker, '01.
Leave a Comment
Your donation will support the student journalists of Clayton High School. Your contribution will allow us to purchase equipment and cover our annual website hosting costs.
About the Contributor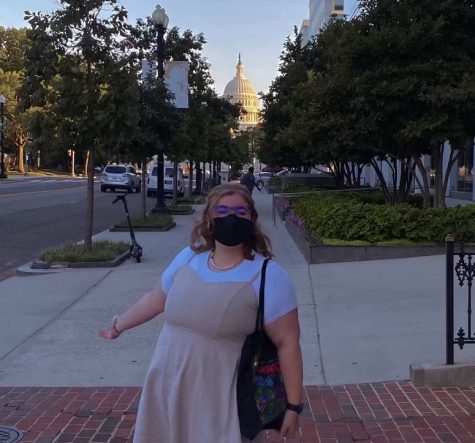 Ella Cuneo, Editor-in-Chief
Ella Cuneo is a senior at CHS and this is her fourth year on the Globe! She is one of the editors-in-chief.