Is the NFL "Going Soft?"
During these first months of the 2021 NFL season, football fans might have noticed a major increase in penalties, including roughing the passer, targeting and taunting, a subjective call when a player's behavior is considered unsportsmanlike. Social media users may also be hearing influencers ask whether the NFL is "going soft."
According to Pro-Football-Reference.com, there were a total of 10 taunting penalties called in 2020 compared to 16 in just the first six weeks of the 2021 NFL season. Why is there such a sudden increase?
Chicago Bears' four-time Pro Bowler and member of the famous '85 Bears team, David Duerson, played as a defensive back for 11 seasons. Duerson was drafted by the Bears in the third round of the 1983 draft and had a very successful career on and off the field, winning the Walter Payton NFL Man of the Year Award.
On February 17th, 2011, Duerson fatally shot himself in the stomach. Suspecting that he had a disorder called Chronic Traumatic Encephalopathy (CTE), Duerson felt he could not go on living. He intentionally shot himself in a place that maintained the integrity of his brain, allowing scientists to study it and learn more about the disease.
Duerson's case is not the only time something like this has happened. Other examples are former NFL Linebacker and Hall of Famer, Junior Seau, and former Atlanta Falcon, Ray Easterling.
Little is known about this brain disorder. There is no complete list of symptoms, and it is typically not diagnosed until after an autopsy. CTE is thought to be caused by repeated hits to the head, a common occurrence for football players, military personnel, and boxers.
Presumably, parts of someone's brain with CTE will start to decay over time, possibly causing behavioral changes, difficulty thinking, and other symptoms resembling those of Alzheimer's, Amyotrophic Lateral Sclerosis (ALS), and Parkinson's disease.
David Aiello, a teacher at Clayton High School, noted additional symptoms including aggression, inability to focus and an increase in addiction problems, making a person with CTE very challenging to live with as well.
The first evidence of CTE in an NFL player was found in former Pittsburgh Steeler, Mike Webster. Following this discovery, co-founder of the Concussion Legacy Foundation (CLF), Chris Nowinski, invented a brain bank containing the brains of former athletes. He and Dr. Robert Cantu, who became the head of the Sports Medicine Section of Neurosurgery in 2003, partnered with Boston University and the U.S Department of Veteran Affairs. Together they established the VA-BU-CLF Brain Bank, led by Dr. Ann Mckee, a board certified neurologist focusing on CTE and Alzheimer's disease. Over 1000 brains have been donated, ⅔ of which were diagnosed with CTE, enabling a greater understanding of how this disease works.
Aiello described how other sports, such as hockey, have evolved. "I remember when hockey players didn't wear helmets."
He mentioned former St. Louis Blue, Ed Kea, who had a major head injury when he crashed head first into the endboards.
"That's when the National Hockey League finally started making it a rule that every player had to wear a helmet," said Aiello. "Now, every player in the NHL wears a helmet, and we don't even think about it. We wouldn't even question the idea of it."
However, when speaking on the topic of adjustments in football, Aiello said, "I just don't know what could happen."
Aiello explained how toxic masculinity could be a factor of injuries like this.
"Part of the problem is that most of the sports that we see these injuries occur in are very masculine, macho sports," Aiello said.
Players who seem concerned about safety are seen as being weak.
When Duerson shot himself, he knew about the studies of the Brain Bank. Right before he died, he reached out to his family and asked them to donate his brain to the NFL's Brain Bank for CTE research. When speaking on the matter, former NFL running back Robert Smith told the New York Times, "I would have to guess it was a statement about football and its impact on the brain."
Dr. Susan Schwerin, a Research Assistant Professor at Uniformed Services University of the Health Sciences, studies how the brain changes after an injury and tests ways to facilitate recovery. "Currently, there is limited treatment for brain injury survivors," Schwerin said.
She explained that not all brain injuries result in the same problems. A soldier who has survived a bomb explosion and a football player who has been hit multiple times in the head may not experience the exact same issues. Therefore, "we need to tailor the treatment to the type of brain injury," she said.
Schwerin thought the increase in taunting and roughing the passer penalties may be increasing because there has recently been more research on deceased football players with CTE. Because of this, the NFL has looked into what types of plays may be most harmful and are now trying to limit them to avoid such injuries.
Aiello said, "When Dr. Omalu first presented this research to the NFL, they, of course, denied it … Not only did NFL doctors, coaches and owners know this was happening to their players, but they actually paid to cover it up."
Later, the NFL paid millions of dollars to players for them to get care and began to research ways to make the game safer, including better helmets and instituting new rules, such as targeting. The NFL seems to be trying to improve the safety of their game, whether fans like it or not.
As far as the next generation of players, "It really starts with the adults, who coach kids, teaching them the right way to play their game and for the right reasons," said Aiello.
Since taunting itself is not directly violent, NFL referees are likely calling penalties more often in order to prevent potential aggression following a player roughing or teasing another.
"Is the NFL going soft?" No. However, as more is discovered about injuries like CTE, there are efforts to make football a safer sport to play. Fans may not agree with these changes, but they may be for the better.
Leave a Comment
Your donation will support the student journalists of Clayton High School. Your contribution will allow us to purchase equipment and cover our annual website hosting costs.
About the Contributor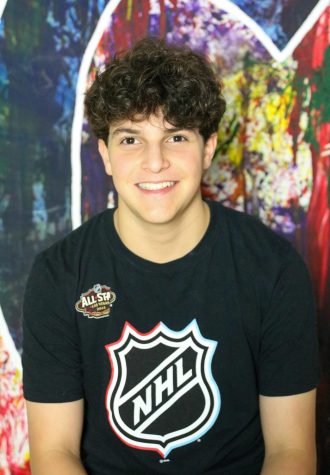 Micah Lotsoff, Reporter
Micah Lotsoff is a Freshman Reporter of the CHS Globe this year. This is Micah's first year writing for any newspaper, but he loves writing and sharing his opinion. Micah has always...