Vaccine Incentives
In Alabama, those who chose to be vaccinated are offered the opportunity to drive their car or truck on the 2.66-mile Talladega Superspeedway track.  In West Virginia getting a vaccine makes you eligible to enter a drawing that includes prizes of scholarships to custom hunting shotguns.  Almost everywhere vaccinated individuals can be entered into countless other raffles and lotteries, the price being getting vaccinated.
"Well, unfortunately, if you look at all of Missouri, we're not really there. And we're not making a lot of rapid progress. So it depends on pockets." said Dr. Caroline Day, Chief Medical Officer at Family Care Health Centers (FCHC) in STL.
To understand vaccine incentives we need to examine the different "pockets" or demographics of people that haven't been vaccinated.  These groups of people range from those morally and rigidly opposed to getting vaccinated to those on the fence but need convincing.  Most complicated among these populations are people that face a financial disincentive to get vaccinated.  Because for some, taking time off work to get vaccinated or to recover from vaccine side effects costs them the income they need to get by.
"For some of our patients, just getting the vaccine involves a financial disincentive. So if an incentive neutralizes those barriers, then perhaps some of those patients may be more likely to get the vaccine," said Dr. Heidi Miller, Medical Director of the St. Louis Regional Health Commission.
But for patients that are vehemently opposed to the vaccine an incentive such as a $100 gift card or a ticket to a sports game won't make them budge.
Of course, these incentives serve a good cause.  Protecting disadvantaged populations from financial burdens and supporting the vaccination of the general population, but ethical concerns have been put forward against vaccine incentives.  When people are offered money to do something they don't want to do, they feel coreresed.  So the population of people already skeptical about the vaccine may become even more fearful.  Additionally, offering these benefits could destroy public willingness to become vaccinated without a reward.  As well as corrupting the moral significance that people should be vaccinated to protect public health.
In the effort to engage patients to get vaccinated Dr. Miller shares her experience with mandates affecting patients opposed to the vaccine, "Some patients have vehemently declined the vaccine, but when I see them three months later and ask about the vaccine, they tell me they got it. In curiosity, I ask, 'What made you decide to get it?' And the answer in almost every one of those situations is, 'My employer made me get it.' ".
But this turnover isn't always the case, "When I hear individual narratives about people who are so opposed to the vaccine that they lose their job over it, I wonder if there's something we could be doing better for them." said Dr. Miller.
"So we just need to continue to do the education, have forums where people can speak up. Because I think in the long run, that's what's going to eventually help people get to a place of comfort," said Dr. Day.
Leave a Comment
About the Contributor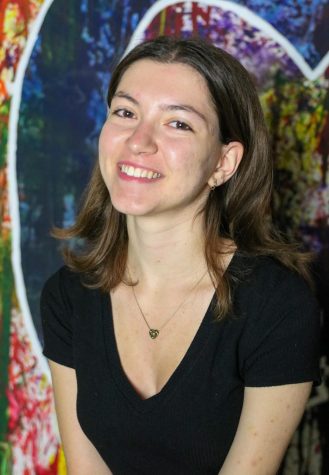 Ana Mitreva, Managing Editor
Ana Mitreva is a senior at CHS and this is her fourth year on the Globe staff. Last year she was a Page Editor and is a Managing Editor this year. Besides Globe, she loves swimming,...