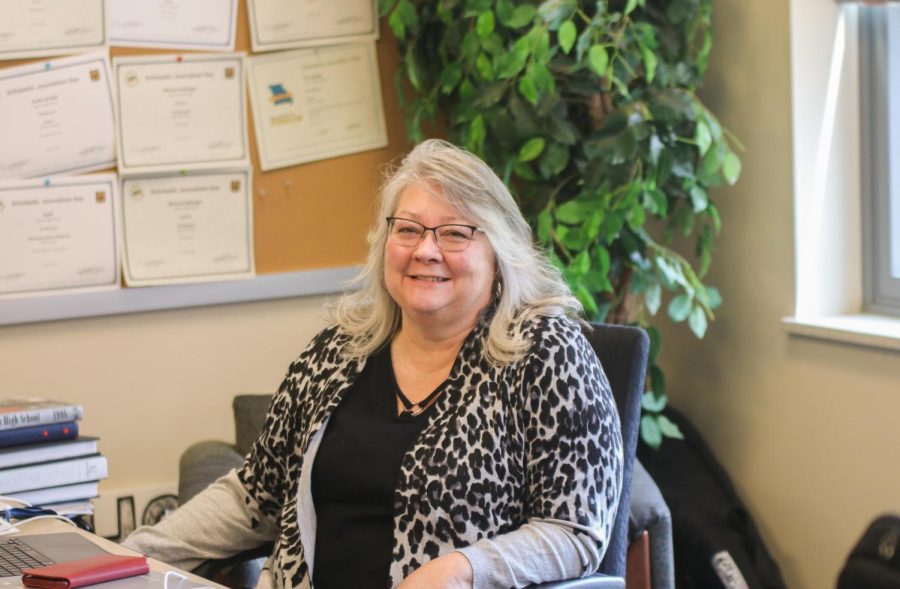 Marci Pieper
"I'm probably the only teacher who has been hired three times and retired two times at Clayton," said Pieper. 
Pieper was involved in journalism from an early age. Starting in high school, she was on the newspaper, the yearbook staff, and even participated in the radio program. 
"I started taking some journalism classes and just really, really loved it. I loved the writing process and interviewing people… then I got into some marketing classes, which I thought were really, really cool," said Pieper.
Yearbooks can include a mix of images and words, and the design aspect of marketing hooked Pieper into the world of journalism. 
"In the classes that we took, we were a lot of project-based things.  I loved being able to experience it firsthand, I realized that's what I wanted. Not to just be a theory, but to be a part of something that's action," said Pieper. 
Pieper also worked as a creative consultant at Jostens Yearbook, (She worked for Jostens much later in my career)  after graduating in 1982 from Truman State University. Then, Pieper taught English at Francis Howell, while advising the yearbook and newspaper team. 
"At Francis Howell, we were one of the first schools to do yearbook on the computer… so Jostens hired me away from teaching at FHN and I started teaching all over St. Louis for the St. Louis Jostens rep as his computer consultant and creative consultant.. I was teaching computer classes and teaching design on the computer, so I would go into schools and help them set up their labs and get them started and then to help train their kids," said Pieper. 
During the three years Pieper worked as a consultant, she worked with the adviser at Clayton High School, Chris Holmes and they became friends. He was getting ready to leave CHS and suggested that she come to apply for his job at Clayton. The interview process? Intense. 
"It was pretty scary because there was a lot of talking; I interviewed with the students, the English department, the admin team, the Assistant Superintendent, and then the Superintendent. But it was cool. It showed me that people were really thorough, with who they wanted to bring in here. They looked for people who had experience in the area that they were teaching," said Pieper. 
When Pieper first started in 1995, there were five kids on the yearbook staff. 
" I had five sophomores in front of me. So I told them, you guys all need to go out and bring five of your friends. And they did exactly what I told them" said Pieper. 
In the first four years, the yearbook team was awarded three Columbia Scholastic Press Association Gold Crowns and three NSPA Pacemaker awards. 
"Those initial sophomores were incredible and stayed with me throughout their years at Clayton. They made the product their own and special. It's a student-run school publication. That is the way that it should be, the kids running their own show and the adults stepping back," said Pieper. 
Pieper left the yearbook classroom and was the building tech specialist for three years and then left to the district to become an assistant principal in St. Charles county. Three years later, she was hired back to the district for the second time to become an  assistant principal for seven years, then she retired for the first time, but not the last. 
"About three weeks after I retired, Dr. Guchewtsky called me and said, the yearbook teacher has moved to another state, would you like to advise the yearbook again? I sat there and I thought about it for about two minutes. I said, Absolutely. "I think it's the best job ever," said Pieper. This was the third time the district hired her to work here. 
One fond memory for Pieper isn't exactly a thing or event, it's the people she connects with. 
"It's always the kids. I'm still in touch with a lot of those kids from 1995. Facebook friends will once in a while, give me a call and say, Let's go have coffee or something. The relationships and the kids are amazing. Just watching people go on to do such incredible things. …It's that connection to people," said Pieper.
Yearbooks serve as history books and personal creativity shines through Pieper's advisory. 
"The pictures are not just snapshots, but they tell stories. When you look at them, it's not just about covering an event, but it's about finding all the different stories at those events," said Pieper. 
"When you go back and look at the yearbooks, it's going to mean something to you. It's going to touch your heart," said Pieper.