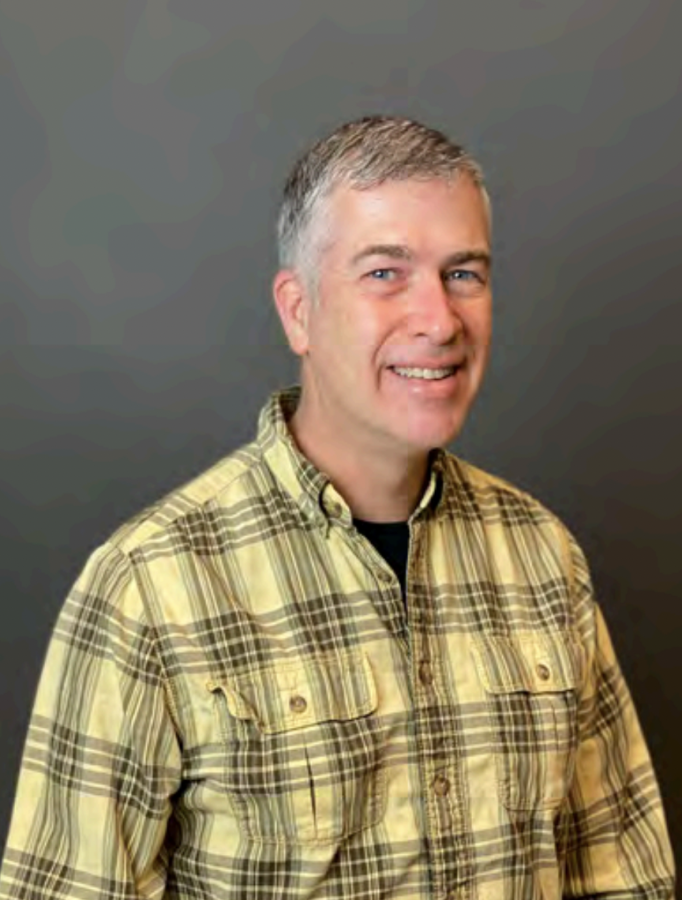 Chuck Collis
or many American teaching professionals who have spent their lives dedicated to sharing their knowledge and wisdom with young people, the prospect of retirement can seem a sobering and bittersweet reality.
Although the restrictions of the Covid-19 pandemic have certainly made teaching the last two years less than ideal, AP environmental science teacher Chuck Collis is laying down his gradebook with an optimistic view of the future.
A St. Louis native, Collis attended a Montessori preschool before spending the rest of his childhood and adolescence in the Lindbergh School District, where his love for biology was born. Always entertaining a wide-ranging array of interests that included literature and history, he was inspired by his high school track coach, who helped ignite in him a passion for science that would last for decades.
"In high school, a couple of things became really important to me, one of which was cross country. I had a really dynamic coach named Thomas McCracken, who was also a biology teacher. When I got to my junior year, I took IB biology so that I could have him for a teacher."
From a combination of natural interest and motivating mentorship, Collis declared biology his favorite subject, which he then went on to study at Truman State University. However, opportunities for future employment were not his foremost concern at the time.
"I had no idea how I was going to apply what I had been educated in, because I was really going through the motions. I knew I needed to get an education; I knew that I liked biology, and I never spent much time thinking about how I would want to use it as a working adult."
After considering that he could put his knowledge and skills towards a teaching career, Collis enrolled at Illinois State University, where over the course of three semesters he earned a second bachelor's degree in science education. He later pursued a master's degree in instructional technology and telecommunications.
Before coming to Clayton High School, Collis worked at Erie High School in the Quad City area of northwestern Illinois. After having his first child, he and his wife decided to move back to their hometown of St. Louis. In 1998, he was interviewed for a position at CHS by his previous track coach, Thomas McCracken, who had transferred from Lindbergh to Clayton to become the chair of the science department.
Throughout his 24 years of teaching at CHS, Collis has taught a wide variety of classes, including freshman physics, chemistry, biology, AP environmental science and evolution. Following in the footsteps of his inspirational mentor, he acted as the chair of the science department for eight years before becoming the school district coordinator for the science curriculum.
For Collis, the most rewarding and valuable part of his career has never centered around a particular class or group of students, but rather the ability to teach independently and collaborate with talented colleagues. However, the opportunity to conduct field research at Grand Teton National Park with students during the summer will always recall fond memories.
"Being afforded the opportunity to travel with small groups of students to do field research has been really important to me for a long time, and it would have been harder to make that happen at other places."
While 2022 may mark the end of a fruitful career as an educator for Collis, he hopes to continue challenging himself intellectually through scientific pursuits in retirement. A scientist never truly retires, for the search of truth and the willingness to push beyond the limits of human knowledge is a passion that lasts a lifetime.
"Science lives at the intersection of ignorance and knowledge. There is all this unknown, and we try to push those limits."