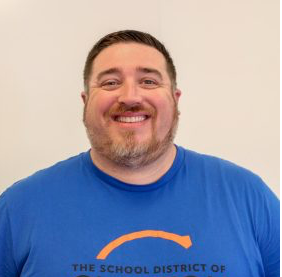 Jim Maddock
"I really enjoy being around kids and teaching, seeing that 'aha moment' when kids realize something and are learning something new, or in business when I teach how to open a checking account and a kid comes and says, you know, I opened a checking account yesterday. I'm able to provide them with real world knowledge to use outside of the classroom."
James Maddock is entering his 18th year of teaching and is eager to get to know students and carry over his passion for marketing and teaching to the CHS student body. Maddock taught CTE courses at DeSoto High School, where he worked before moving to CHS.
Maddock knew he wanted to be a teacher after observing his mom who was also a teacher and decided to follow in her footsteps to follow his passion for teaching and business. Prior to working at DeSoto he taught and worked at the collaborative school for three years. Maddock became a support system for the students at the collaborative school. "I was helping kids and usually just being an ear for a kid that just wasn't feeling."
At the collaborative school Maddock found a passion for teaching and helping students."I actually enjoyed it so much that I got certified in special education. I did special education at DeSoto before I jumped back into business, which was my true passion." Maddock got a degree in marketing from Webster University.
When he is not teaching, Maddock is watching sports, he played college baseball and junior varsity basketball. Maddock has a passion for sports and in the past has been a basketball, football, and baseball coach. "I'm a big sports person. Watching sports, my kids play sports and so we watch them but like college football, football, baseball, pretty much basketball, you name it, I watch it. That's how I spend most of my time."
This year at CHS Maddock is looking forward to attending CHS sports games and cheering on the Greyhounds. Whether it's teaching students lessons about business, marketing and more inside the classroom, or cheering them on from the stands at a sporting event, James Maddock will be a new and grounding force to Clayton High School.