The Albert Effect: his Journey to 700
"Because it was Pujols and it was 2006, he crushed a homerun to DEEP LEFT FIELD and walked-off that win. Alec had a perfect view of the ball launched into the stands, and I had a perfect view of the smile on Alec's face," said teacher Barry Crook, describing taking his son to his first ball game in 2006.
One of the Cardinals largest signings this off-season was bringing Albert Pujols' back for a one year, 2.5 million contract, which as of right now, is his last season. From an MLB standpoint, this is not a massive contract by any means, but due to the emotional implications for Cardinals fans, this deal was the best signing in many years. Albert has given St. Louis natives a whole new reason to root for the team. 
With fans hoping for a miracle in Pujols, Adam Wainwright, and Yadier Molina's final season, the team has a chance at the World Series. Let's call this effect on the fans, the "Albert Effect." To understand why this means something to Cardinals fans, let's look at Pujols's history with the team.
Pujols has been a star since his rookie year in 2001. In just his first season, he managed to hit a .329 Batting Average (AVR) with 37 Home Runs (HR) and 130 Runs Batted In (RBI). Virtually no rookie has ever achieved these numbers, but overall, this was one of the better seasons any player has ever had. As a result, he finished 4th in MVP, while easily taking home the Rookie Of The Year award. This was only the start of Pujols's effect on fans, and in the next 10 seasons he would wind up becoming a Cardinals icon.
By 2011, he held a near 1.000 On Base Plus Slugging (OPS),  with 445 career HR, well over 1000 RBI's, over a .300 batting average up until 2011 season. In this stretch he reached four World Series, taking home two rings, eight MVP finalists winning three, eight All Star appearances, four Silver Sluggers, and two Gold Gloves. 
At this point, there was a fair argument to be made that this was the greatest start to an MLB career in history and was already a near lock in the hall of fame. However, after an incredible 2011 World Series run, heartbreak struck as Manager Tony La Russa and, most importantly, the fan favorite, Albert Pujols, would move on from the team. 
That off-season, the Angels would sign the superstar to a 10 year, $240 million contract, which, at the time, was the sixth highest AAV (average annual value) in the MLB. Unfortunately for Pujols, he would never come close to matching a season like those in St. Louis. 
However, the decline was not enough to stop him from a historic career. His career avr, was still hovering around .300, and he had tallied over 2000 Career RBI, 648 career home runs, and an OPS still well over .900. Pujols wound up being released in 2021 by the Angels and briefly signed with the Los Angeles Dodgers for the remainder of the year, before hitting the Free Agent Market that off-season. 
Despite receiving offers from three teams offering more money or playing time, in his heart he wanted to return to St. Louis. Entering this current 2022 season, Pujols entered it knowing he was on the road to 700. He started at just 679 and he hadn't hit over 20 HR since 2019. To add to the struggle, he was looking at the least play time of his whole career. 
This season would quickly go down in history as one of the greatest in Cardinals' history, as they would say goodbye to three icons who have been leading the team for decades. This year has been marked with great moments, such as seeing Pujols and Yadi pitch for the first time in their careers, and even seeing Pujols play in the All-Star Game. 
During the All Star Break in mid July,  the 700 HR goal was seeming impossible. More than halfway through the season he'd hit six of the 21 he needed while only notching 149 AB. However, the impossible slowly became more and more probable as the number decreased more and more. From that point on, Pujols went 29 for 79 with eight home runs in the month of August.
By September, he'd find himself just six short of the needed goal but with just a month to spare.The race is still ongoing, and St. Louisans can only hope he reaches the historic achievement. 
Barry Crook shared a story with us saying "After two incredible Cardinal seasons in 2004 (World Series) and 2005 (great NLCS), I couldn't wait to get to the ballpark in 2006." During the 2006 season, Crook took his 10-year-old son, Alec, to the game. They were sitting in the upper deck and had a great view of left field. During the game, Crook's son, while in line for food, missed a Pujols home run. Later that game, Pujols hit another home run. Alec was in the bathroom. He was devastated, desperate to see Pujols hit a home run. 
In the bottom of the 9th, they were down 7-6 when David Weathers came in for the save, to face Pitcher Jason Marquis. It was not looking good. But with Albert on deck, Marquis needed to get on base to bring up Pujols for one last chance at Alec witnessing a homerun. Jason Marquis managed to get a single, and Pujols stepped up to the plate. He was the winning run. 
His son turned to him saying "Can he do it one more time?," said Alec. Pujols, who Crook referred to as "the Machine," hit his third home run of the game. Crook said "Alec had a perfect view of the ball launched into the stands, and I had a perfect view of the smile on Alec's face." Pujols gave Alec a smile and a memory for 16 years now, just by being an incredible player. 
8th Grade Social Studies teacher Richard Baugh is also a die-hard Cardinals fan, and has followed Pujols throughout his career. Baugh said that the most memorable game he ever watched with Pujols in it was a game in September, 2005 when the Cardinals were down by a run, with two on in the 8th inning. Pujols came up and just "blasted one, way out," Baugh said "it was one of those that you're like you know, it'd be really nice if he hit one, and then he did."
"He was very driven, he was already the best hitter in baseball and didn't need to be a good fielder, but he wanted to work on it and eventually become a good fielder too," said Baugh. Baugh also mentioned that while it was wise for the Cardinals not to give him a massive contract, it's still so amazing that he can end his journey back in St. Louis. 
Looking back at the 3 teams offering more money or play time his opinion on it was plain and simple saying "he doesn't care about the money. He just loves St.Louis and wants to end his career here". Baugh would go on to talk about when looking at Cardinal history, Pujols will go down with Musial and Gibson as one of the great Cardinals in history and will have a debate for the greatest player ever. He even said when he retires, he'll join that conversation.
I asked him, as a long term cardinal fan, what it'd mean for Pujols to hit that milestone of 700 and all he said was, "I would just love it."  He would go on to talk about how he's underrated since he played for St. Louis and the Angels and how the 700 mark kind of snuck up on him.
Baugh is one of many cardinals fans who was just full of memories and feelings about Albert Pujols, he has affected many people. He's proved how baseball is more than just a game to some, it has allowed fans to create good memories. Pujols hitting 700 would mean the world to many, and it's going to be very interesting to watch this career of one of the greatest of all time, come to a close.
View Comments (2)
Your donation will support the student journalists of Clayton High School. Your contribution will allow us to purchase equipment and cover our annual website hosting costs.
About the Contributor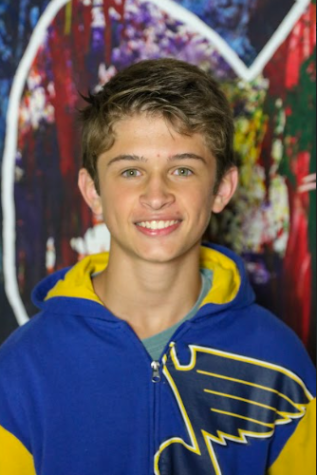 Charlie Balestra, Page Editor
Charlie Balestra is a sophomore in his second year on the Globe. He is constantly striving to write stories to the best of his ability. This school year, he is looking forward...