Sleep Well Tonight, Remember Your Name Tomorrow!
In 2009, David M. Holtzman, MD and scientific director of the Hope Center for Neurological Disorders at WashU, began investigating the potential causes for a buildup of amyloid beta protein in the brain, and its correlation with the development of Alzheimer's. 
At the time, he had no reason to investigate the role that sleep may play in the disease's development. Holtzman and his team studied a group of mice, quickly finding that their amyloid beta levels were higher when the mice were awake and active. A sleep-inducing medication was then given to each mouse, and the amyloid beta levels in all of them immediately lowered. When these same mice were deprived of sleep, their amyloid levels shot up again. Strangely, amyloid is normally completely harmless; it just floats around in the brain from place to place. 
"It's probably just a waste product of a larger protein," Holtzman said. 
Initially, amyloid proteins don't cause any issues. It's the amyloid plaques that they create which fuel the problems. 
Jeanette Cooperman, editor-in-chief of the St. Louis magazine wrote, "think of them as weighted blankets draped outside the brain cells. They might cause no symptom for years, but their presence can accelerate a more ominous process: an accumulation of the protein tau, which begins to clump up and tangle inside the neurons, eventually killing the cells and causing that area of the brain to shrink." 
Holtzman and his team determined that sleep deprivation speeds up the production of amyloid beta and tau during the day. They also found that those who are sleep deprived tend to have an even harder time sleeping well due to the increased buildup. 
This all sounds terrible already, but studies conducted within the last decade have led to an even graver discovery: a link between fragmented sleep and the development of Alzheimer's disease.
Now that the risk of sleep deprivation is better understood, there is still one big question: What's the right amount of sleep to shoot for? 
Well, let's start off by reviewing the phases of sleep: Awake (Stage 1 sleep, characterized by slowing of muscle movements and slowed eye movement), light sleep (Stage 2 sleep, eye movements stop and brains waves slow), deep sleep (characterized by delta waves; brain waves which are small and fast), and REM sleep (breathing becomes more rapid and shallower, limb muscles become temporarily locked in place, and dreams occur). These stages take place over a period of 90 minutes–completing a single cycle, which then repeats itself several times in a night. REM is the deepest sleep stage of the group, and should occupy roughly 20-25% of an individual's sleep. Ideally, teenagers sleep around nine hours a night, however, for most, this is not happening.
REM should supposedly last for around two hours. Sleep deprivation, which can be caused by a variety of factors, occurs when an individual has slept an insufficient amount of time, causing loss of hand-eye coordination and a feeling of drowsiness during the day, and fatigue, among other symptoms. 
According to M.D. Alana Biggers of Medical News Today, adults who are deprived of sleep for longer periods of time become more prone to obesity, diabetes, heart disease, and even anxiety or depression. Teenagers who are chronically sleep deprived may notice a significant decline in their academic performance, ability to get along with peers, as well as problems with physical development. 
Brendan Lucey, director of WashU's sleep medicine clinic, launched a research study focused around the effects of Belsomra–an FDA-approved sleep medication. Results from the tests showed that the increase in each subjects' tau levels was directly affected by the amount of deep rest they had; the more of it they got, the lower the level was. Lucey and his team also found a Goldilocks zone for the amount of rest that the test subjects recorded the best cognitive function in. 
"There's a sweet spot," Lucey said, "where cognitive performance was stable." 
This "sweet spot" is roughly six-to-seven hours a night. Those who slept more than or less than this amount saw a steady decline in cognitive performance–meaning that the brain understands how much rest it needs. Anything greater or lesser will tip the fragile balance.
Sleep is essential to getting through the day, but many people do not understand the reasoning behind its importance. Yes, I know that you have probably already experienced sleep's ability to cleanse the brain and relax the body, and you have woken up feeling energized and awake at least a handful of times in your life But have you ever considered the positive effects of excellent sleep beyond the surface level of "not tired", " awake", and "well-rested"? 
This all sounds terrible already, but studies conducted within the last decade have led to an even graver discovery: a link between fragmented sleep and the development of Alzheimer's disease. 
Though the elderly population is most affected by the disease, it's the habits that you develop in your earlier years that will determine how likely it is that you develop it later on. 
Leave a Comment
About the Contributor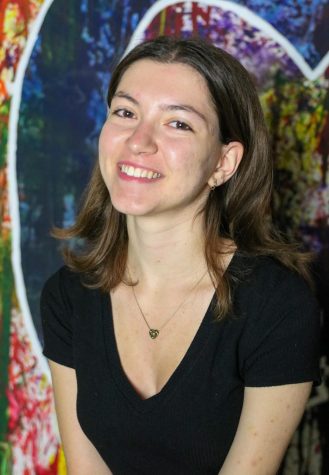 Ana Mitreva, Managing Editor
Ana Mitreva is a senior at CHS and this is her fourth year on the Globe staff. Last year she was a Page Editor and is a Managing Editor this year. Besides Globe, she loves swimming,...