A Cooperstown Career
After a historic year for the St. Louis Cardinals, legends Yadier Molina and Albert Pujols will be retiring and will almost certainly be inducted into the Hall of Fame (HOF), in Cooperstown, New York.
Pujols returned to the Cardinals after being away for 10 seasons, and reached countless milestones in his last year before retiring. He tallied his 700th home run and surpassed Babe Ruth for the second most runs batted in (RBI) of all time.
Molina, a Cardinals fan favorite who will sadly be retiring as well, also made history in his final year. He and Adam Wainwright, a Cardinals pitcher, broke the MLB record for starts as a battery with 325, and Molina's individual defensive statistics speak for themselves.
A name that has been mentioned much less regarding the end of a career is Cardinals' 41 year old pitcher, Adam Wainwright. Wainwright has confirmed he will play next season after posting a 3.71 Earned Run Average (ERA) and pitching 191.2 innings (second most on team) this year. It seems that he still has fuel in the tank.
If Adam Wainwright retires next season, will he be able to cap off his career with a spot in the HOF?
Jim Kaat, a pitcher for the Minnesota Twins who played from 1959-1983, was recently inducted into the MLB HOF. Over his 25 year career, Kaat posted a 3.45 ERA, a 283-237 win-loss record, over 4,500 innings pitched and almost 2,500 strikeouts. He has pitched the 25th most innings of all time. Kaat tallied three All star appearances and set a defensive record of winning the Gold Glove Award 16 seasons in a row. Kaat was above average for a pitcher offensively, hitting 16 career homeruns. Kaat also won a World Series in 1982 with the Cardinals.
Although Kaat's statline was historically impressive, it still took him many years on the ballot before being inducted.
Like Wainwright, Kaat was a pitcher who put in a lot of innings, even though he only had a 54% win percentage.
Craig Sucher, a science teacher at Clayton High School and a coach for the CHS varsity baseball team, said "Longevity means a lot because the only way to pitch at that level for a long period of time is to have success… I'm not advocating that every pitcher that logs 20 years should go to the HOF, but that certainly earns a closer scrutiny among the others."
While wins are not a very accurate stat to measure a pitcher's skill (since they heavily depend upon the team's defense and offensive ability), they are a very important aspect to a HOF spot.
David Aiello, another teacher at CHS and one of the coaches of the CHS baseball teams, said "wins are probably the single most important stat because it is a team success statistic. Strikeouts and ERA are nice and glamorous, but to me it's all about winning." Although Aiello admitted that this argument was a little "old school," he continued "the starting pitcher is the person who single-handedly has the most impact on whether or not your team wins the game."
Wainwright, whose career has yet to conclude, has played for 17 years, pitching from 2005-present. So far in his career, Wainwright has posted a 3.38 ERA, 195-117 win-loss record, over 2,500 innings pitched, and more than 2,100 strikeouts. Despite pitching fewer years than Kaat, Wainwright has come close to accumulating as many strikeouts.
"With under 200 wins, [Wainwright] won't even get serious consideration," Aiello said.
Wainwright and Kaat have appeared an equal number of times in the All-Star Game. Additionally, Wainwright won a Silver Slugger award, given to players who are best offensively at their position. This award had not been created while Kaat was playing. Wainwright has also been a top three finalist for a Cy Young award four times in five seasons.
Although he hasn't won many games compared to other HOF pitchers, Wainwright's win rate sits at almost 63%, which is greater than Cy Young himself, Greg Maddux, and Tom Glavine, who are all highly regarded pitchers, all already in the HOF.
Benjamin Hochman, a sports columnist for the St. Louis Post Dispatch, said "When you look at ERA, strikeout rates, wins above replacement (WAR), and other stats, those paint a much sharper picture."
There are clear arguments for and against Wainwright to be voted into the Hall of Fame, but the most important aspect to consider at the moment is that he still has at least one more season left to play. A pitcher can achieve a lot of milestones in a single season, and arguments can completely shift.
Leave a Comment
Your donation will support the student journalists of Clayton High School. Your contribution will allow us to purchase equipment and cover our annual website hosting costs.
About the Writer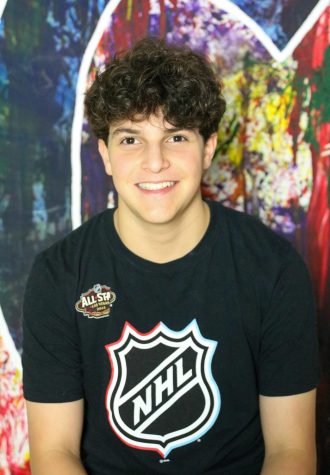 Micah Lotsoff, Reporter
Micah Lotsoff is a junior at Clayton High School and is a Copy Editor for the Globe. During Micah's free time, he enjoys watching and playing sports, watching movies and spending...