Albert's Gift to Jonas
"The gift felt really nice to me and my whole family," CHS student, Jonas Glick, said. Glick was presented with a Cardinals jersey, after winning a class competition in Dr. Paul Hoelscher's Sports and Society class. Glick, who is on the Autism spectrum, "is such a sweet kid" and "he works very hard," according to Holscher.  In the Sports and Society class, Glick decided to write his story on Albert Pujols starting in St. Louis, leaving, andfinally coming back to end his career here.
St. Louis Post Dispatch columnist, author, and CHS alum, Ben Hochman came into award three presentations for best information, best analysis and best visual orientation. Glick wound up winning the best information category. After this recognition from Hochman, Hoelscher decided that he would try to pull some strings with his Cardinals connections and tried to see if Pujols would be willing or able to come to CHS and congratulate Glick on his award and presentation.
Unfortunately he was not able to make an appearance, as understandably Pujols couldn't make the visit in person, but instead he sent Glick a Cardinals jersey as a congratulations for his hard work on the project.
Glick described how Pujols returning meant a lot to him. He expressed how the Cardinals' legend has had such an impact on St. Louis, and how he was able to see him play when he was young, so it has more of a nostalgic effect for him. Glick also said he finds Pujols' return "bittersweet," because while he gets to watch the legend again, he also knows that it will be his final year.
For Glick, receiving this recognition was a proud moment. Watching baseball games was a family bonding experience for him, and to have one of the game's greatest legends personally send him a gift was a powerful experience.  It also spoke to Glick on a personal and familial level, as he and his father have made lots of memories watching Pujols and the Cardinals, and he has very fond memories of attending Cardinal's games with his family. 
While Pujols was a bit past Glick's time, his brother and father both were Cardinals fans in his most infamous seasons. They were very proud of Glick for his award and found the gift to be very touching.
As for Hoelscher, he described the whole experience as,  "one of the hidden gems people sometimes miss." Fortunately, due to Hoelscher, Hochman, the St. Louis Cardinals, and Albert Pujols, this time around, the gem was awarded.
Leave a Comment
Your donation will support the student journalists of Clayton High School. Your contribution will allow us to purchase equipment and cover our annual website hosting costs.
About the Contributor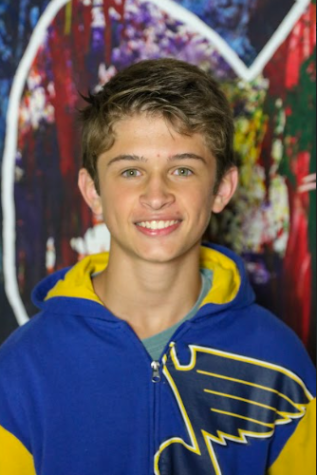 Charlie Balestra, Page Editor
Charlie Balestra is a sophomore in his second year on the Globe. He is constantly striving to write stories to the best of his ability. This school year, he is looking forward...