From 4 to 40: A New Era of Cardinals Baseball
The conclusion of the 2022 Major League Baseball season marked the end of an era for the St. Louis Cardinals. Former Cardinals' 1st baseman, Albert Pujols, started his career with the Cardinals in 2001 and departed to Los Angeles in 2011. Over a decade later, the Cardinals signed Pujols to return to St. Louis for his final season, where he would reach the milestone of 700 career home runs.
Pujols' retirement was a harsh blow to St. Louis but can not be compared to the sting left behind as a result of the departure of Yadier Molina. The catcher of the St. Louis Cardinals since his rookie season in 2004, Molina quickly became the face of the Cardinals; his clutch hitting and, most importantly, defensive play style shaped him into a fan favorite. His legacy he left behind will change the way the game of baseball is played forever.
The 2022-2023 MLB offseason was extremely hectic and busy to say the least. The St. Louis Cardinals' most significant move was trading for Willson Contreras, a catcher who formerly played for the Cardinals' rivals, the Chicago Cubs.
Although they were his rival team, Contreras admired St. Louis. Their overall environment and team support could not be compared to that of other cities.
Ben Hochman is a sports columnist for the St. Louis Post Dispatch and also a Clayton High School alumni. "Yadi will be in the back of [Contreras'] mind as he approaches his work," Hochman said.
Contreras wrote an open letter in a story for The Players' Tribune saying goodbye to Cubs fans and expressing his excitement for a new star in St. Louis. "No one could ever replace Yadier Molina," Contreras said. "This is truly going to be one of the greatest honors of my entire life."
As far as changes in the gameplay of the Cardinals Organization, Contreras and Molina have vastly different play styles. "The Cardinals will get much more offense out of their catcher spot," Hochman said. "Contreras is going to turn the Cardinals catcher spot into a home-run spot in the order."
In the 2022 MLB season, Molina played 78 games and recorded 5 home runs. This ranked 37th among all catchers in the MLB. On the other hand, Contreras played 113 games and recorded 22 home runs which ranked 4th among catchers. Contreras is not just a homerun hitter recording a batting average of .243 in 2022 as opposed to Molina's .214. On-base plus slugging (OPS) is a stat used to measure a player's ability to get on base and hit with power. In the 2022 MLB season, Contreras held an OPS of .815 and a wins above replacement (WAR) of 3.9, both significantly greater than Molina's. Obviously, Molina and Contreras have different play styles, and although Contreras will never truly be able to fill the shoes of the catcher spot in St. Louis, his arrival will likely affect the Cardinals for the better.
However, Molina's role on the Cardinals is more than just stats. He also made significant impacts on the pitching staff, serving as a mentor and guide for his entire career. Molina's relationship with Adam Wainwright is only one example of the effect he has on pitchers.
"Yadi was known almost as another pitching coach… Contreras will be a serviceable defensive catcher who can positively influence pitchers," Hochman said.
Contreras was notably excited for his arrival in St. Louis. A city known for its fans and overall sports atmosphere, Contreras has a lot to look forward to this season.
"St. Louis is fueled by its love of baseball and respect for baseball tradition," Hochman said.
Leave a Comment
Your donation will support the student journalists of Clayton High School. Your contribution will allow us to purchase equipment and cover our annual website hosting costs.
About the Contributor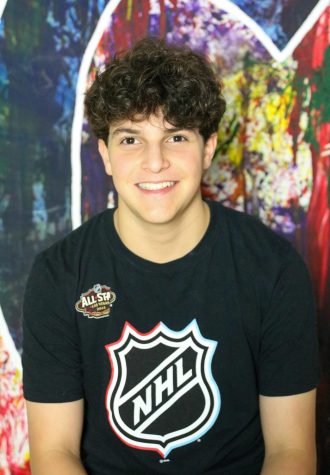 Micah Lotsoff, Reporter
Micah Lotsoff is a Freshman Reporter of the CHS Globe this year. This is Micah's first year writing for any newspaper, but he loves writing and sharing his opinion. Micah has always...