Can the Blues Have a 2018-19 Miracle Again?
"I think at this point I lean towards being full on sellers, I think they've dug too deep a hole in the standings," said Athletic writer, Peter Baugh, when asked about what the Blues deadline plan should be.
Looking back on The St. Louis Blues' famous 2019 Stanley Cup season, the start to that historic year was extremely rocky. After briefly sitting in last place, 2019 would be different, as Ryan O'Reilly and Vladimir Tarasanko would eventually lead the offense and breakout rookie goalie Jordan Binnington seemed unstoppable behind the net. Along with this, highly regarded Craig Berube replaced Mike Yeo as head coach and would wind up being a runner-up for the Jack Adams award for the best coach in the NHL. The team would make a drastic turnaround, going 27-8-5 in their last 40 games, including an 11 game win streak in February. This put them all the way up to 3rd in the central division and just months later, they were Stanley Cup champions.
Since then, the team has lost a lot of key players to free agency, including Alex Petrangelo, Pat Maroon, and David Perron, and traded away others, such as Jake Allen and Ville Husso. Jaden Schwartz and Vince Dunn would also be selected by Seattle in the 2021 expansion draft, and the Blues' defense would take a massive hit after losing defenseman Carl Gunnersson, Jay Bouwmeester and longtime winger, Alex Steen, who all retired by the 2020-2021 season.
Since then, the Blues have filled these vacancies, acquiring major difference makers such as Noel Accari, Brandon Saad and Pavel Buchenevich. However, a much taller task was required as they needed to replace almost their entire defense. The Blues picked up Justin Faulk and Torey Krug on long term deals and signed Colton Parayko to an 8 year extension. In 2022. They also acquired Nick Leddy at last year's trade deadline and later extended him for another 4 years. St. Louis' most risky move going into this year was replacing outgoing Ville Husso, with 37 year old Thomas Greiss, who was coming off the worst season of his career for the Red Wings.
While the Blues free agent signings and trades haven't fully made up for the missing pieces from 2019, the major problem has come from their inability to draft and develop players. Since their strong drafts in 2016 and 2017, where they selected 2022 All Star Jordan Kyrou, 2023 all star Tage Thompson (traded to BUF), and Robert Thomas, all of which have had extremely promising starts to their careers, in the four drafts since, not one player has played 40 career games. 
Some of their high picks such as Dominik Bokk and Nikita Alexandrov never developed into strong prospects, and the only players that did were Jake Neighbors and Scott Perunivich. Even so, Perunivich has had injury issues and despite scouts being impressed with his speed, agility and puck work, he has yet to develop into an NHL player. Jake Neighbors has been able to generally crack into the Blues starting lineup, but there's an argument his outlook is even more pessimistic due to only putting up four goals, four assists and -18 +/- (goals scored/allowed when on the ice) this season and bouncing between the 4th line and a healthy scratch as the year has gone on.
Despite their poor development, the offense is not the issue since their Shots Taken and High Danger Shots Taken are top ten in the league and Goals For around league average. On the other hand,their Defense has underperformed and the stats back that up. The Blues hold a 76% Penalty Kill (22nd OVR), 32 shots allowed per game (29th OVR), and a 3.61 goals against per game(27th). Despite Colton Parayko and Niko Mikola being well above league average in hits, both have exhibited very poor offensive numbers, and the only two-way defenseman seems to be Justin Faulk.
 Making matters worse, notorious offensive defenseman, Torey Krug has not lived up to his 7 year contract, only putting up 5 goals and 16 assists over halfway through this season, and advanced statistics show, 5 goals may be lucky, as his expected goals are only at 3.8. The teams physicality and offensive stats are both near the bottom of the league and their defense as a whole is struggling.
Another issue that the Blues face is that Jordan Binnington is having his worst season in his career so far. His Goals Against Average (GAA) sits at 3.27, the 6th worst in the NHL (25 game minimum) Their struggling defense has definitely played a role, as his Expected Goals Against Average (xGAA) is significantly better at 3.02, but is still in the bottom ten in the league. In addition to his performance issues, Binnington has become known as short-tempered,rude and an overall hated goalie, he often picks fights with other teams and famously threw a water bottle at Nazem Kadri during an interview. The latest incident may be the most frowned upon yet. At the end of the first period he shoved Jason Zucker into the boards, in a play that was very avoidable and potentially dangerous, then he chirped at the Penguins bench when he was getting pulled the next period, ironically he was pulled due to poor performance and this has caused the NHL community to clown on him for this. It's been a shame for Blues fans to watch him fall from a beloved top tier goalie, to a hated, short-tempered, below average one.
  The team has reason to hope for this miracle, as they are only 8 pts out of a wild card spot, and their conference is notably weak. It seems as if this may be the last year with Blues icons Ivan Barbashev and Ryan O'Reilly, and their lone all-star, Vladmir Tarasenko is already gone. If the team can extend one or both of these guys, and in a few years top prospects Jimmy Snuggerud and Zachary Bolduc will be in the NHL and the team will  have promise. They'll have close to $15M to spend next season, which definitely gives them room to spend, they could legitimately sign back both O'Reilly and Barbashev with money to spare. If the Blues can find a way to dump some of a bad contract like Krug or Parayko, they could be in an excellent  position to spend and help them compete soon. Binnington is known to have stretches where he's lights out, and if he locks in, they could push for a playoff spot, and if they miss, they'd still be stable for years to come. 
However, the team has just as good a reason to sell all their players. Even if they maintain their forwards, doing this will not be good enough. While Snuggerud and Bolduc will help, there's no reason to think the blues will be able to develop them into legitimate difference makers. They also will still have gaping holes in their defense and if they wanted to get a defenseman or two, they'd probably need to move out one of their pricey defenseman as it is. While blues fans will be disappointed to see guys like O'Reilly leave, they'd be furious to watch them go with no return. 
In addition to this the #1 draft prospect, Connor Bedard, has some experts calling him the best prospect since Connor McDavid, and others are going as far as to say he's the best since Sidney Crosby. This seemingly guaranteed superstar is not that far out of the Blues' reach as they currently sit at a 6% chance of getting the first overall pick and if they were to tank, that number would only increase. The Blues don't have a guy like Jordan Binnington in their system, nor do they have a coach better than Craig Berube to take over, meaning the miracle needed is even more improbable than the 2019 one.
Peter Baugh, a writer for the Athletic and former writer for the Globe, shared a similar pessimistic view. "They've dug too deep a hole in the standings, and you can look at the 2019 team to say things can maybe turn around, but the difference is that team just had better players," Baugh said.  Baugh also sees the issues with an aging core trying to pull off a rebuild saying it would be smarter to sell now and shorten the time of a rebuild. 
He also felt if anyone were to stay via an extension it would be the Blues' Captain, Ryan O' Reilly. O' Reilly has told the media he wants to stay and presumably sign an extension, so the team may have an easier time finding a price, versus Tarasenko who "would do anything to get out of St. Louis." Tarasenko emphasized the problems he and the team had the last few years. Baugh's prediction was correct, as Tarasenko was shipped to New York following this interview.
Baugh thinks the Blues would "need a draft lottery miracle to get Bedard," saying while 6%, certainly isn't 0%, the Blues need to remember beyond Bedard it's a very talented draft and "even if they don't get Bedard or even a top 5 pick, their chances at getting a good player at a 7, 8, 9, 10, 11 range is probably higher than past years." Baugh was not as alarmed by the Blues poor drafting, saying there's still some time for some of these players to come around.
Baugh does believe there's a scenario that the Blues sneak into a wild card spot, but while crazy things can happen, he doesn't think they can do much damage in the playoffs, elaborating on this saying "They don't have the defense they need, consistent goaltending or even the forward depth they've had in the past."
One optimistic thing Baugh had to add for the Blues' future is that "Binnington probably hasn't been as bad as the numbers show, and he's definitely had some bad games but also some where he kept the Blues in it." He doesn't feel Binnington is drastically different from how he was a few years ago and while he may not be the goalie he was when they won the cup, with the right defense, he can get back on the right track. 
Leave a Comment
Your donation will support the student journalists of Clayton High School. Your contribution will allow us to purchase equipment and cover our annual website hosting costs.
About the Contributor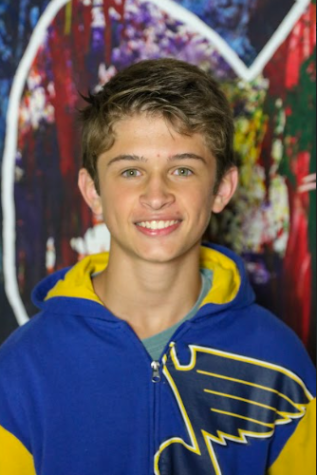 Charlie Balestra, Page Editor
Charlie Balestra is a sophomore in his second year on the Globe. He is constantly striving to write stories to the best of his ability. This school year, he is looking forward...