Profile of a Graduate: Elizabeth Giardina
Ever since she was young, Clayton Graduate Elizabeth Giardina has felt her future was not in a traditional academic career but rather in creativity. Giardina is a fashion designer who has worked for several luxury brands. 
As a child, each Tuesday afternoon, her mom would take off work early and take Giardina on 'Creative Tuesdays'. They would go to the Botanical Garden together and pretend to be Monet while drawing lily pads. 
Creativity remained a part of her life when she was at Captain Elementary School. Giardina remembers her teacher assigning the class a project that was to make a project in a medium of their choice. In designing a product, she felt drawn to the creative aspects of it. 
"So that was a really distinct memory for me because I always had a lot of interests that I always haven't been academic," said Giardina. 
As Giardina moved through the Clayton Schools, she found comfort and belonging in the art department. "I always had all different kinds of friends, but I felt like in the art area, and with the art professors there was just like this openness to explore and to be yourself," said Giardina. 
Although she loved the creating aspect of art, she also especially enjoyed the community that it provided. She enjoys seeing how others create and express themselves through different mediums of art. 
While at Clayton High School, Giardina's art teacher brought the class downtown to meet artists in St. Louis. She was fascinated by the way these people could live outside of the typical jobs in society-creating. This field trip exposed her to different paths that she hadn't been shown previously.  
During her teenage years, Giardina also danced at the Center of Creative Arts (COCA) in University City in the dance company. COCA provided her with a different community that showed her new ideas and showcased different cultures and backgrounds.
"It wasn't just about the dance, it was about the exposure to the culture around dance that I think was really valuable for me," said Giardina. 
She felt drawn to different creative ventures whether it be dance, drawing, or design. For Giardina, dance provided so much more than just movement. It gave her the opportunity to think of clothing and costume through the lens of dance and movement. "And I think a lot of my interest in costume came from dance. I mean, I can't state that enough," said Giardina. "For me, the relationship between my body and clothing is really important. And how clothing moves on the body."
Giardina graduated from the Sam Fox School of Design & Visual Arts at Washington University in 2002 with an undergraduate degree in sculpture. Before being the Creative Director with Another Tomorrow, she worked at Proenza Schouler. There she was the vice president of design for the brand she developed inside of the brand, White Label. She also was the vice president of design for Derek Lam 10 Crosby previously. 
After graduating WashU, Giardina moved to Los Angeles. Moving from Los Angeles to New York was a very drastic change for Giardina. When she lived in St. Louis, she was used to the very tight-knit community which was nothing like New York City. "New York is just a different pace. It's very fast-paced. You know, it's like you're a little fish in a way, way bigger pond," said Giardina.  
Currently, Giardina draws much of her inspiration from the lifestyles of the women she's designing for. This ranges from her how the women's personal space and home look to how she dresses in different times and situations. She also draws inspiration from her past experiences and what she observes in the world.  
"I actually just finished the season where a big part of the inspiration was dance. It was what a body looks like when they're practicing dance, not performing a dance," said Giardina. 
She also likes to draw from the architecture that she sees.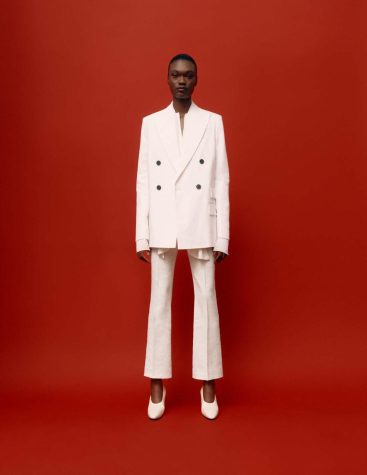 For Giardina, the design process has many steps from idea to garment. The collection starts with a general concept of interest that will drive the entire process. The concepting includes researching different materials and exploring what other people are doing around the world that's interesting and innovative. 
From the concept, Giardina and her team will create a document that can house different parts of what the designs will end up looking like. Pages in this document could be about the mood for the collection, different things that will be focused on, and what each type of clothing will look like. This includes outerwear, jackets, knitwear, etc. 
The next step from the preliminary research and idea generation is what Giardina calls "3d Research". This would be visiting vintage stores and finding different clothes that are interesting. She pulls pieces from her closest but also her friend's closets and other people she knows. Using this clothing, she will drape it and figure out how she is going to style it. 
"Then we spend a day with the model and we try on all these things, and usually have an attitude. I'm like I want you to stand like this, with these sunglasses and you're holding this bag. And we just trying all these looks," said Giardina. 
With the model, they will photograph all of these looks so they can later use them and even photoshop them to include something unique in the look. 
After making all of the looks with the model, Giardina will start to draw what the pieces in the collection will look like. At this point, she will also pick out the patterns and fabrics that they will need for merchants to make the collection happen. 
Another Tomorrow is a brand that focuses on ethical manufacturing which is one of the reasons Giardina wanted to be a part of it. "I've never worked for a company that is so sustainably and ethically focused," said Giardina. "This is pretty novel, what we're doing as a brand, which is why I took this position and why I'm really excited about the startup." 
Giardina has noticed how difficult it is for a brand to be completely transparent about where they are sourcing their materials and how their garments are made like Another Tomorrow is. "With garments there are so many components. There's the manufacturing which is so complex that it's just this kind of black hole. So it's really hard for apparel brands to have a lot of transparency," said Giardina. 
When Giardina thinks of how she could advise high school students in following in her footsteps, she discourages them from trying to go the quicker and easier route. She encourages honing in on a specific skill set that will aid them in the future. "I think focus is really important. What is it that you really want to do? Whether you want to be a designer, or you want to be an architect, or you want to be an artist, or a performer. How do you get to master the skill set that you need to have to be there?" said Giardina. 
Additionally, when Giardina was in high school, TV producer, Andy Cohen came and talked. "Just seeing people achieve creatively was really good for me to see because I had to work really hard in high school and and in college to do well," said Giardina. 
Giardina sees herself continuing to design with sustainability at the forefront of the process and she wants to create pieces that can enhance women's closets. "I think it's important to be part of change. So I'm really excited about that. And I want to help women have  an incredible wardrobe, I feel like the current opportunity I have is a great chance to really craft the perfect wardrobe," said Giardina.  
Leave a Comment
Your donation will support the student journalists of Clayton High School. Your contribution will allow us to purchase equipment and cover our annual website hosting costs.
About the Contributor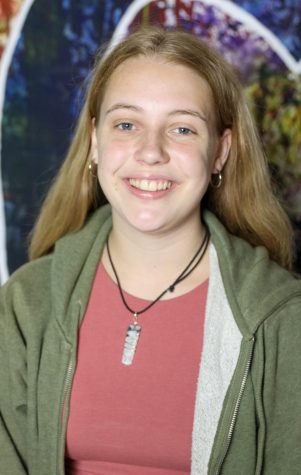 Madeline Jeans, Reporter
Madeline is a junior at CHS and is a page editor this year for The Globe. This will be her second year as a staff member. She participates in Best Buddies, Community Service Club,...