I am not a Greyhound Scholar
"We are Greyhound Scholars." This year, this phrase has been plastered up and down hallways, blasted on announcements, and even printed on custom t-shirts worn by every staff member in the building. Through this new branding, it is not-so-subtly implied that Clayton High School students should intend to be scholarly. 

As explained in the Globe article, "We are Greyhound Scholars," this new term was created by CHS teachers in order to encourage students to "ask questions and dive deeper simply because they love to learn." 

While I am not opposed to this mission, I must question the language used to achieve it. Words matter. By using "scholar" as the term which should define every CHS student, we devalue students whose talents lie outside the traditional academic space. 

Now, to be fair, the Greyhound Scholar initiative does attempt to include non-academic activities by offering a list of adjectives students should exemplify. The list includes "self-aware, curious, inclusive, caring, creative, and collaborative." These adjectives are cute; however, it's important to note that they are not the focus of the campaign. 

Carroll Lenhoff-Bell, a developer of the Greyhound Scholar initiative, pointed out that the "marketability" of the term was what drove the decision. Although the more encompassing adjectives are a part of the Greyhound Scholar, ultimately, the focus will be on the word "scholar." 

A scholar defines someone who has "an aptitude for study" according to Merriam Webster. Essentially: someone who succeeds in school. The word scholar does not, however, encompass other metrics of success. As a result of the "scholar-mindset" we devalue other passions a student may have outside of academia. 

Students with aspirations which don't align with a conventional academic field are often told to find a "back-up plan" or to abandon their dream altogether for the sake of practicality. 

Kendall Turner, a junior with passions in the arts, notices an underlying lack of support for her goals. She said, "I was subconsciously already thinking of finding a back-up plan because of how unsupported the arts can be." 

While it is certainly important to maintain realistic expectations, this dynamic inherently devalues students who don't thrive by academic measures.

"

I do feel that [the Greyhound Scholar Initiative] can sometimes leave student artists feeling undervalued. It would be great to see more recognition for creative accomplishments, such as art shows or performances.

— Zachary Millner

CHS senior and AP Art student Zachary Millner said, "I do feel that [the Greyhound Scholar Initiative] can sometimes leave student artists feeling undervalued. It would be great to see more recognition for creative accomplishments, such as art shows or performances."

 A student may be a record breaking track star, or inspiring painter, but if they struggle academically, they are not a scholar and, as a result of this new initiative, if they are not a scholar, they do not belong at Clayton.

Students learn not only content from their teachers, but also what to value. Through the Greyhound Scholar initiative, they learn that "scholarly-ness" will always be valued above other aspects of their lives. This value is not only dismissive to other passions, but also poorly prepares students for the real world.

A study by Bloomberg found that employers actually prioritize "soft-skills" such as communication, leadership, and creative problem solving, rather than quantitative skills and even industry-related work experience. In order to accurately prepare students for the world outside of education, we must equip them with a value for skills outside of academics. 

Now, I am not opposed to using the word scholar in general to describe high schoolers. However, it is one thing to refer to students within a specific class as scholars but another when referring to our school as a whole. 

High school is supposed to be an all-encompassing experience which includes academic and social elements. Yes, we come to this building so that we can learn how to graph parabolas and analyze The Scarlet Letter, but also to interact with our friends, play sports, and create art. 

As seen during the depressive times of online learning, school simply isn't the same without these social activities. Students need more than just academics to thrive during high school.

As the American Heritage Center explains, "While academic learning is the foundation of education, a great school experience goes far beyond science fair projects and senior papers."

The Greyhound Scholar initiative reduces students to their ability to thrive academically, instead of their ability to thrive as well-rounded human beings. 

Now, let me be clear: I whole-heartedly believe that the developers of the Greyhound Scholar had no negative intentions when coining this term. The people responsible for this new branding had the best intentions for the district and students alike. However, despite intentions, it is important to investigate the implications of this phrase. I implore the Clayton community to reassess how we value students. Do we value them as test takers? "A+" receivers? Scholars? Or as people. Humans. Kids who want to learn, have fun, and live a life which makes them happy.
Leave a Comment
Your donation will support the student journalists of Clayton High School. Your contribution will allow us to purchase equipment and cover our annual website hosting costs.
About the Contributor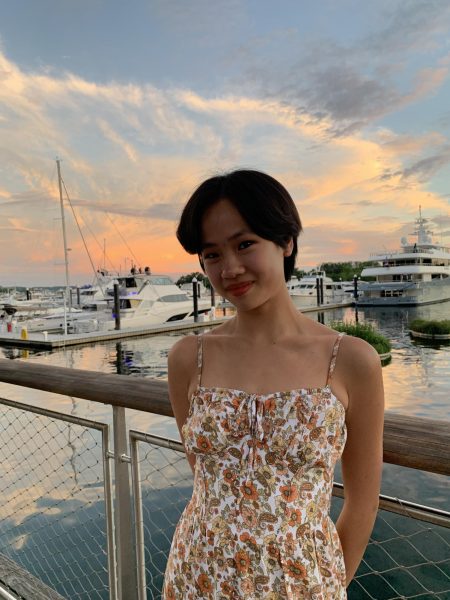 JiaLi Deck, Editor in Chief
JiaLi Deck is a senior at Clayton High School. When she first joined the Globe her sophomore year, she couldn't have ever imagined being Editor in Chief; however, as time went...