Reflections After 12 Years in the American Education System
Editor-in-Chief Alex Slen reflects on his elementary and secondary education.
"Reflection upon the experience is as important as the experience itself," Ralph Emerson.
I'm slightly surprised I made it 12 years ago. Twelve years is a long time to be doing anything, much less toiling without pay for some sort of abstract promise. Sure, there have been some high points, being accepted into college, getting an A on a final that I thought for sure I failed, learning new skills and bonding with my peers, but I still feel unsatisfied after 12 years.
I believe that many of the qualms in the education system come from the fact that from the moment we begin our time in the classroom, we are learning for someone else—politicians, superintendents, parents, and colleges. However, we, the students, fail to include ourselves—or are left out—of the pedagogical equation, leaving many of us feeling unsatisfied, discontented, and isolated.
From the moment I entered high school for the first time, I was already thinking of the door. I wanted to do everything in my power to make sure I had the best chance possible to get into a "good college," so I did what any self-respecting aspiring social climber would do: join the speech and debate team.
I distinctly remember one long Saturday afternoon debating for an hour and a half a resolution to end arms sales to Saudi Arabia while simultaneously being heckled by my opponent. I walked out of that classroom thinking to myself, "What on earth did I just sign up for? Why am I here at some random school, spending my entire Saturday surrounded by kids in suits acting like the outcome of the debate would either result in world peace or nuclear war? (For some reason, nearly every kid said that nuclear war was inevitable if they did not win. In most of those cases, they did, in fact, lose, and nuclear war did, in fact, not happen.)"
I couldn't quit, though. I convinced myself that every "good college" wants a kid who spends their entire Saturday being heckled by teenagers in suits; I was doing it for someone else.
At the end of my sophomore year, I finally quit. I put myself first for one of the first times in high school.
By my junior year, political forces nationwide descended upon the classroom. More than 1,600 books were banned in more than 5,000 schools nationwide. Some of these were removed from the high school itself, notably the junior-year classic: "The Adventures of Huckleberry Finn."
When I first heard this, I was devastated. I thought to myself, "How can an American literature class be successfully taught if the great American novel was unread?"
I wanted to understand why they chose to remove that book from the curriculum, and the answer I got was that it made students feel uncomfortable. Most of the students were not consulted. We had to learn for someone else. Instead of being able to learn and think for ourselves, we were forced to learn for someone else—the students who might have complained, the state legislators who believed in stifling speech and expression, and the administrators who were too afraid of conflict.
We did not learn as much because we were learning for others; we were denied our agency.
"
We did not learn as much because we were learning for others; we were denied our agency.
— Alex Slen
Agency and the ability to think for oneself are central tenets to the success of any modern education system. The paradox, however, is that agency and independence are often forgotten. It is easy to learn for someone, but the only way to truly conquer the discontent that I have felt throughout my education is to learn for yourself.
Leave a Comment
Your donation will support the student journalists of Clayton High School. Your contribution will allow us to purchase equipment and cover our annual website hosting costs.
About the Contributor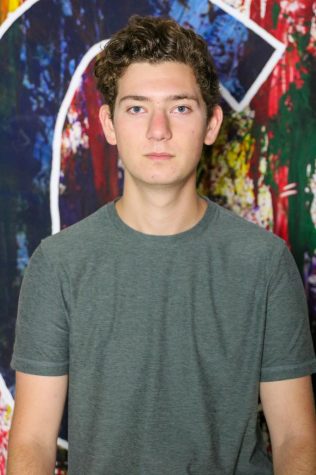 Alex Slen, Editor-in-Chief
Alex Slen is a senior at CHS and is in his third year on the Globe staff. He is on the varsity cross country team, The Vice President of Competition for DECA, a STUCO member, the...