Members from the Clayton girls Cross Country team took a break from training on October 21 to give back to their community by volunteering at CARE STL, a local dog shelter. Regular volunteers work to take care of the over 400 dogs that live on Clark Avenue.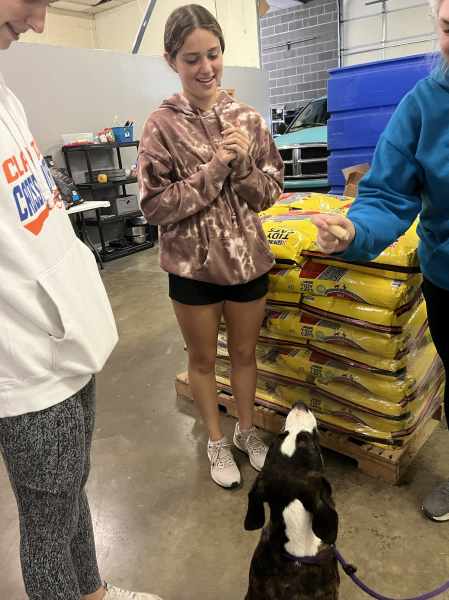 The team organized supplies, played with kittens and walked around Pacwon the pit bull mix. Pacwon enjoyed the attention from the girls and loved learning new tricks from them. In addition to playing with the animals, they put together event goodie bags for a Halloween event that was happening that night and toured the shelter to understand CARE STL's goals. 
"During the time we spent with Pacwon, a moment that stood out to me was how interested he was in exploring the enrichment rug with kibble," said Cross Country team member Rachel Baker.
Volunteering was a great experience for the team.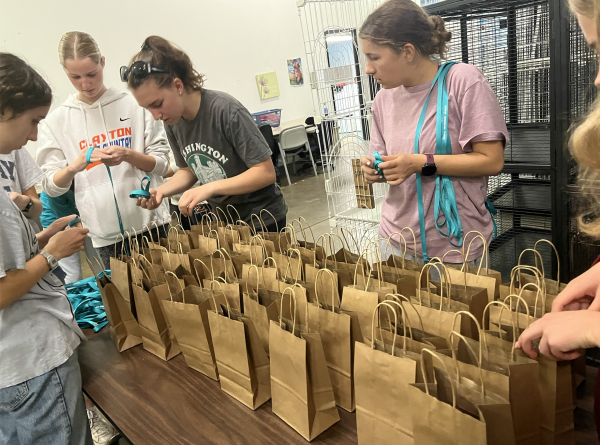 "Our morning at the shelter felt very wholesome. Even organizing the supplies was a meaningful contribution to an organization run almost completely by volunteers," Said Cross Country Captain, Analee Miller.
According to the volunteer coordinator for CARE STL, Melissa Strohmeyer, the shelter changes daily. New animals come in, animals are adopted and fosters are taken. During our tour, Strohmeyer said, "Volunteer retention can be a little difficult because our dogs get super excited and new volunteers can get a little overwhelmed."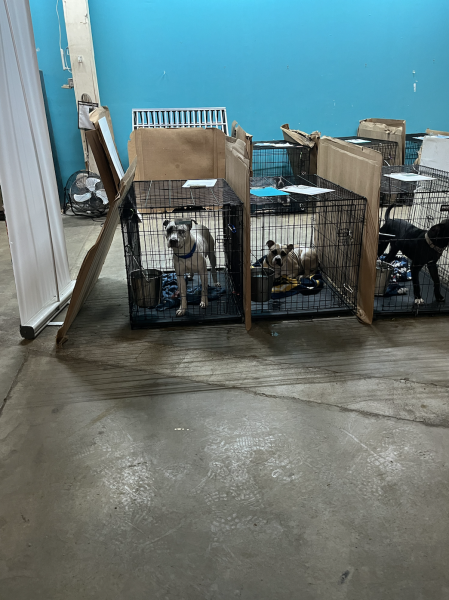 As of Oct. 18, Care STL had 448 animals in foster care and at the shelter. They are in need of cleaning supplies, food bowls, blankets for their apartments, dog food and enrichment supplies like low sodium broth, apples, carrots and peanut butter.
The shelter attempts to get as many dogs adopted and into foster homes as possible. One way the shelter helps with adoption rates is by waiving the fees. Strohmeyer said
 "For about a month we waived adoption fees and we adopted over 100 dogs. The biggest struggle for our shelter is getting our animals adopted out into loving homes. Our shelter can stress them out and our dedicated staff tries very hard to help them."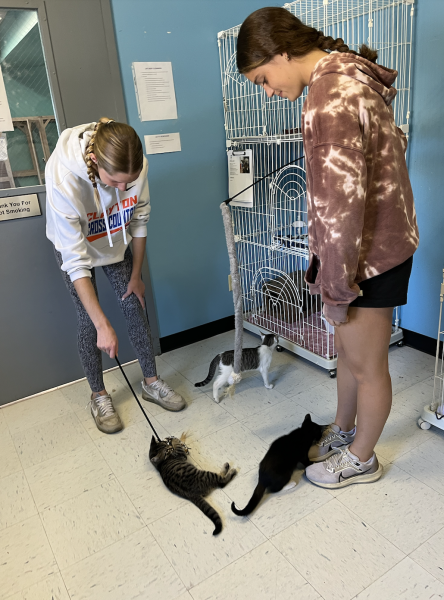 Reminded of the importance in giving back, the Clayton Cross Country team hopes to make volunteering in the community a regular activity, and others are encouraged to get involved as well. Overall, the team's visit to the shelter was a huge success and serves as a great way to make a difference in our community. 
"I think it's really important to give back to our community and doing something like this is a fantastic way to do it. We all were so happy to spend time in the kitten room, as stressed high school students this experience was really special to both the cats and us," said Miller.