With an eruption of frenzied cheering and celebration, the girl's volleyball team watched as the ball hit the ground on MICDS's side of the court on Oct. 24. They made history, achieving a victory 40 years in the making.
"[The day before,] We all just sat, and we looked at the [district championship] board that said ''1983.' We're like, tomorrow we can make that say 2023," Caidyn Tate, a senior said. 
With a previous season record of 15 wins and seven losses and having placed second in districts, the team's confidence was not unfounded. They knew they had the ability and determination to change the board.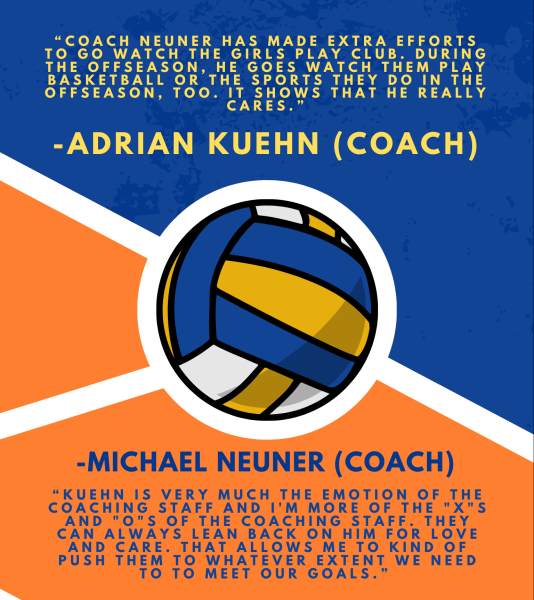 "We had made it to the district championship for the last two years. We knew that this year, we wanted to take it," Ally Ord, a junior said.
Forty years after the last district title, the girl's volleyball team secured the second title in school history. Since the first day of tryouts, the team practiced 10 hours a week and won 13 out of 22 matches, demonstrating their determination and grit.
"Our team motto was to start to frustrate teams because this year's team was a lot different than last year's team," senior Baylee He said. "It doesn't matter if we kill them or absolutely demolish them, but we want[ed] to make them lose their game [and] get in their heads. That required us to be stable and confident in ourselves and trust each other."
To play their style, the team worked on limiting errors.
"[We made] sure we could play our game and not get lost in other teams," Ord said.
Despite a shaky start to the season, marked by losing four games out of their first six matches, the team adapted to a new dynamic after losing five senior players who previously filled four starting spots.
"It was rough because there were a ton of people in different positions which they hadn't necessarily played a lot," senior Lillian Cissna said. 
Cissna switched to middle, a new position for her at the beginning of the year. It took her a while, and help from various teammates and coaches, to get the hang of it.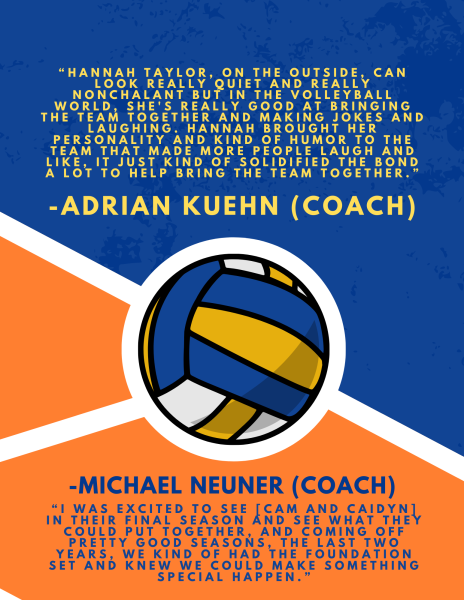 Their rigorous practice schedule and determination culminated in thrilling matches during the regular season, including one memorable encounter with Ladue.
"We had to play [Ladue] on their senior night, and they posted on Instagram 'What's a Greyhound,' and we're like 'we have to win.' We beat them in three sets. That was a really good team effort," Hannah Taylor, a junior who joined the team midway through the season, said.
Despite their success, the announcement by MSHSAA that they would face MICDS—a team they had previously lost to— in the district matches challenged their confidence. The initial defeat led them to regroup and strategize, focusing on specific areas such as serve-receive, blocking and defensive strategy in their training. 
As the team continued to train and improve, their confidence grew. 
"We thought we could beat [the other teams in the district], and over time as we practiced, I felt very confident that we would win," Taylor said.
"We made sure to be intentional, not just going through the motions, but making sure that what you're doing is how you're gonna play in the game," Ord said. 
Anticipating a challenging match against MICDS—a team that had studied their defensive scheme and was prepared to counter it—forced Clayton to push beyond their comfort zone. 
"They knew our preferred defensive scheme for shots, which was a great challenge for us because it made us develop even though we felt like we were in a pretty good groove," head coach Michael Neuner said. "We had to go above and beyond because we knew that they were going to take that first option away from us."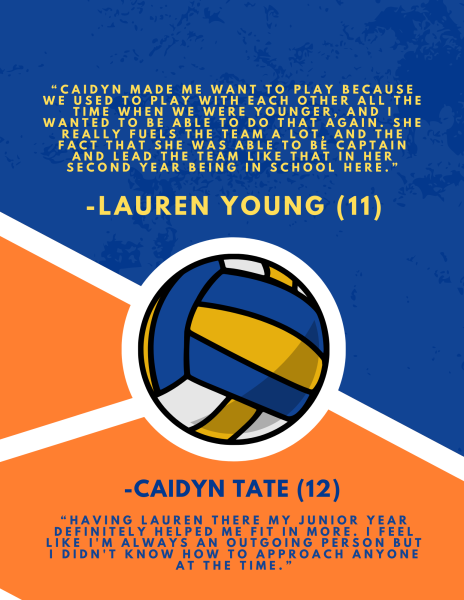 Equal portions of practice, strategy and mental preparation contributed to the eventual victory.
"Our coach had us close our eyes and envision us winning. He [Neuner] said, envision yourself serving on game point we're about to win. We're about to lose," Taylor said. 
This helped them envision the different pressure situations they might be put in and how to react to them appropriately. 
"'We will' language. There was no like, it's when we get the district championship. When we beat MICDS, there was no, if. We knew that we had to work hard, but we were in the mindset that we were gonna do it," Cissna said.
With one game between the team and the title, the girls donned knee pads and hair ties, building the spirit to face MICDS, whom they barely lost to in the regular season.
"We always play "Pups" (by A$AP Ferg). That song came from last year when Macy [Klauss] started playing that song for districts. Since then, we've always played that song before we go outside and start playing because it just gets so hyped," Caidyn Tate, a senior and captain, said.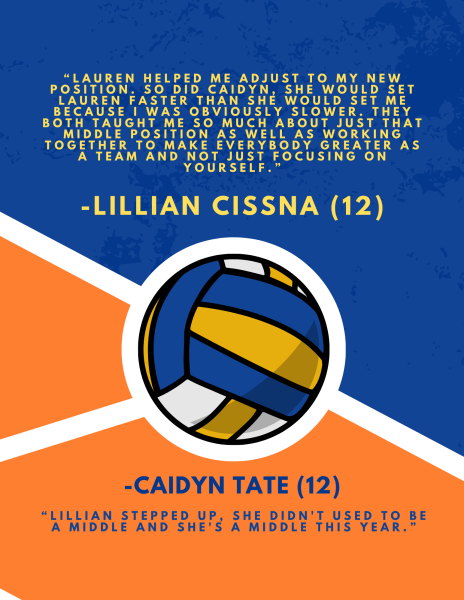 After countless hours of rigorous practice and an impressive performance in the state bracket – the best in Clayton's history – the team's work was finally rewarded.
"Our celebrations were fun when we've worked hard to achieve something. Watching the girls embrace and be in the moment and their success was so fun to watch because we've grinded in the gym for so many hours and reps," Neuner said.
But one of the most important parts of this record-breaking season was the team's care for each other.  
Cissna emphasized the team's trust in each other, saying, "We trusted each other. We knew that this person would pick up the ball if you failed to block." This sentiment of reliance is echoed by Ord who said, "We all know we can rely on each other and we know our coaches are always there."