The Planned Parenthood Federation of America has never existed without controversy and attacks on its very existence. Recent scrutiny and federal legislation have brought the organization under fire to the point where its employees have developed a growing concern for the future.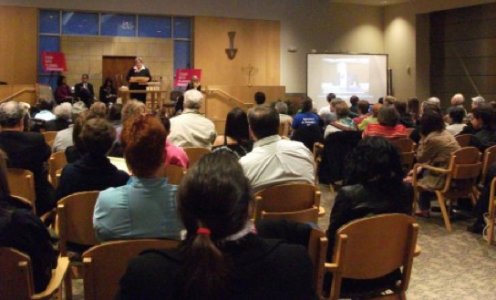 Planned Parenthood supporters attend a "Stand with Planned Parenthood" event at Central Reform Congregation in February, 2011. (Courtesy of Planned Parenthood of the St. Louis Region)
In spite of the recent struggles, leaders of the Planned Parenthood of the St. Louis Region have continued to work hard with the intention of bringing reproductive health services to women in the Greater St. Louis area. Planned Parenthood of the St. Louis Region is estimated to serve 50,000 patients this year and 95 percent of these services will be prevention services.
President and CEO of Planned Parenthood of the St. Louis Region, Paula Gianino, has observed an increase in hate mail from pro-life groups and individuals as the U.S. House recently voted to defund Planned Parenthood and pro-life groups have secretly recorded conversations with Planned Parenthood staff and released them to the conservative media.
The conservative organization Live Action was behind the secret recordings and recorded interactions at a New Jersey Planned Parenthood between two Live Action members posing as a pimp and an underage prostitute and a Planned Parenthood employee. They acted out the same scenario at various Planned Parenthood centers and a clinic manager at a New Jersey location helped advise the Live Action plants.
Planned Parenthood reported a possible underage sex-trafficking ring to authorities due to the surge in similar scenarios before it was revealed that Live Action was behind the incidents. After the recording of the conversation between the clinic manager and the Live Action employees was released, Planned Parenthood promptly fired the clinic manager for her behavior.
Board Member of Planned Parenthood of the St. Louis Region Linda Raclin has observed a significant decrease in morale amongst Planned Parenthood employees since the Live Action incident.
"I think that the staff members at Planned Parenthood right here in St. Louis feel like they work so hard to maintain their own professionalism and be as courteous and professional with patients as they can," Raclin said. "When they read about this one staff member at the Planned Parenthood in New Jersey, who they felt was not being very professional in her interactions with the Live Action intruders who came into the clinic, I think it just hurt their morale. They felt like somebody on their team let them down."
Raclin is leading a special task force to handle the recent publicity challenges facing Planned Parenthood with fundraisers, communicating with supporters, and organizing educational forums.
"It's our job to coordinate the Board's efforts to combat negative publicity generated by the Live Action attacks and to also generate support for Planned Parenthood in connection to the attacks against them currently going on in Congress," Raclin said.
In spite of the increase in hate mail, Gianino has been pleased to observe increased written and monetary support.
"On Feb. 24 we held a summit attended by some 150 supporters," Gianino said. "Donor support is increasing, women and men are speaking out about the wonderful care they have received from Planned Parenthood and they are angry that we are being targeted… In addition, we are conducting the largest-ever citizen mobilization campaign to contact elected officials about the de-funding of Planned Parenthood to try to stop the attack on the funding we receive to serve patients in need."
Gianino believes that now would be a particularly inconvenient time for the federal government to cut funding from Planned Parenthood as she calls Planned Parenthood's current economic situation a "perfect storm of challenges."
Due to the increased unemployment in the current economic climate, more people are uninsured. As a result, Planned Parenthood has seen a recent increase in patients at the same time as they have faced rising health care costs.
Meanwhile, conservative pro-life groups and congressmen have argued that the nation's economic struggles require budget cuts and the approximately $300 million given to Planned Parenthood by the federal government each year could be saved to help lower the deficit.  In a February interview with National Public Radio, Marjorie Dannenfelser, president of the anti-abortion-rights group Susan B. Anthony List, argued that Planned Parenthood should be defunded because the country is "at a very acute economic crisis where there are no sacred cows."
Raclin, however, believes that defunding Planned Parenthood would be detrimental to the health and well being of millions of women each year.
"I think it is an essential source of health care for many local women" Raclin said. "I also think for many low-income women and men it provides an affordable and very professional source of services for contraception, testing for sexually transmitted diseases, for HIV testing, and really essential cancer screening services, both for mammograms and cancer of the cervix. I think a lot of those women would not have an affordable place to get that health care."
Gianino agrees, asserting that Planned Parenthood follows federal procedures and provides a unique service to Americans that no other organization does in the same quantity.
"We are a vital part of the health care safety net needed by low income and uninsured people," Gianino said. "There is such a shortage of providers serving these populations. The Planned Parenthoods in the country serve over 3.5 million people each year who depend on us for their care. We are the experts in gynecologic, reproductive and sexual health care, a very, very high quality and low cost provider. Without Planned Parenthood, millions more Americans would not receive health care. The federal funds we receive go to the services we provide. They are categorical funding streams for which the funding is very strictly proscribed, and we comply with each and every condition of participation for each of these federal programs."
Gianino paints a bleak future of the end results if Planned Parenthood were to lose funding and either have to downsize or disband. Currently, Planned Parenthood of the St. Louis Region is the only abortion provider within 150 miles of St. Louis that is non-profit and specifically serves low-income women.
"De-funding Planned Parenthood will mean more disease like cervical cancer, more sexually transmitted diseases, more unintended pregnancy, more teen pregnancy and more abortion," Gianino said.
Gianino believes that attacks on Planned Parenthood are an example of bipartisan politics working against the public good.
"This is the most serious attack on Planned Parenthood's reputation, on our ability to serve those in need," Gianino said. "These attacks are completely politically motivated by the most extreme anti-choice groups and a few in Congress who are paying them back for the 2010 elections. This is political hardball politics at the expense of women's health care and attacking Planned Parenthood is not the priority of the American public. The economy, jobs, the economic crises. These should be the priorities."