CHS alum Elad Gross has founded the non-profit Education Exchange Corps, a volunteer organization that works to improve education in St. Louis City schools.
When CHS alumnus Elad Gross was a sophomore at Duke University in 2008, he had an idea. Through a program at Duke, Gross was able to get a community service grant to teach St. Louis Public School District students over the summer after his sophomore year. That summer, Gross went to St. Louis with four Duke students and three other volunteers.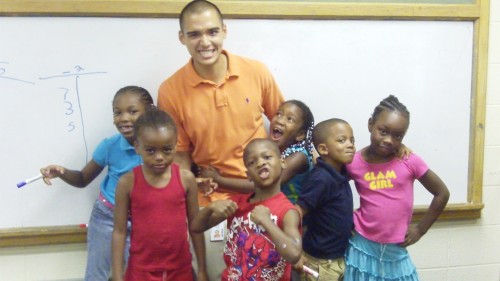 This collective of volunteers was setting the stage for what would become Education Exchange Corps (EEC), a nonprofit serving to educate underprivileged youth in the St. Louis Public Schools. While the overall focus is education, Gross said that the purpose of the Education Exchange Corps is multi-faceted.
"When we're saying 'exchange,' it's really an attempt to connect communities and really have people learning on all sides," Gross said. "So, if we bring a volunteer into a classroom to teach some math lessons to a group of kids, yeah, the group of kids is learning. But so is the volunteer. And, oftentimes, so is the teacher and so is the principal. I know, sometimes, if we get businesses involved, they learn something about the community and kids get to learn something about how to make a shirt or how to run a business."
Gross founded the organization with fellow Duke student Lauren Lee-Houghton, but now runs the organization mostly by himself as the full-time executive director since he gradated from college in 2010. He was inspired to work with students over the summer after similar experiences beginning over his high school summers.
"I used to work at Summerquest with Mr. Peck over at the high school during the summer for three years before that," Gross said. "I just thought that it would be really cool to do something similar where kids who are underprivileged could have some kind of similar opportunity."
Gross wanted to focus on the summer after learning about summer learning loss, a phenomenon wherein a student regresses over the summer after the extended absence from academics.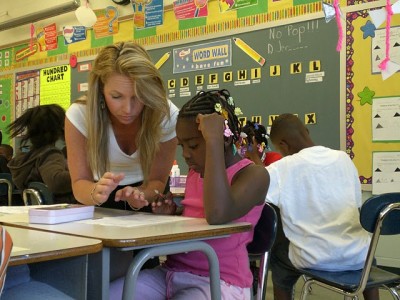 "What studies have found is that a lot of students have this," Gross said. "But, the question is, how much so does it happen? For kids of lower socioeconomic statuses, that gap is really a lot wider. That's one of the reasons that some people point to for the disparity in academic achievement gaps."
Over the summer, Gross observed the full extent of the achievement gap firsthand, but was proud of the impact he had made. However, he also believed that he wouldn't be able to make a lasting impact unless he kept returning to the students.
"I was working with a kid for a long time on learning the alphabet and he knew one letter when we started," Gross said. "It was the letter 'X'. He was going into first grade and I worked with him for a few weeks and, you know, he got up to the letter 'E' and I was really excited and then, you know, he didn't come to school anymore. It kind of highlights that there are a lot of issues with the District, that a lot of kids fall through the cracks and need some extra help, but even the kids who are ahead need to be pushed further. That a lot of kids are homeless and they don't know if they'll to be going to school that day. There's a lot of uncertainty."
Afterwards, Gross ran a fall pilot program from his college and, from there, "It just kept getting bigger and bigger," Gross said.
Typically, volunteers are assigned to a classroom in a St. Louis elementary school on a semester-by-semester basis. From there, volunteers will work with students one-on-one, in small groups, or even with large segments of the classroom.
Ariel Arpadi, a CHS alumna who is a recent volunteer for the EEC, has enjoyed working with small groups in her second grade class at Lexington Elementary School. Arpadi chose to work with the EEC because she wanted to "do something useful" with her time while also gaining experience working with at-risk students.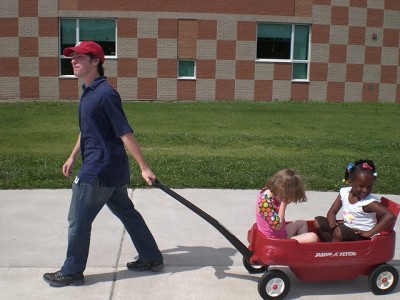 "While I have worked with the whole class before, I tend to mostly work with a small group of students, usually three to four, who have fallen behind," Arpadi said. "In the small groups we focus mostly on site words from the kindergarten level and work on basic addition and subtraction problems."
For Arpadi, the experience has been extremely rewarding as it allows her to pursue her passion in education and help children improve their academic skills.
"I really enjoy my time at Lexington Elementary," Arpadi said. "The teachers there are really welcoming to any and all assistants they receive, and the kids, while at times can be exhausting, are a joy to be around. It's always great to see a child's face light up when he finally puts two and two together."
Jefferson Elementary Principal Nathalie Means has been working with EEC since last summer. Although the school hasn't tracked any statistical evidence of academic improvements, she appreciates the help of the volunteers and that many of the volunteers have plans to pursue a career in education.
"[The reception has] been pretty positive from my staff who appreciate the additional bodies to help grade, file or work one-on-one with a student or small group of students," Means said. "It's been a great relationship and we plan to continue to utilize EEC volunteers."
Maureen Nolan, Head of Volunteer Services for the St. Louis Public Schools, has observed a widespread appreciation for the EEC and is impressed by its development into a "signature program" over time.
"The response from students, quite naturally, is great," Nolan said. "What student doesn't appreciate extra help from someone closer to his or her age that can make learning fun? Staff, principals and teachers especially have been very appreciative as resources continue to dwindle. Parents appreciate the extra attention that their children receive."
In fact, Nolan believes that the EEC's model could work effectively in other areas, too.
"It is a program that could well be duplicated in other urban districts which have numerous colleges and universities in their town," Nolan said. "I know of no other program (staffed by a volunteer) that has prepared and placed college students as volunteers in urban schools and school districts (as interns) and followed up with the students and staff with evaluations to be able to make future improvements."
Gross also sees the potential impact of EEC and believes that people in Clayton and other areas can "bridge the gap" and help neglected school districts and communities in the area.
"On a lot of days, we're working with third graders who still can't read, fourth graders who can't read, fifth graders and sixth graders who can't spell their name," Gross said. "That's something that's pretty present in a lot of these schools that we're working with. It's not something where we're saying the schools can't really teach their kids. There's a lot of things that are stacked up against these kids outside of school, too. When we're talking about an impoverished community, the schools can only do so much."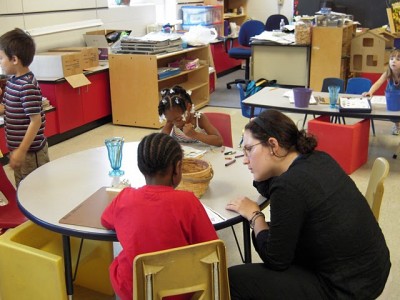 Gross believes that education is an essential tool for kids to find success. He cites the story of an elementary school student who entered school on a summer day in a somber mood, but who was elated after an EEC volunteer taught him how to solve fraction problems.
"People make a lot of assumptions about what's going on," Gross said. "But, when you get down to it, kids are kids. They know what's going on, especially as they get older, and by older I mean fourth or fifth grade. They know that they're in a bad spot and they know that education is something that can really help them out."
Currently, he's welcoming applications from high school students interested in volunteering as teaching assistants over the summer, as well as more experienced adult professionals interested in working for EEC on the administrative level or providing advice for the young organization.
"This is really something we're looking to bridge the gap between these communities, especially in St. Louis city, that have kind of been neglected in general," Gross said. "The relationship between these communities and other areas of St. Louis isn't really there, and [we're] really trying to leverage the community to really get involved and really benefit these kids. Right now, the outlook for them isn't all that great. There are tons of ways for people to get involved with that."