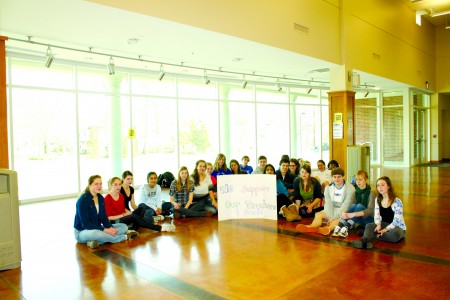 Everyone who passed by Ladue Horton Watkins High School on the morning of Monday, Mar. 14 saw an unusual sight. Dozens of Ladue students stood hunched over in the snow in front of the school, some even carrying umbrellas to shield themselves from the snow.
The students weren't just standing outside their school aimlessly, but with a distinct purpose in mind. To demonstrate that they care about their teachers and staff with signs and shirts declaring their support.
The rally was in response to a series of layoffs and reassignments that had been announced at school the previous Friday.
"Well, the reason the changes were made is because, like most school districts, we're seeing a significant decline in revenue," Ladue High School spokeswoman Susan Dielmann said. "It had gotten to a point where, in order to balance our budget…we had to make about $5 million dollars in cuts."
After already making $2.5 million in budget cuts over the last few years, the District had gone as far as it could without reducing the staff, according to Dielmann. Only six teachers were eliminated, of which four were full-time employees. Most of the changes were reassignments.
After school on the day of the layoffs, a group of students met in the parking lot to discuss the situation and what steps to take next. Afterwards, they waited outside a faculty meeting and spoke with administrators before finally deciding to organize a rally. One of the students, Katie Rank, was proud of the collaborative nature of the rally.
"The rally was a collaboration of efforts," Rank said. "There was not one person who started it; it really was a team effort. It began with a few confused, shocked, and upset students standing in the parking lot after school, and with the support of so many people, turned into something much bigger."
Although the students were upset by the fact that some popular teachers were among the teachers whose jobs were eliminated, what most upset them was the fact that teachers were taken out of their classrooms during the day and told that they were being reassigned and no longer working for the School District.
"We were upset at how the teachers were told they were let off," Ladue student Saya Jacobs said. "We were upset over who got laid off, too. The main thing was just that we though it was very disrespectful to the teachers for the administrators to come during their class time and tell them."
Rank was in one of the classrooms interrupted during the day.
"We were taking a test and one of the administrators came in and pulled our teacher out of class," Rank said. "It wasn't too long, but it was probably like six minutes and we were confused. Then, at one point, the administrator was sitting in the class. Then she left and another woman came in. Then, our teacher came back and said, 'Well, I just got fired.'"
Dielmann said that the Superintendent and his cabinet made the decision to proceed with the layoffs and reassignments in this way. However, the process did not go as planned and Dielmann concedes that the District should probably have waited until after school had ended.
"The intention was not for teachers to go back to their classrooms," Dielmann said. "Teachers chose to go back to their classrooms despite the fact that we had substitutes to take their classes over for the rest of the day."
Even though students were upset by the way that the incident was handled, Rank still believes that it was an experience that students could learn from.
"As disgusting as this whole situation has been, it has made me appreciative of all of our teachers and staff on a whole new level," Rank said. "Despite being a second semester senior, I started working harder than I was before, not only for myself, but for them. They really do deserve that much from us students."
Jacobs also concedes that the District layoffs and reassignments may have been unavoidable and is "sure that they've done a lot to cut the budget."
Despite the fact that no changes were made as a result of the rally, Rank is still proud that students were able to get their point across.
"It was just a way to show the whole Ladue community that we care, regardless of whether what we did would make any specific change," Rank said. "Of course, that would be ideal. I would have loved if there could have been some kind of change, but it didn't. What's most important is that we got our point across: that we were upset."
In fact, Dielmann was also proud of what the students accomplished and the positive message of the rally.
"The students were awesome," Dielmann said. "They were so organized; they were so supportive. There wasn't a negative tone to it. I was really quite proud of them. I mean, they have every right to do what they did and they did it very well."