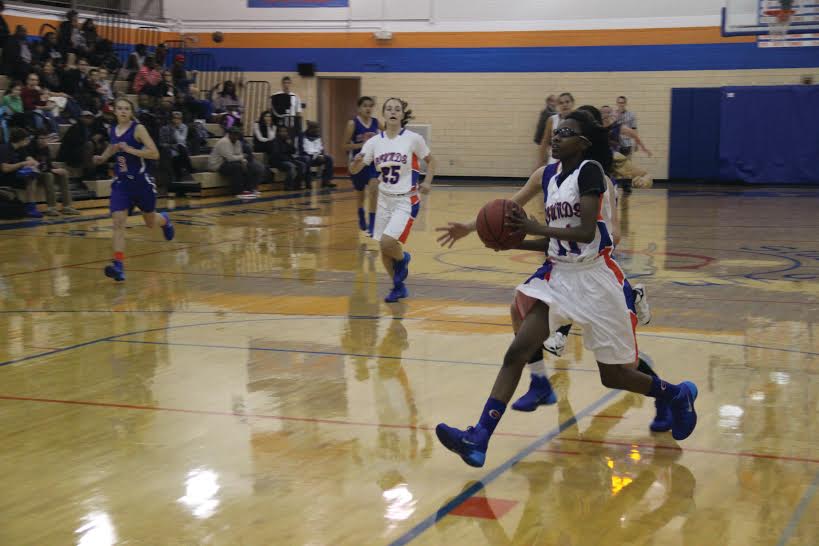 by Camille Respess with Kevin Rosenthal
The CHS girls' varsity basketball team gained many new players this season, including two freshmen, Brooke Jones and Tyra Edwards.
Jones was glad to know that she would be playing at the
varsity level. "It was pretty exciting when I found out," Jones said. "I just really wanted to show that a freshman can stand out, even on varsity."
On the CHS team, both Jones and Edwards have greatly contributed to the team's growing success.
"Brooke and Tyra have both played a lot of minutes so far this season," Heath Kent, head varsity coach said.
Having freshman players on varsity does not occur often. Jones and Edwards had to work hard to make varsity their first year at CHS.
"Since I've been at Clayton they have been the first two freshman I've had on varsity," Kent said. "They've been playing basketball for a long time at a high level before getting to Clayton so I think it has made their transition easier."
Before CHS, Edwards and Jones played basketball for the Clayton Recreational League, beginning in 3rd grade. After that, both went on to play on the St. Louis Majestic and St. Louis Cougars girls' basketball teams, cultivating the skills to play at the varsity level.
Edwards has been focusing on basketball and has not yet played any other sports, but after basketball season ends, she plans on playing lacrosse for the first time in spring.
Outside of school, Edwards participates in training sessions with other girls in St. Louis to improve her skills.
"Tyra is probably our best on-ball defender and can make it difficult for opposing guards to do what they want to with the ball," Kent said. "As she's gotten more comfortable with the speed of the varsity game her game has started to flourish."
Although Jones and Edwards are the youngest players on the team, it didn't take long for them to feel comfortable with their older teammates. "Most of the upperclassmen treat me like their little sister," Jones said. "They help me out when I need them."
In a game against Lutheran South, Jones tore the meniscus in her left knee. This injury caused Jones to get surgery over winter break and left her unable to play for the remainder of the season.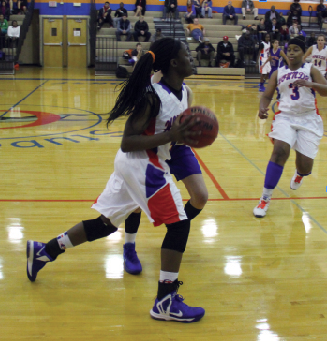 "She [Jones] was our point guard which is a lot of responsibility for anyone let alone a freshman," Kent said. "She was doing a great job with it until she injured her knee."
Jones is devastated that she cannot complete her first season on the varsity squad. "I love the game so much," Jones said. "To see everyone out there doing what I love and me not being able to do it–it's like ripping your heart out." But Jones is taking her injury as a learning experience. "Sitting on the sidelines you can see a lot of different things," Jones said. "Right now I'm teaching myself moves by watching other girls play."
Kent believes that Jones is doing the best she can given her circumstances. "She's got a chance to be a special player if she continues to work hard and develop her game," Kent said.
Although Jones is unable to play for the remainder of the season, she continues to support her team. "I go to all of our games," Jones said. "Also mostly all of the practices."
Since the team lost a key player, they have had to readjust on the court. "Some people have had to step into roles where they aren't accustomed to being," Kent said. "But that's the nature of sport."
Both Edwards and Jones plan on continuing to play basketball after their high school career. "I really want to play for a college that is well known for women's basketball," Jones said. "I want to get as far as I can with it."