Girls' Basketball – Peter Baugh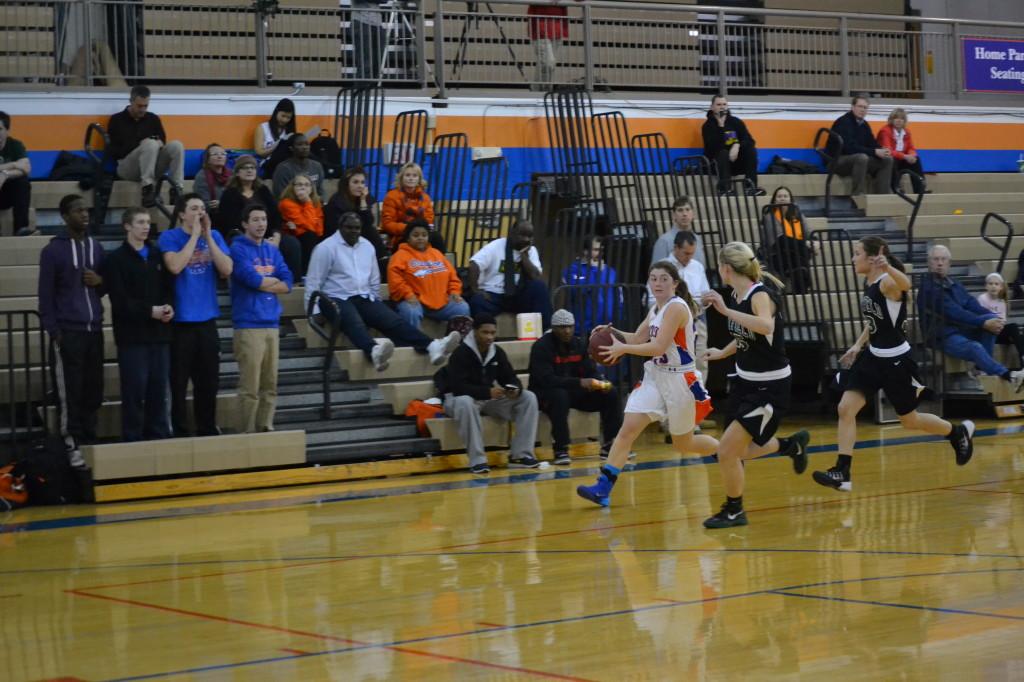 It looked like it would be a tough year for the girls' basketball team. Three of their top players graduated, including Lacei Sams, the Suburban East Conference Player of the Year. But with a strong class of freshman and a key transfer, the team is off to a solid start.
Senior Hannah Stipanovich transferred to Clayton from Westminster Christian Academy. She has given the Greyhounds a boost, averaging 22.1 points and 10.4 rebounds per game.
She feels that the teams chemistry has translated to success when they play.
"Of all the sports teams I've been on, I think we've gotten really close and bonded really well," Stipanovich said. "It's just been fun, everyone's so nice and welcoming and I think, since we bond well off the court, it's evident on the court."
The Greyhounds are in a tough district. They have powerhouse MICDS, along with Westminster. However, the team has a goal of reaching at least District Finals.
The squad features two freshmen: Brooke Jones and Tyra Edwards. Edwards leads the team in assists and Jones, though she has struggled with injuries, has averaged eight points per game when she has been able to play.
Juniors Ashley Johnson and Reeves Oyster have also played well. Johnson is among the team leaders in points and rebounds per game, and Oyster is third on the team in both steals and free throw percentage. With Stipanovich, Colleen Ahearn and Caroline Avery have headed he senior class. Ahearn is leading the team in three pointers and Avery is third in rebounds.
The Greyhounds are off to a 7-5 start and are coached by Heath Kent.
Hockey – Peter Baugh
Clayton hockey is back. There was not a Clayton team for the 2012-2013 season, but the Greyhounds have re-emerged, defeating strong teams and keeping up with opponents expected to beat them by a lot.
The team has a record of 5-11-2 and is led by senior captain Liam Dougan. Dougan has five goals and seven assists and is third on the team in points – the total number of goals and assists a player has. Seniors Richard Hollocher and Jeremy Glik also bring veteran experience to the Clayton team.
Junior Ben Tamsky is among the team leaders in points and goals scored and Cooper Durham has also brought experience to the ice. Clayton Harris is the starting goalkeeper.
The youth of the Clayton program also looks very promising. Freshman Max Hunter has starred in his debut season, leading the team with 10 assists and 18 points. Sophomore Ethan Alter leads the team with 11 goals and sophomore Billy Heil is sixth on the team with seven points.
Clayton also has a "C" team this year, which helps prepare young players for varsity hockey. Tamsky feels this will help the team grow and give the coach information on upcoming talent.
"We're starting a development program with eighth and ninth graders, and even seventh graders I think, and so that's new to Clayton hockey completely this year," Tamsky said.
Going forward, Tamsky hopes to see the Greyhounds excel in one of three playoff cups.
"For the rest of the year I'd like to go into the playoffs with some more momentum than we've had at the beginning of the year, and for our intensity to step up when we go into bigger games."
Boys' Basketball – Kevin Rosenthal
After almost grasping a district title in a successful 2012-2013 season, the Clayton boys' basketball team has high hopes and goals for 2014.
The boys' basketball team, coached by Mike Nelke, is off to a 4-8 start, and while this is not quite how they had hoped to begin their season, the team has had some major victories recently.  Boys' basketball played in a nailbiter against Parkway South, barely edging out the Patriots 52-51 in a come from behind win.  Just nine days later, Clayton triumphed over John Burroughs with a 57-46 victory.
"We are still coming together but we have a lot of talent, Junior Mitch Elliott said.   "It's only a matter of time before we get really good and start to win a lot of games." Through eleven games, Elliott leads the team in points with 126.
Junior John Ginos leads the team in field goal percentage, making an impressive 50% of all shots. Â Ginos also has the most rebounds of any player, with 76.
Jervante Phillips, a senior, has been a key contributor to the Hounds. Â Phillips has 117 points on the year, and he leads the team in three point field goals with 15. Â Phillips also leads the team in blocks, with 5.
Senior Nick Bax has had a major impact on the Greyhounds' wins thus far.  Bax has an impressive 89 points and 72 rebounds.
Despite the 4-8 start, the boys' basketball team remains optimistic about having a strong season.  The team certainly has lots of talent, and the Hounds will only be getting better, as they will have some key players returning to the lineup soon.
Girls' Swimming – Peter Baugh
It is an exciting time for Clayton swimming. With a strong core of swimmers, the Greyhounds have talent from both young and old athletes.
"There are a lot of new swimmers on the team so it's been fun getting to know them and everyone is improving," sophomore Dani Skor said.
Senior captain Danielle Sikora has qualified for state in each of the last three seasons. She has the team's best times in a number of events and has potential to qualify again in the 100 breaststroke, 200 IM, 50 free or 100 free.
Sikora is co captain with senior Abbie Kohmetscher. Kohmetscher is one of the team's strongest breaststrokers. The senior class also features Helen Troupis, Christina Krucylak and Claire Waldman – all strong swimmers.
Sophomores Sammy Bale, Skor, Lizzie Wolfgram and Sophie Allen are also among the team leaders in a number of events. Bale and Skor specialize in free and backstroke, Wolfgram swims butterfly and Allen swims the backstroke and sprint freestyle.
The divers are led by senior Rebecca Stiffelman and sophomore Grace Hartmann. Both are returning from a season where they placed at the conference meet.
The team is off to a 4-2 start. They are coached by Katelyn Long. Dave Kohmetscher is the assistant coach, with Hilarie Wilson as the diving instructor.
Wrestling – Becca Polinsky
A small number of participants have not slowed down the boys' wrestling team this year. Although the team is smaller than previous years, the boys have already shown numerous successes through individual and team performances.
The team has had two tri-meets, one quad-meet and two tournaments. There have been several cancellations, which has been one of the struggles of this season.
Sophomore Parker Ross is one of the team's standout wrestlers this year. So far, his record for this season is nine wins and three losses.
"The most memorable moment would have to be winning my first match," Ross said. "I trained hard in the offseason and it finally paid off."
Ross's athletic abilities and leadership have had a tremendous impact on the team's determination to succeed.
Ross also says that another large part of the season's success is due to one of the freshmen on the team, Harold Walehwa, who has shown hard work and potential to carry the team in future years. Junior Jared Garrett and senior John Okwir are also key members on the team.
The team has set many goals in order to motivate and drive the athletes. The boys' wrestling team is coached by Doug Verby.
"A few goals I have are to finish the season very strong with a few medals at tournaments. Also, hopefully we will do well enough at districts to eventually get to state," Ross said.